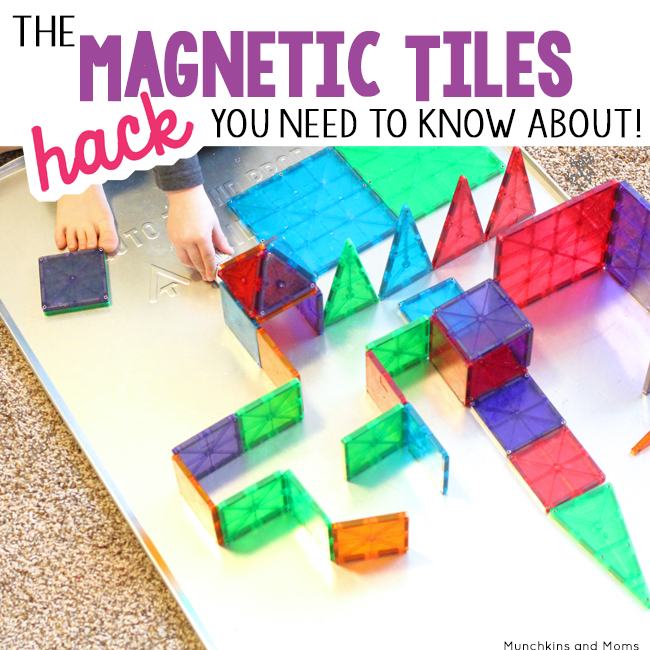 This post contains affiliate links
Do your kids own a set of Magnetic Tiles (Magna-Tiles, Picasso Tiles, Stick N Stack)? My kids have been in love with our Magna-Tiles since the day we bought them- and that was over a year ago! With Magna-Tiles, one of the lessons we learned early on was the importance of creating a strong base for the foundation of building. This is especially important with Magna-Tiles because towers tend to easily collapse without a foundation to support it. The difficulty was that it took sooooo many pieces to build a foundation for a sprawling cityscape. So even though we have a 100 piece tile set, we just didn't have enough to satisfy my kids' urban engineering blueprints.
Magnetic Tiles Hack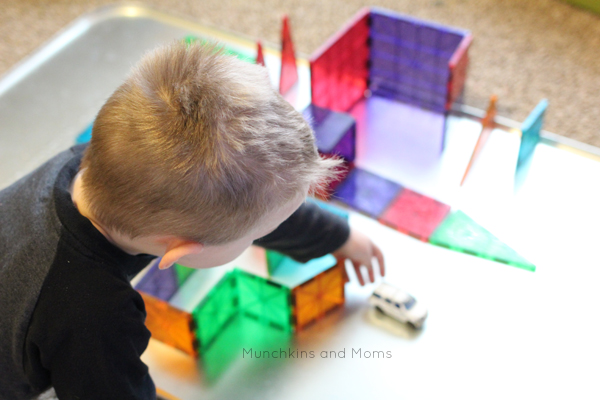 This is where the magnetic tiles hack comes into play! This idea actually originated from my four-year-old when he saw the oil drip pan we purchased for a wall-mounted magnet board in our playroom. I had been planning on nailing the drip pan to the wall when he laid it down and started building on it! Brilliant!
(Eventually, I did mount the board, but because I wanted him to be able to take it down to build on again I came up with a creative wall-mount idea that can easily be removed for building again!)
Supplies for Magnetic Tiles hack
Magnetic Tiles
Oil drip pan (We bought ours at Wal-Mart, it's larger but also more expensive)
Toy cars (for fun- though not necessary for the hack 😉 )
To use the drip pan as a building base, just lie it on the floor and start building! This is now standard procedure for all Magna-Tile building operations in our house!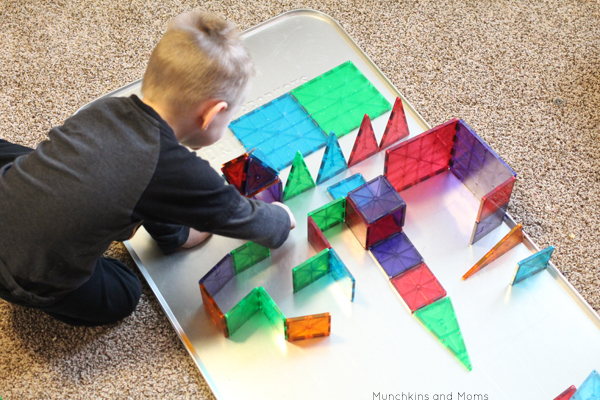 Thanks to this hack, my boys have not only enjoyed building more solid skyscrapers, but also cities with streets, trees (the triangular pieces), garages, and more!
*Update* After this idea we came up with a new creative way to play with Magna-Tiles that I think you'll love- I present Cathedrals in the Clouds (click the photo to read more about it!)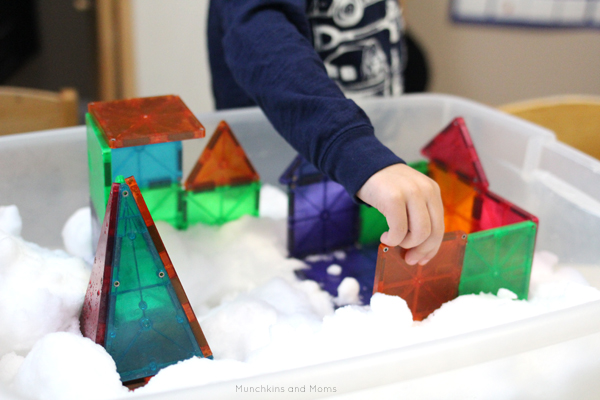 How do your kids enjoy playing with Magnetic Tiles? Share your creative ideas with us on Instagram– we love connecting with like-minded parents there!
Don't forget to pin this idea on Pinterest!