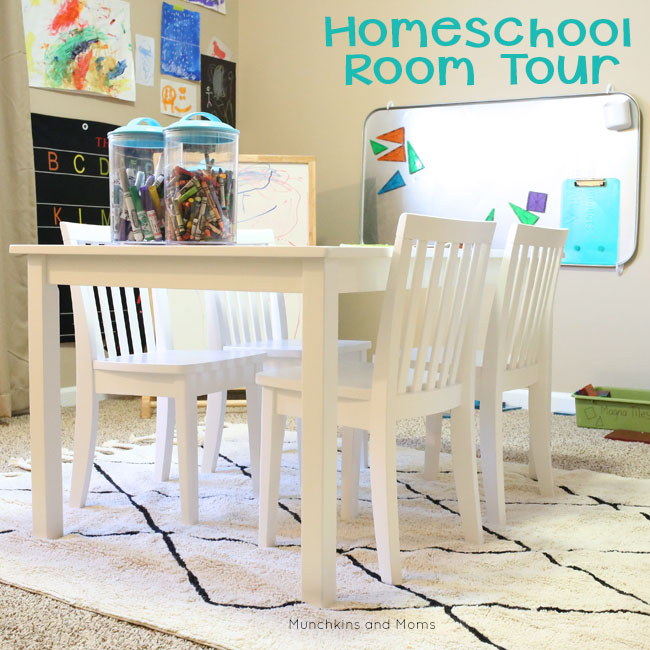 This post contains affiliate links
Do you have a dedicated homeschool room?
Up until a few months ago, we didn't have a dedicated homeschool room. We simply made do with a small space near the dining room table. Despite being small, that space was mighty! It was just a matter of arranging (and re-arranging) it until it fit our needs. Fast forward a year and a half later, we are now in a home that has a dedicated homeschool room! We had fun decorating it and turning it into an exciting room in which to learn, but we had to be careful to get the right balance between fun and focus, So, we opted for a simple wallpaper so there weren't too many distractions, but plenty of colorful equipment and areas where we could display the work the children had done.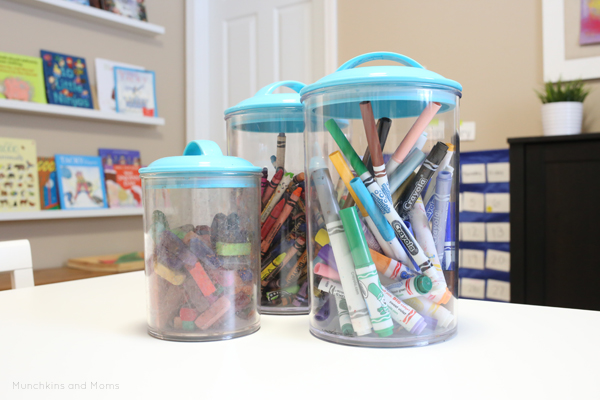 I have spent the last couple weeks (or maybe months…) rearranging the room to find the right flow for us. I finally figured out a layout that works and I'm excited to share our space with you!


Homeschool Room Layout
I originally loved having the table smack in the middle of the room (like a dining table). I didn't mind that it visually dominated the room. Actually, I kind of liked that it made the purpose of the room very obvious- homeschooling.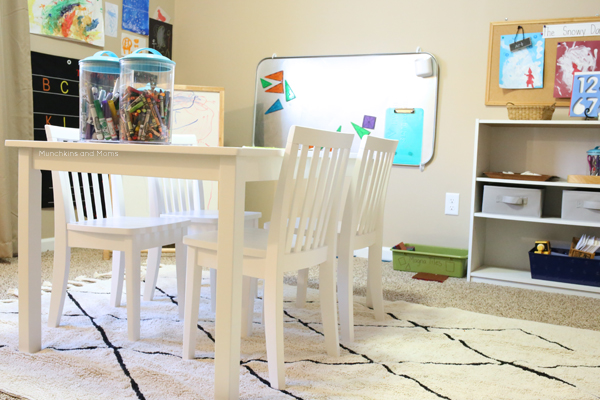 But in the end I had to nix this layout because we really needed the floorspace for other activities. We don't always learn sitting at chairs and a table!
The table was eventually moved to the wall near our (drip pan) magnet board. You'll also notice in the magnet board post that we've upgraded our table from the small Ikea side tables to a bigger Pottery Barn craft table. It was a splurge, but after pricing tables on various sites (and waiting for a good Christmas sale), we decided it was the best choice for our needs.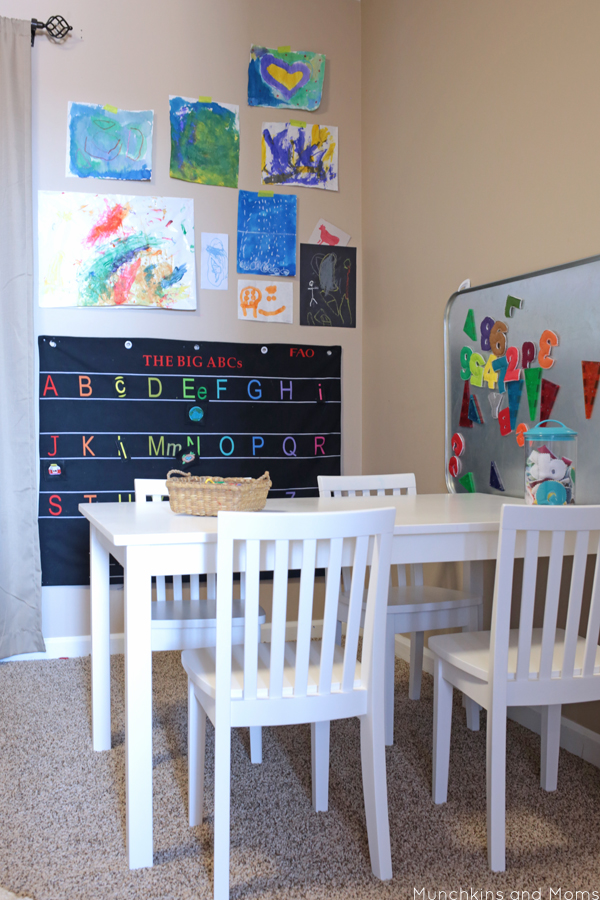 The other furniture pieces I have in the room include a small bookshelf (which holds rotating materials each week), and a wall bookshelf.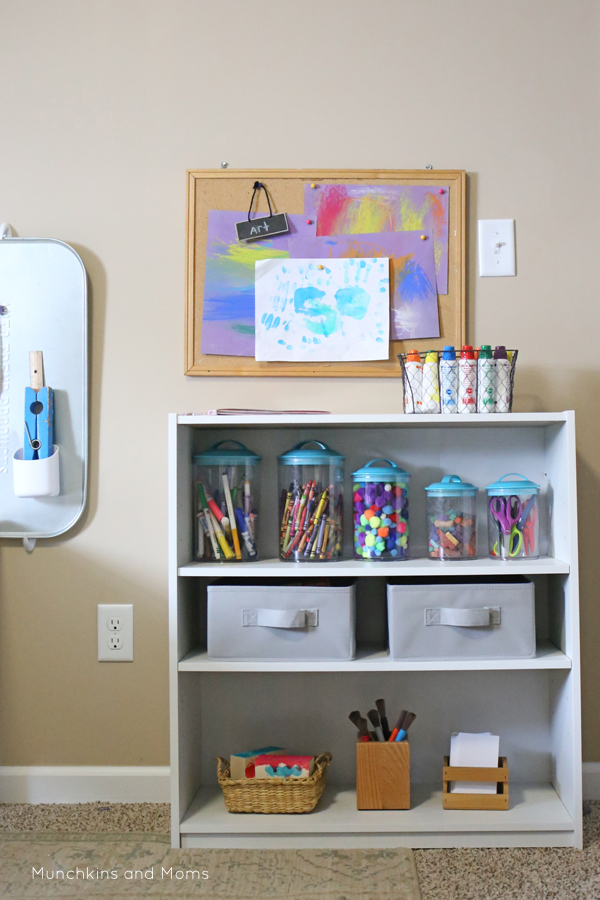 Having books set up on the wall with their covers facing out helps my kids choose books more easily. I much prefer this wall bookshelf to a traditional one! The only downfall is it doesn't hold nearly the same amount of books as a regular one. That's fine by me- I like to rotate our books anyways.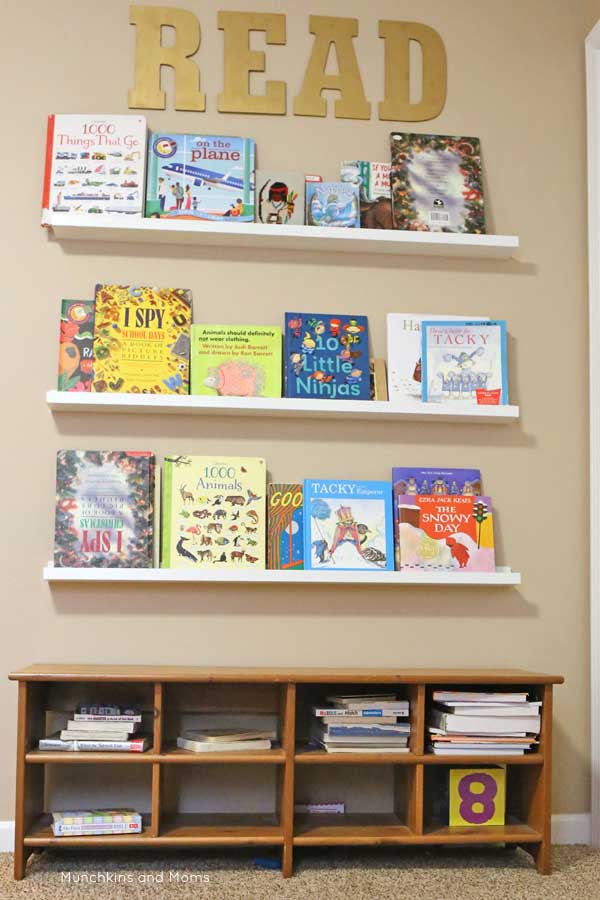 We also have a black supply cabinet, armchair, a standing whiteboard/chalkboard, and a large area rug rug. I was originally hesitant to place the rug at an angle on the floor, but now I'm super fond of how it brings the eye to the fun colored armchair and funky bird art 🙂
You'll also notice we have a pinboard holding artwork (theres more art hanging above the alphabet wall as well. You can never have enough kid art!), and a calendar behind the easel. For the most part, I chose to keep the wall distraction free. Even when I was teaching, I didn't care to have every square inch of my walls covered in educational posters. They caused too much visual clutter, in my opinion.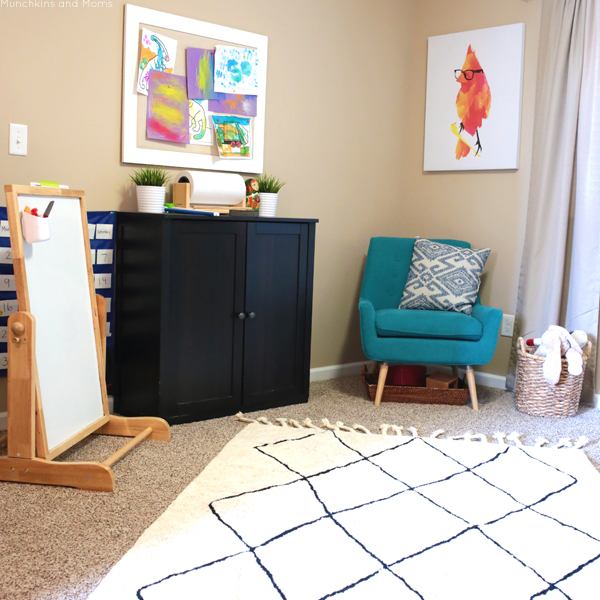 Back to my lovely new rug…
I love having rugs in a room- they define spaces and bring in interesting colors/patterns/textures and there are a ton of different styles to choose from. I looked around for a while and even came across something like this Rug design guide, how to choose a contemporary rug guide. It was interesting to read. What I especially love about this rug from Lorena Canal is the fact that it is WASHABLE…washing machine washable as a matter of fact! As a mom to preschool boys, I make sure everything in our home is washable: markers, paints, clothing, and even our floor rug (and yes-I've already had to throw it in the washing machine once since we've owned it!). The washing machine comes in really handy most days, especially with young boys messing around all the time. When things get dirty, it's so much more efficient to throw things in the washing machine. If our washing machine ever broke down I don't know what I'd do. In saying that, one of my friends recently experienced this situation. Luckily, her appliances are covered by this Georgia home warranty company, so she was able to contact their customer support for advice. Maybe I should insure my appliances with them too, I'd be lost if mine broke down.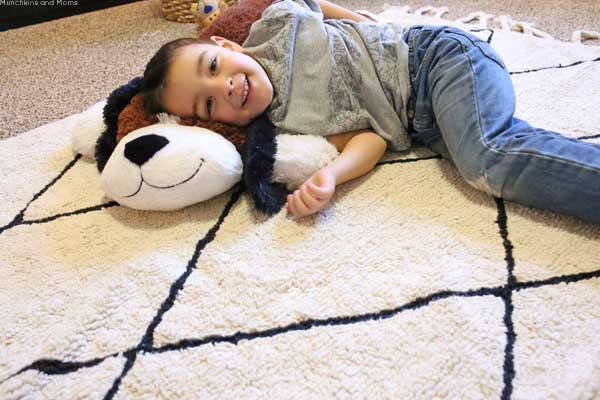 We love cuddling on our rug, and it makes me giddy knowing it is clean (and easily washable). Winning! Also Lorena Canal Rugs are high quality- they're made in India and designed in Spain using all natural dyes and materials (no VOCs like most carpeting and rugs). Proceeds from Lorena Canal rugs are also used to support the Sakula project, which provides schooling for children in India. I feel good knowing that purchasing this rug for my homeschool room will support kids going to school in another place of the world!
That concludes the tour of our homeschool room. It is by no means a huge space, but I am grateful we have it! What does your homeschool space look like? I'd love for you to share a picture with me on Instagram!