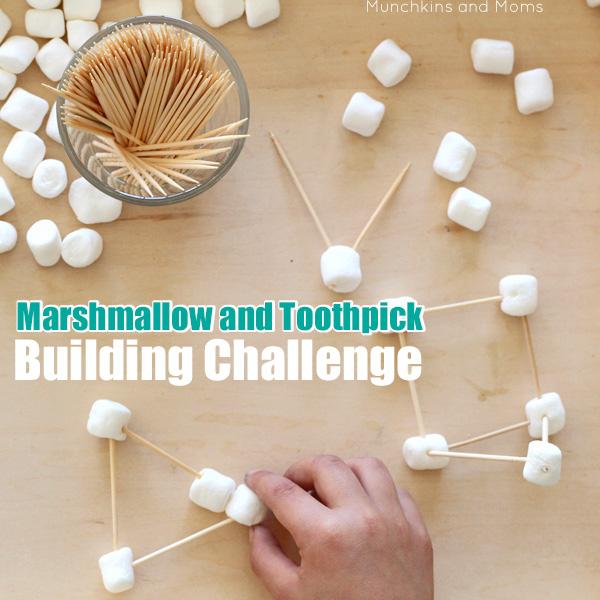 This post may contain affiliate links. 
You probably remember doing the classic marshmallow and toothpick building challenge in middle school. You know the one, where the teacher passed out a bag of 'mallows and box of toothpicks with the challenge of creating the tallest tower in one class period. I know it was one of my favorite end of the year activities in math class. But as a preschooler, I never did anything like this. I ate marshmallows, but that was about it. The thing is, this creative building challenge can be just as educational for preschoolers as it is for middle schoolers!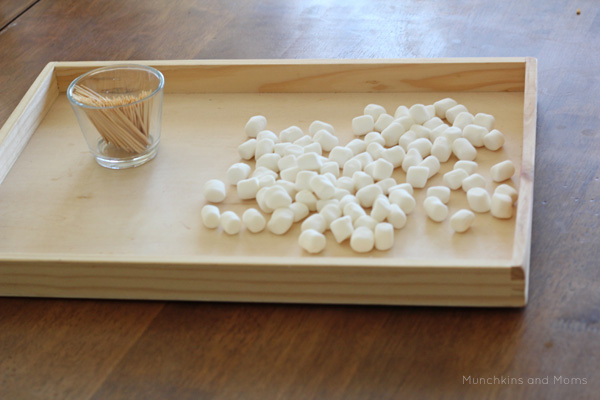 Supplies:
So my preschooler saw me setting this activity up and was chomping at the bit to get into it! We briefly talked about building tall towers and how sturdy bases are necessary for giving them their height, but he was more interested in learning those lesson in a hands-on way (which is perfect because hands-on learning is always more meaningful than a lecture. Preschoolers get that 🙂
Read: 30+ Clever Activities that use Marshmallows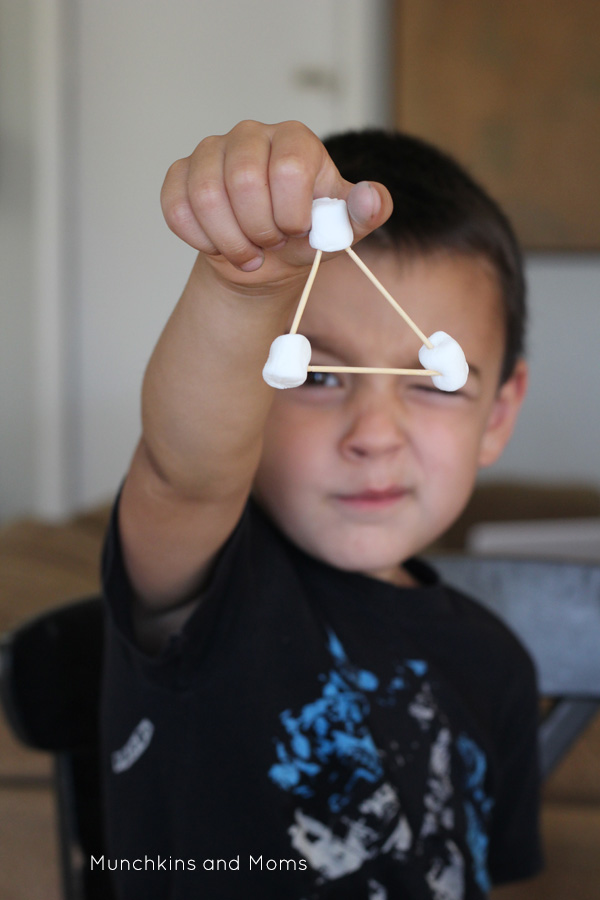 We started by building simple shapes for the base- squares and triangles. (The added benefit of this challenge is the fine motor work preschoolers get from pinching those marshmallows and sticking toothpicks in them!)
Read: Make a Simple Marshmallow Tinker Tray!
After building a few shapes for the base, we moved onto connecting them to form a wider base (a building principle we learned while tower building is a wide base is a sturdy base).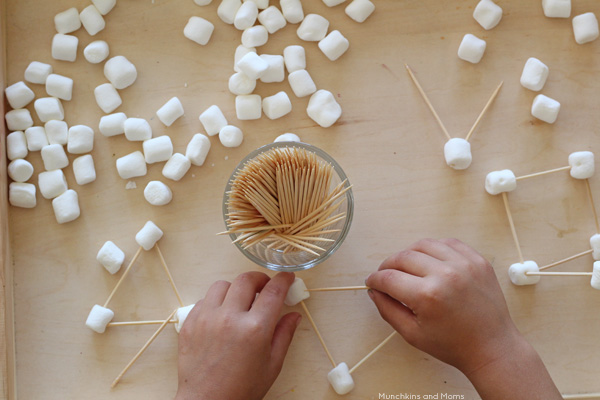 Then we built up. This was waaayyyy cool for my preschooler! He went from making flat two dimensional shapes to combining them to form 3-d structures! At this point he stopped worrying about height and started paying attention to design. He was intrigued with how the shapes became something completely new when they connected together!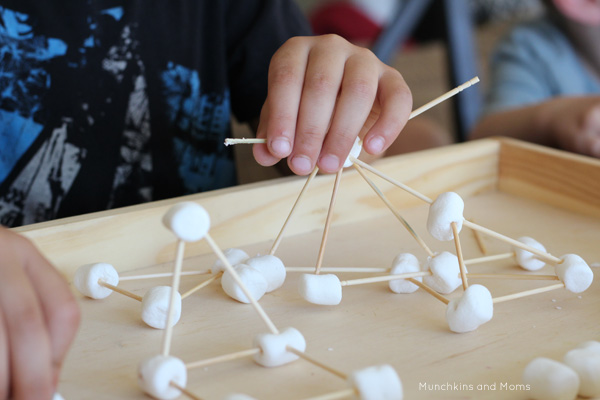 The challenge evolved into more of an artistic expression than mathematical challenge. Which is beautiful, because engineering can also be appreciated as an art form with the right mindset! I fully embraced this new task of making art with the toothpicks and marshmallows, because I know it was just as educational for him as building a tall tower would have been.
Read: Build and Measure Preschool Center
In the end our structure never made it past the first floor, but we still enjoyed the opportunity to design and create geometric art. And since we only snacked on a few marshmallows during the building stage, we still have half a bag left to continue the challenge later this week 🙂 Maybe next time he'll want to explore building for height a little bit more!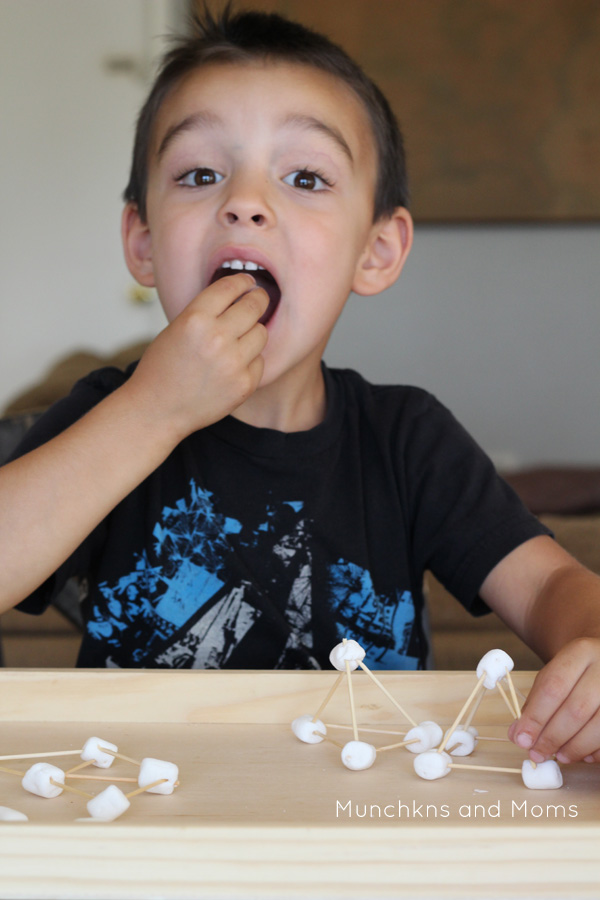 Try building marshmallow towers with your kids. Will they be more intrigued with artistic design or with the challenge of height?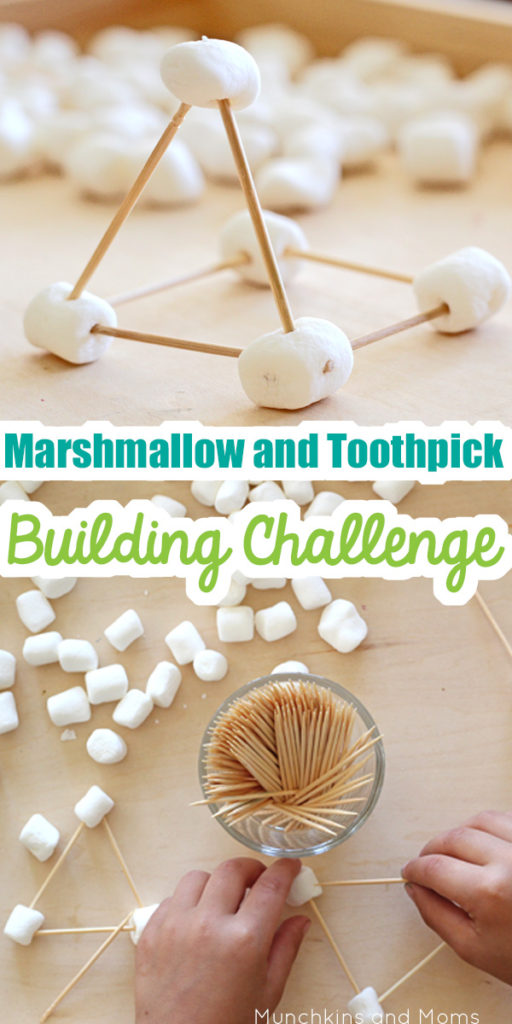 Looking for more educational activities for your preschoolers? I've got you covered!
I've got 20 preschool unit plans that will help you teach your littles all year long! And right now we have an incredible sale that you dont want to miss!

For the next 24 hours, you can get the entire bundle for 90% off PLUS get all of these bonuses!! This will take care of all your preschool needs for an entire year!