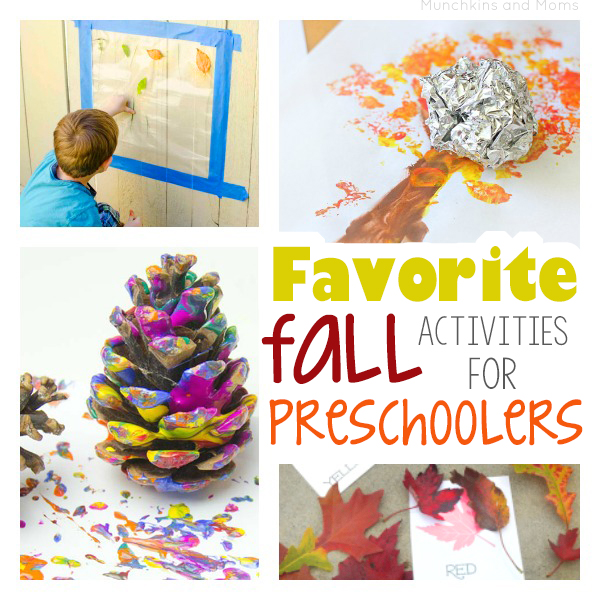 This post contains affiliate links
Happy fall Y'all!!! Sidebar: I don't have a sweet Texas accent and "y'all" doesn't sound quite right coming out of my mouth, but it sounds just right typing it, so thank you all (y'all) for enduring the phrase from me 😉 Now back to your regularly scheduled activity.
Who's ready for some great fall fun with your preschoolers?!? (insert my enthusiastic hand raised here!) I am SO done with the 100+ degree temps and want to start doing some nice, cool activities with my kids. Bring on the sweaters and cool breezes, please! Just because it is getting cooler does not mean you stop enjoying the great outdoors, even if it is just in your own back garden, there is still a lot of fun to be had. For instance, if your children need to let off some of that pent-up activity steam that can run them all over the house, you may want to look into playsets outdoor equipment for them to have hours of fun on, or you could set them off on a nature trail around your garden to see what they can find. It may be getting cooler but the outside still has a lot to offer.
Favorite Fall Activities for Preschoolers
Fall is a fun time to make family memories (check out these 25 Fall Ideas for Toddlers if you need ideas) and start some more formal home preschool plans (are you homeschooling your preschooler? Check out this post about our eclectic method!). So if you're sipping your pumpkin spice latter wondering what you're going to do this week, relax and click through some of these fabulous fall ideas that your preschoolers (and you) are sure to enjoy <3 (Ideas pictured in photo are bold)

Fall Art Ideas for Preschoolers
Foil Printed Fall Tree Art (Munchkins and Moms)
Invitation to Draw Fall Leaves (Munchkins and Moms)
Fall Leaf Art (Busy Toddler)
Giant Watercolor Leaves (Toddler Approved)
Painting with Nature (Kids Craft Room)
Falling Leaves Suncatcher (Stay at Home Educator)
Painting with Fall Leaves Process Art (Mom Inspired Life)
Fall Art with Acorns (Fun a Day)
Colored Corn Mosaic (Pre-K Pages)
Watercolor and Fall Leaves Art (Rhythms of Play)
Fall Leaf Collage (Craftulate)
Nature Inspired Process Art (Playground Parkbench)
Sweet Potato Stamps (Sunny Day Family)
Fall Sticky Tree (Powerful Mothering)
Fall Sensory Play Ideas for Preschoolers
Fall Leaves Sensory Bottle (Rhythms of Play)
Indian Corn Sensory Bin (Still Playing School)
Pumpkin Slime (Sugar, Spice, and Glitter)
Golden Fall Slime (Little Bins for Little Hands)
Fall Leaves Soup Sensory Play (And Next Comes L)
Fall Sensory Bin with wooden pieces (My Mundane and Miraculous Life)
Fall Snacks for Preschoolers
Fall Leaves Painted Toast (Munchkins and Moms)
Fall Leaves Snack Activity (Pre-k Pages)
Fall String Cheese Ideas (Arts and Crackers)
Outdoor Fall Activities for Preschoolers
Make a Plastic Bag Kite! (Munchkins and Moms)
Outside Fall Sticky Wall (Busy Toddler)
Go on a Leaf Hunt (This Little Home of Mine)
Catch and Count Falling Leaves (Rhythms of Play)
Fall Leaves and Math Fun (The Educators Spin on It)
Learning Letters with Fall Leaves (Mom Inspired Life)
Fall Leaf Lacing (Rhythms of Play)
Which of these activities will you try first? Let me see what fall fun you're up to by tagging Munchkins and Moms on Instagram!
Looking for other fall activities? I just co-authored a preschool unit plan full of FALL THEMED PRESCHOOL ACTIVITIES!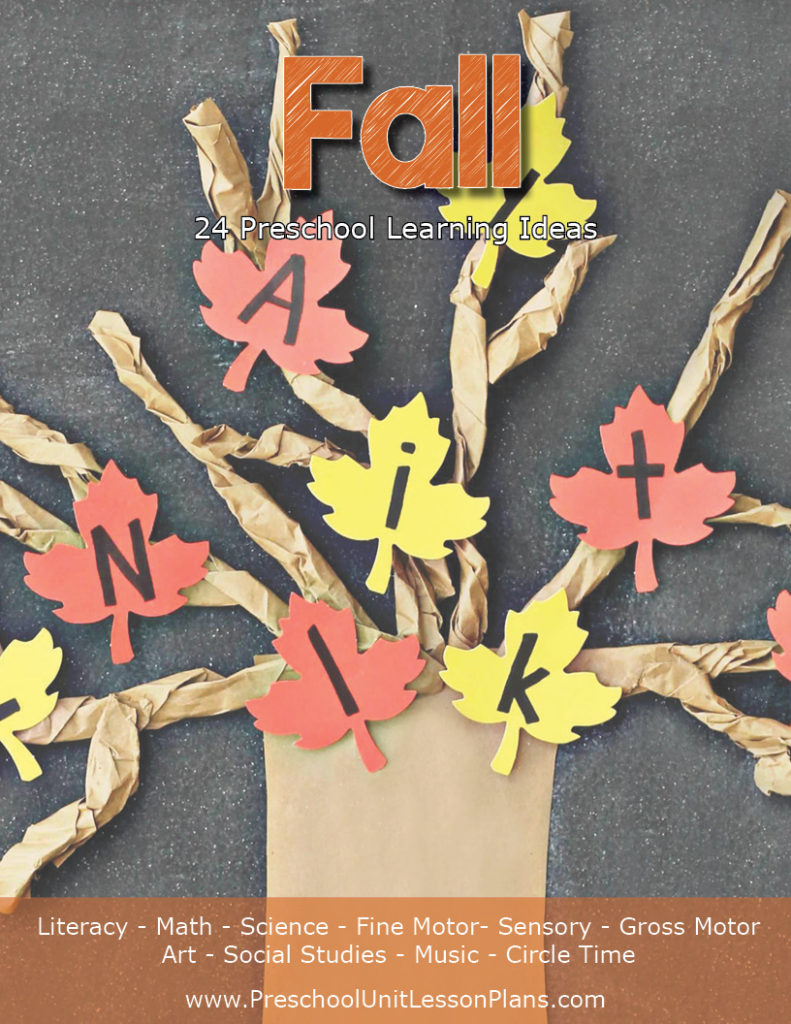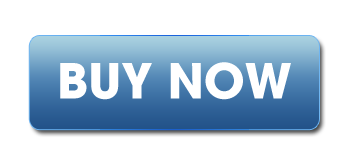 This book will give you all the guidance you need for teaching preschoolers about the fall season. Every activity includes a photo, book suggestion, skills targeted, activity list, and instructions: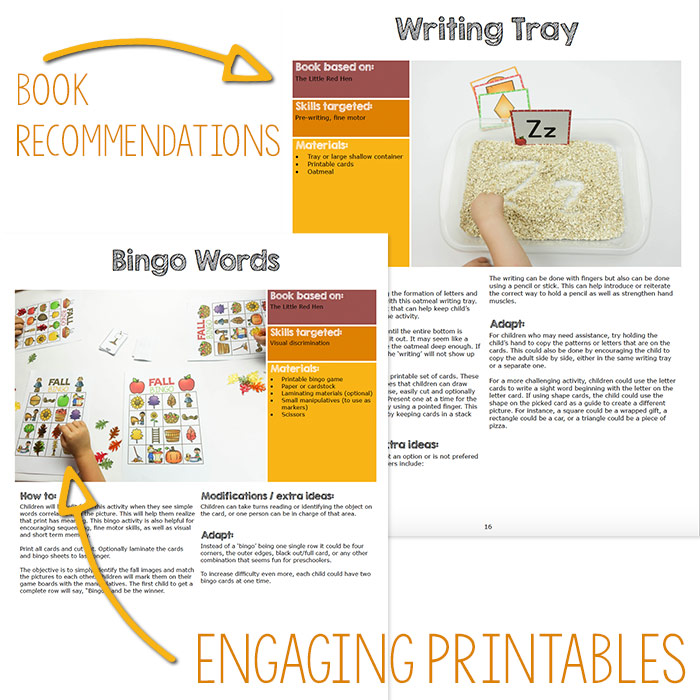 Besides activities, there are also song recommendations, printables, and circle time ideas!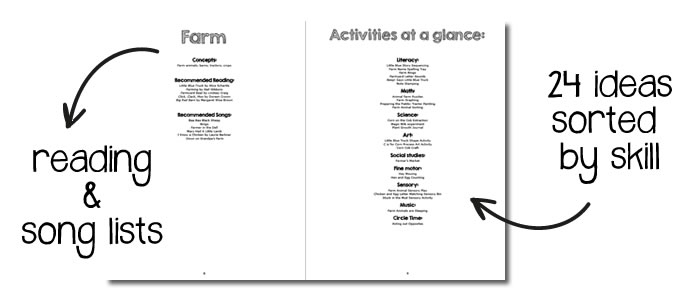 Buy this resource now and save time planning your fall lessons!