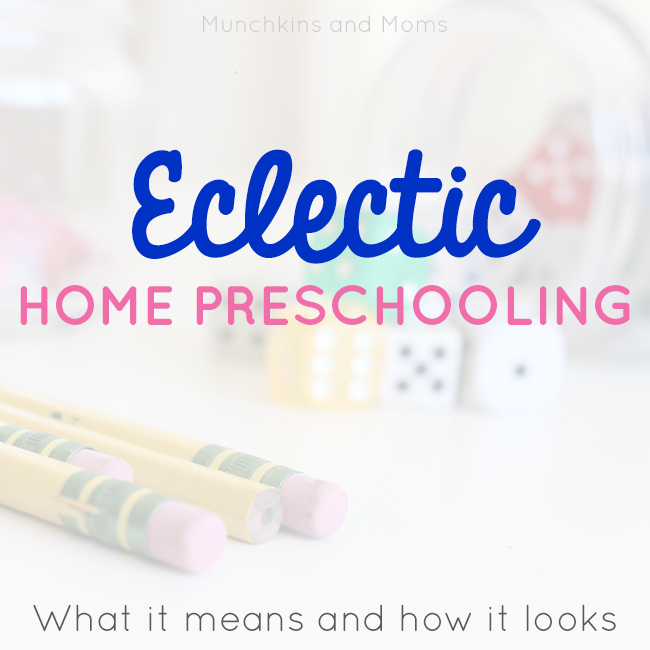 Do you know those back-to-school pictures that parents share on social media every year in August/September? The ones that mark the milestone of their kids entering a new grade? The photos that always get me are the ones of kids starting preschool. The first day of preschool is a big day- a day when our "babies" become "kids". It's a scary & exciting time for parents/ kids/ public schoolers/ and homeschoolers! Homeschool families feel this same anxiety, excitement, and fear with the beginning of a new school year. Specifically, if that family is brand new to homeschooling and trying to choose an educational method or curriculum to follow…
Which preschool method is best for us?
This year my oldest son turned four years old, which meant the official beginning of our home preschooling. In preparation for this milestone, I took a year to "sample" different educational methods to find one that would be the best fit for our homeschool journey. I also made sure that I thoroughly researched all the logistical details of homeschooling, so that I would be thoroughly prepared for even the finer details of my son's educational needs. This meant looking into things such as computers and curriculum workbooks, as well as internet providers such as hughesnet internet provider and a local one, (that I eventually went with) to make sure that my son could access educational resources online whenever he needed. Personally, I also felt like that was the first step in home education- finding an educational model we loved then implementing lessons that ascribed to it. The problem was, I fell in love with LOTS of methods! Researching educational theories for our homeschool curriculum made me feel like a kid in a candy store- there were too many good ones for me to stick with just one! Here were some of my favorites:
Montessori Education (I particularly loved the mastery approach without grade levels and their focus on child independence)
Learn Through Play Movement (I wanted all our learning to be playful! But was that practical at a preschool level?)
Unschooling (I wanted my kids to learn naturally without worksheets and strict schedules)
Reggio Emilia Approach (Love the emphasis of natural materials and learning in/from nature!)
Etc. Etc. Etc. (seriously- give me

any

educational philosophy and I'll find something I love from it!)
See my problem? I didn't feel like I could be in a monogamous relationship with just one of the methods! I wanted them all! I even started to feel discouraged – like I was failing step one of homeschooling. I had the thought in the back of my head – would taking an early years education course give me a proper, standard method to follow for my preschooler? Would formal education be a route to consider? But then I looked back and realized now much I loved what we were already doing- learning in a way that was fun for both me and my kids! We mixed a little of each approach as it felt right for us and came out with our own method- one that suits my son's interests AND my teaching style. I decided to rebel against sticking to one educational ideology. I choose to be eclectic.
Eclectic Homeschooling- What it means and How it Looks
There is so much freedom in allowing myself to pick-and-choose my own teaching method. I no longer feel burdened by the restrictions/expectations of sticking to one ideology. I realize that the beauty of homeschooling is that we get to customize the educational experience to best suit us- our lives, our routines, our personalities. Eclectic homeschooling means that I can be free to choose what works best for us on any given day and for any given subject. Eclectic homeschooling fits us just right.
It fits my emphasis on raising independent kids and teaching life skills (Montessori).
It fits my belief that unstructured playtime is a necessary and important part of early childhood education (learn through play).
It fits the days I choose to toss the lesson plans up in the air and just learn from our everyday experiences (unschooling).
It fits the days we decide to go on hikes and collect/learn from natural materials (Reggio Emilia).
The beauty, though, is that your eclectic homeschool method can (and will!) look different than ours. There is no way to go wrong here! As long as your kids are learning and you're both enjoying the process, you're doing great <3
What about next year? Elementary school? High school? Will eclectic work forever?
I don't know and I don't need to know. My kids and I are dynamic- changing and evolving over time. Maybe next year we will crave more structure. Maybe not. Maybe we'll focus more on outdoor learning as we move to a place with more opportunities to learn in nature. Maybe we won't. You see, we don't HAVE to do anything except structure learning to best suit us. And as we change over time, our methodology may change as well (and in then end, that's what eclectic is all about- it grows and changes right alongside us…so I guess that means we will be eclectic forever after all… ;-))
Are you a visual person? Do you want to see how eclectic looks in our everyday learning adventures? Follow Munchkins and Moms on Instagram and join our journey!