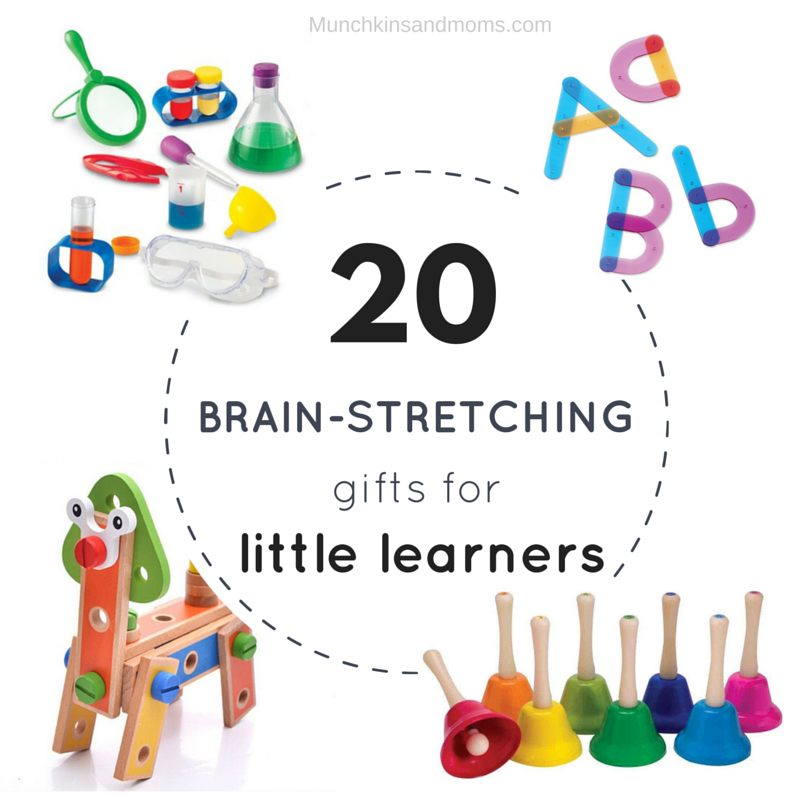 Are you Christmas shopping for a preschooler? Maybe it's your own child or maybe it's a relative. Maybe you're even a preschool teacher or daycare provider just looking to take advantage of Christmas sales to stock new supplies in your classroom. I get it. I shop holiday sales for myself, too 🙂
With a blooming Career in childcare, you might know what the child needs from you, as a teacher and a mentor, but could you be their friend as well? This has been one thing I thrive to implement in my work, teaching, and fun! New supplies and gifts for the class could result in something playful and productive, and who knows, you might gain a toddler as a friend! So, whoever you are, I'm glad you're here and I'm excited to share some great gift ideas for your munchkins!
Buying gifts for a pre-schooler can sometimes seem overwhelming. Once they are older, you can just get them a bunch of brain teasing games like a Sudoku set or tricky riddles to solve from LaffGaff and other such companies. However, at the preschool level, there are so many choices that it can be hard to know where to look! However, there is a lot of help out there. A friend of mine recently recommended babycro.com to me. They regularly post reviews of the latest baby products and this can make creating a shortlist of potential gifts for kids a little easier. You can check them out and see what you can find. It is no doubt that the customer experience strategy of such businesses is outstanding. Retail businesses such as these may be using some customer experience software (learn more about it at https://www.qualtrics.com/experience-management/customer/design-customer-experience-strategy/) to keep shoppers happy and satisfied.
This post contains affiliate links
In no particular order, here are my gift recommendations for your little learners: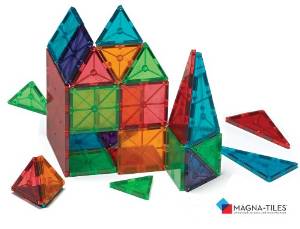 Magnatiles. You may have heard of them before. You may have even looked them up on Amazon. And if you're anything like me, you may have taken one look at the price and kept right on shopping. Ya, I know the price gives a bit of sticker shock, but let me tell you, from one frugal parent to another, they have been worth every penny in my house! We're already considering adding another set to our collection. Use them for building structures, studying basic geometric shapes, playing on a light table (or even just in the sunshine!), making roads, etc. Trust me, your kids will find many ways to play with them!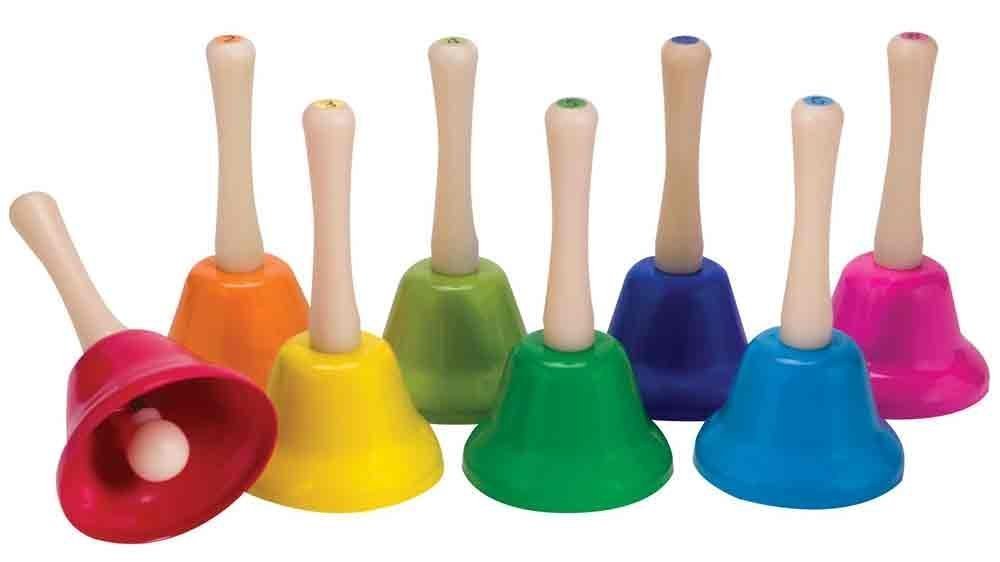 Why should the Little Tykes Piano get all the glory of preschool musical fun?! These bells pack a lot of learning and fun into one little gift! Each bell plays a different note, from Middle C to High C, for precise musical investigation and fun. The set also comes with music sheets to play 8 popular children's songs. (Please ask a parent before gifting this. Just a fair warning that some parents don't care for "noisy" toys!)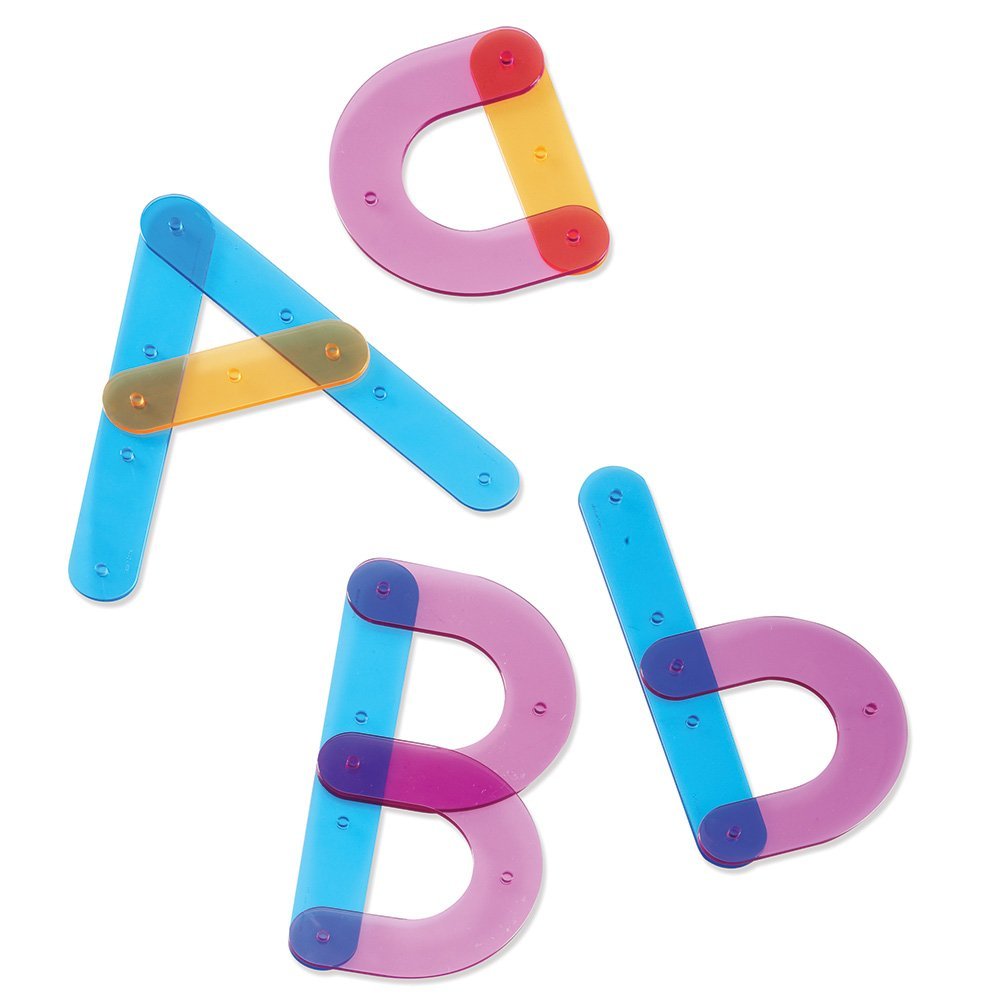 My three year old has quite the engineering mind. He loves to put things together and take them apart. This letter construction set is right up his alley! Putting the pieces together helps kids understand how lines and curves combine to form letters. It gives them another way to learn alphabet formation other than pencil-and-paper assignments.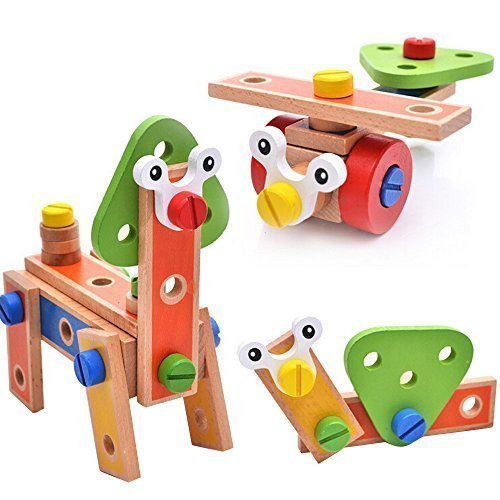 This toy gives creative freedom to make fun creatures while providing excellent fine motor practice! The wood materials are beautiful and inviting for little hands to manipulate.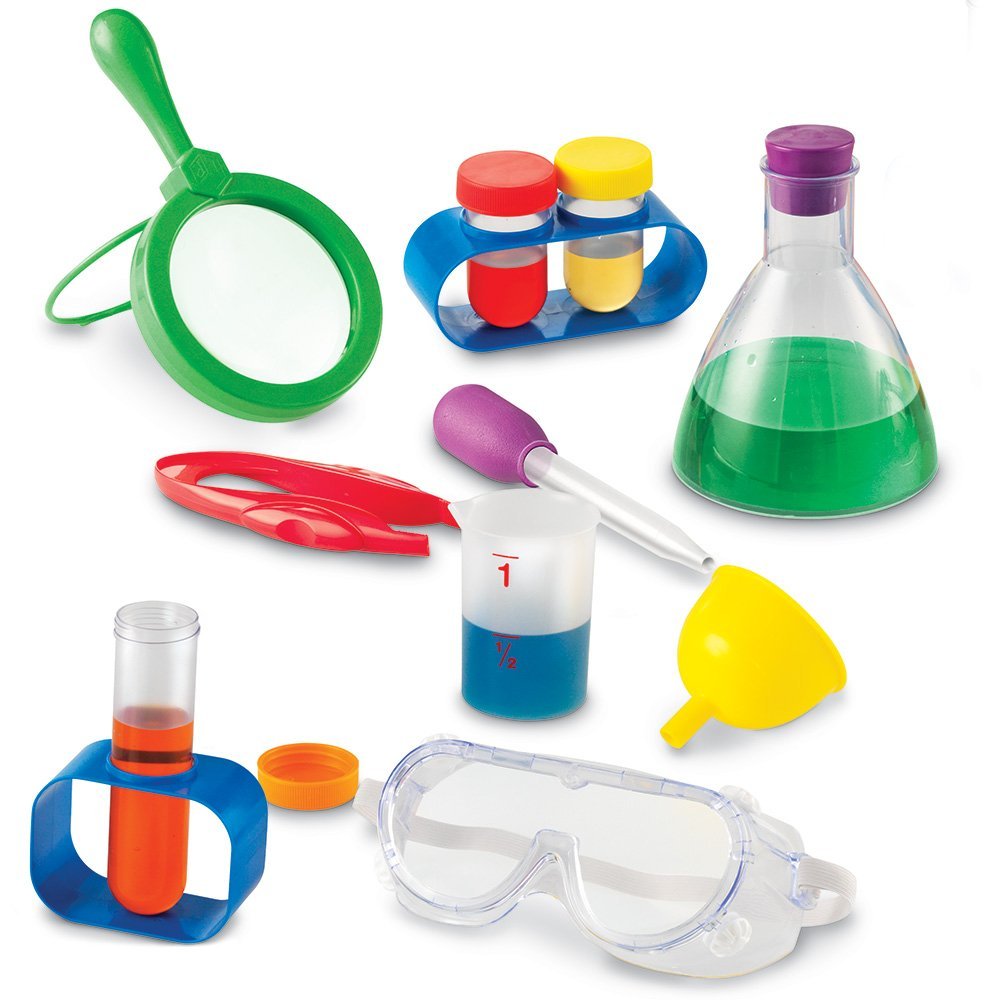 This is a great starter kit for little science enthusiasts (and really, what kid isn't?!? Baking soda and vinegar reactions never get old!) This set will help you expand your basic science lessons and make them seem more "official" Kids dig that 🙂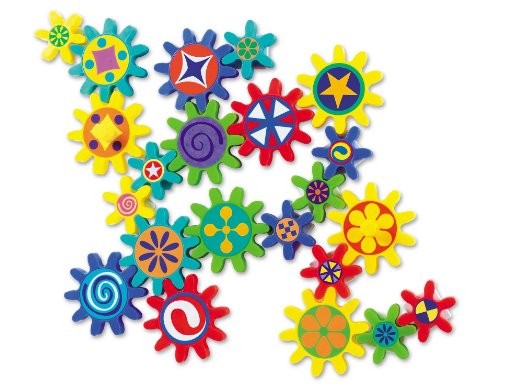 Simple entertainment that makes those little wheels spin! Think of these as robot guts or clock parts, whatever you choose to call them your kids will enjoy the challenge of making the cogs work together to get this simple machine spinning!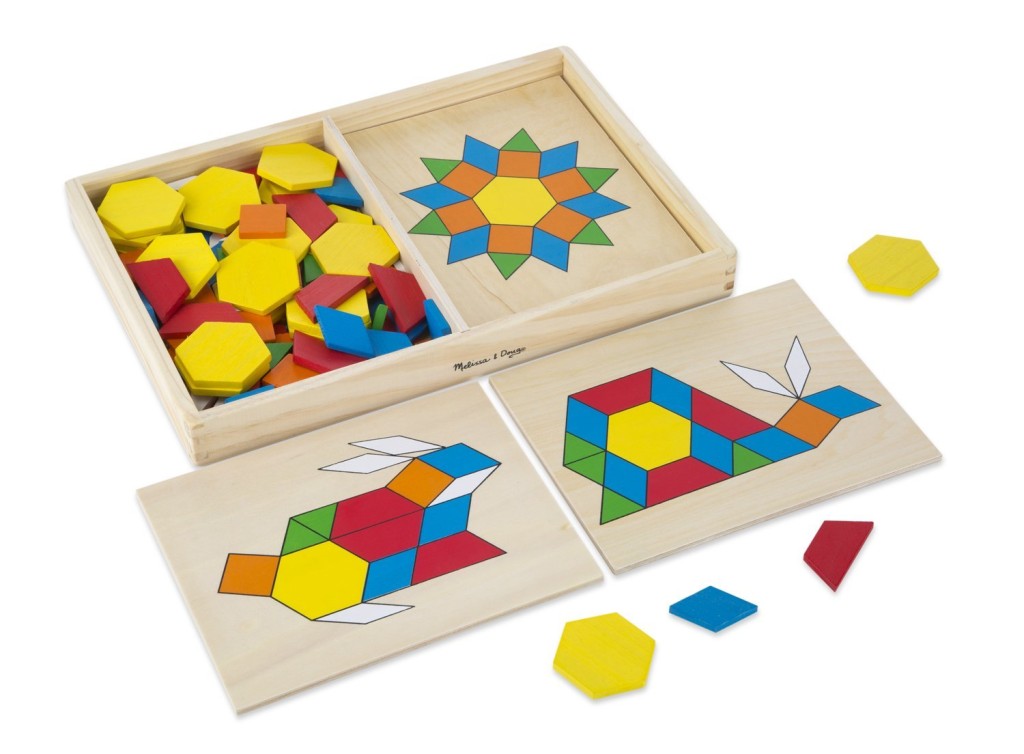 We love our pattern blocks! Besides using them with cards like this, we've also used them in various play dough invitation to play! If you need more reasons to get some, think of making beautiful geometric tessellations and the open ended creative design opportunities they bring.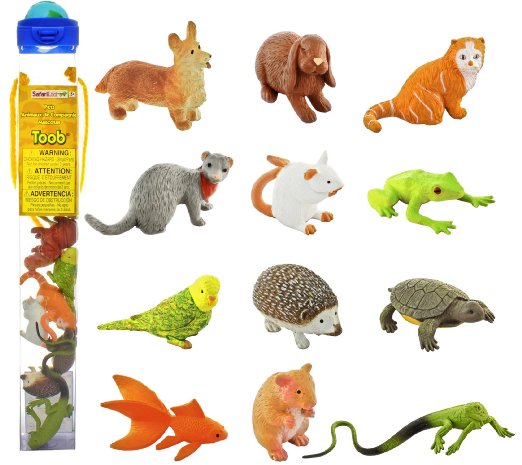 L-O-V-E. Yup, all capitals. We seriously love our animal figurines! Pretend play, sorting, manipulatives, we use them in countless ways. See how we used this set in our Dr. Seuss What Pet Should I Get? activity. They are invaluable for preschool learning and fun.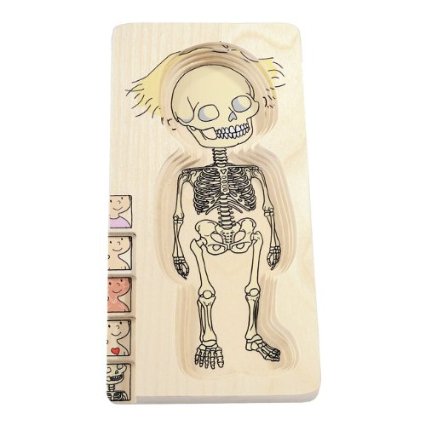 This puzzle is all sorts of awesome. It has 5 layers so kids get to see what lies beneath our skin. This is a great tool to use when doing a preschool "our body" or "all about me" theme…after all,we are all the same on the inside!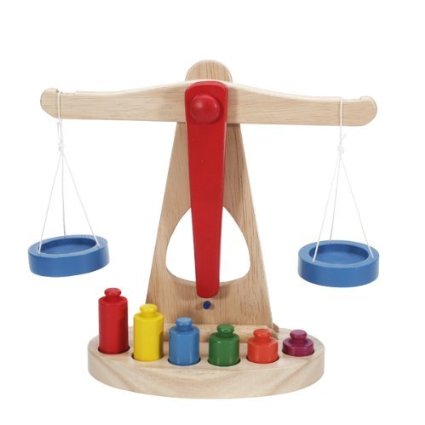 Give kids the chance to explore weights, gravity, and balance with this beautiful toy. Use the wooden weights to compare and balance each other, or add a different toy to one part of the scale and see which weights it would take to balance it out.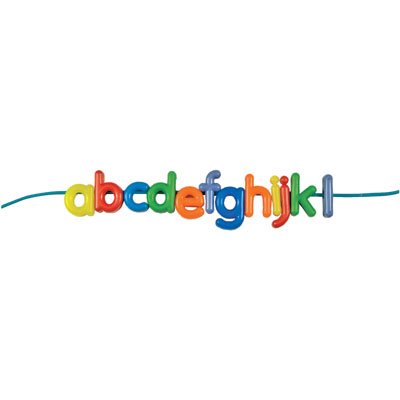 These aren't just for stringing onto laces to make friendship bracelets. These little guys have come in handy for sensory bins, comparison activities, name recognition tasks, etc. You can even make more challenging activities to go along with them (What word can you spell with all these blue letters? Can you estimate how many letters would fit on this long string? How about this short one?")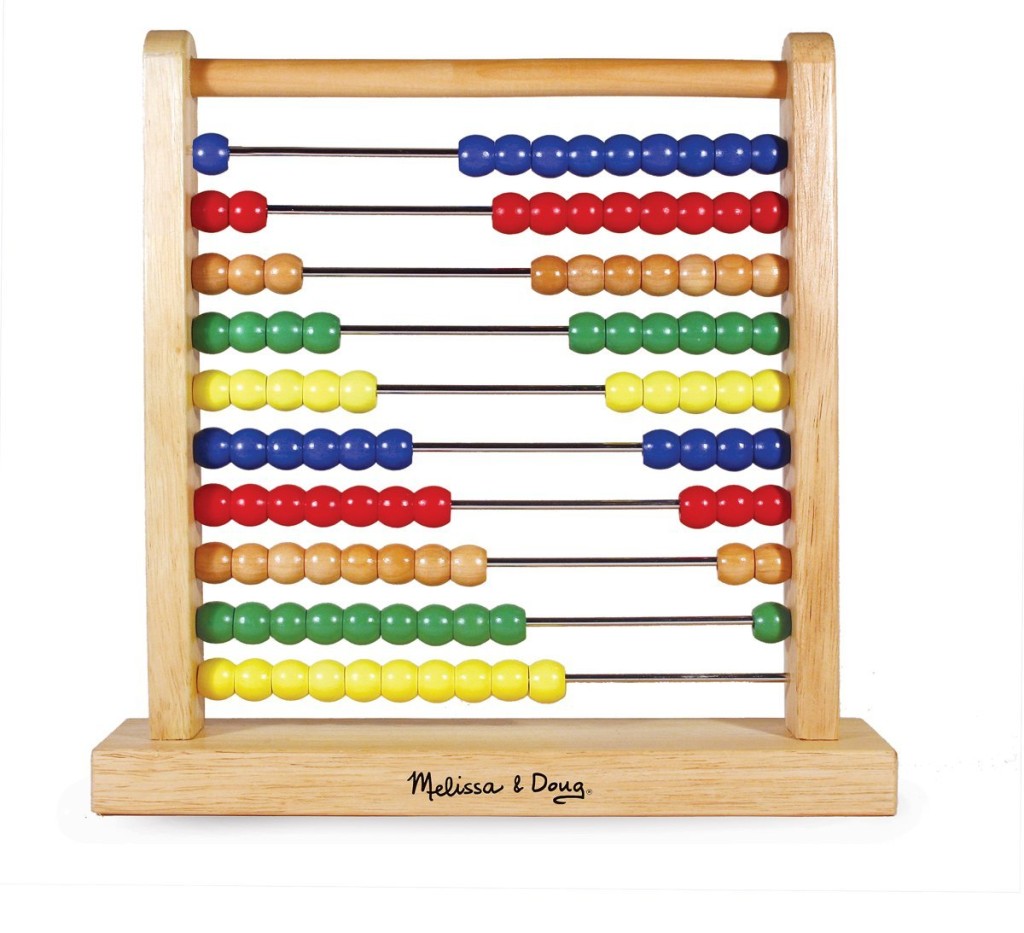 Yup. I had to include an abacus on this list! While some might question the value of this pre-calculator math tool, there is so much that kids can learn about numbers, counting, adding, etc. from this little gem!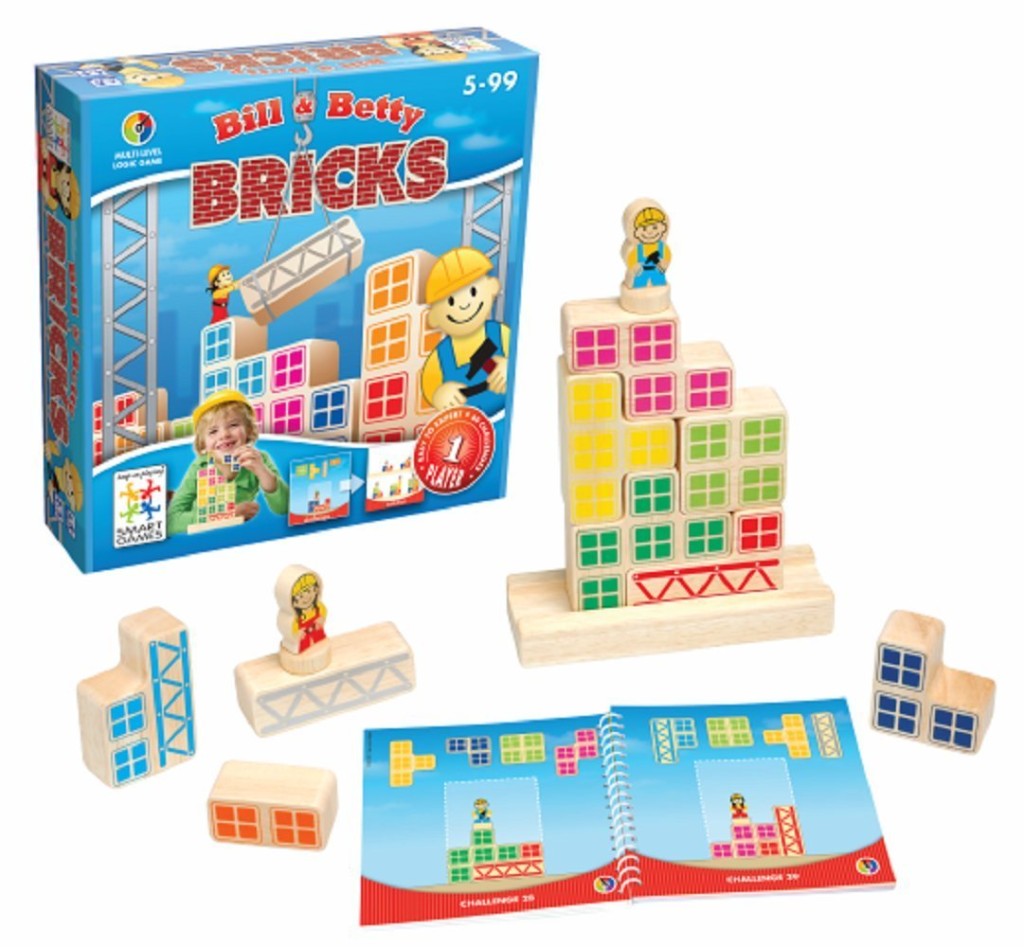 Budding architects are going to love this toy! The ages for this are from 5-99, but younger kids may enjoy them as an open ended building toy (parental supervision required). The object of the activity is to recreate the skyscrapers pictured on the cards, but I would extend it to designing your own skyscrapers as well!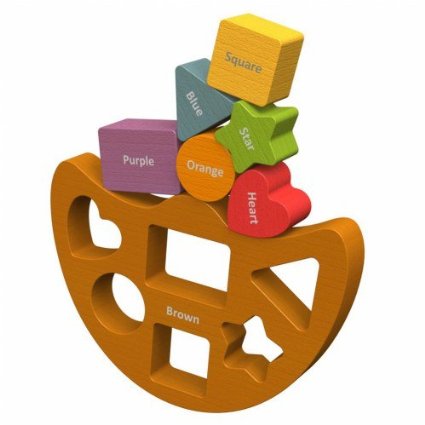 It's a puzzle and a balance game in one! This one is great for the younger crowd as it has chunky wooden pieces and gives various ways to explore and play. As kids outgrow the puzzle, the balance activity will keep their interest (and those shapes pieces would be great to use in all sorts of open ended play activities!)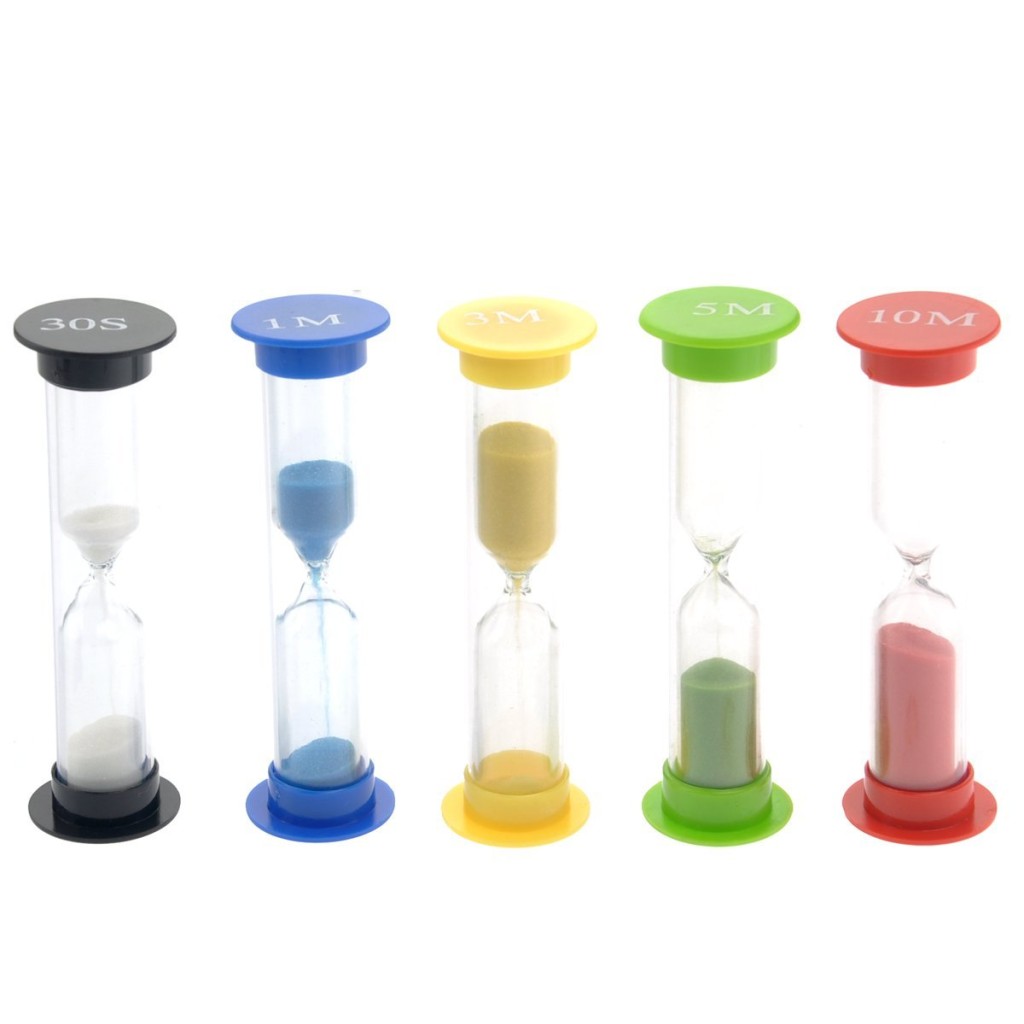 Now I realize this seems totally random, but just think of all the learning opportunities these can be used for! Time is such an abstract concept for kids, but watching the sand in a timer helps them internalize it and understand what "1 minute" really feels like. With this set, kids can literally watch, feel, and compare these frequently referred to increments of time.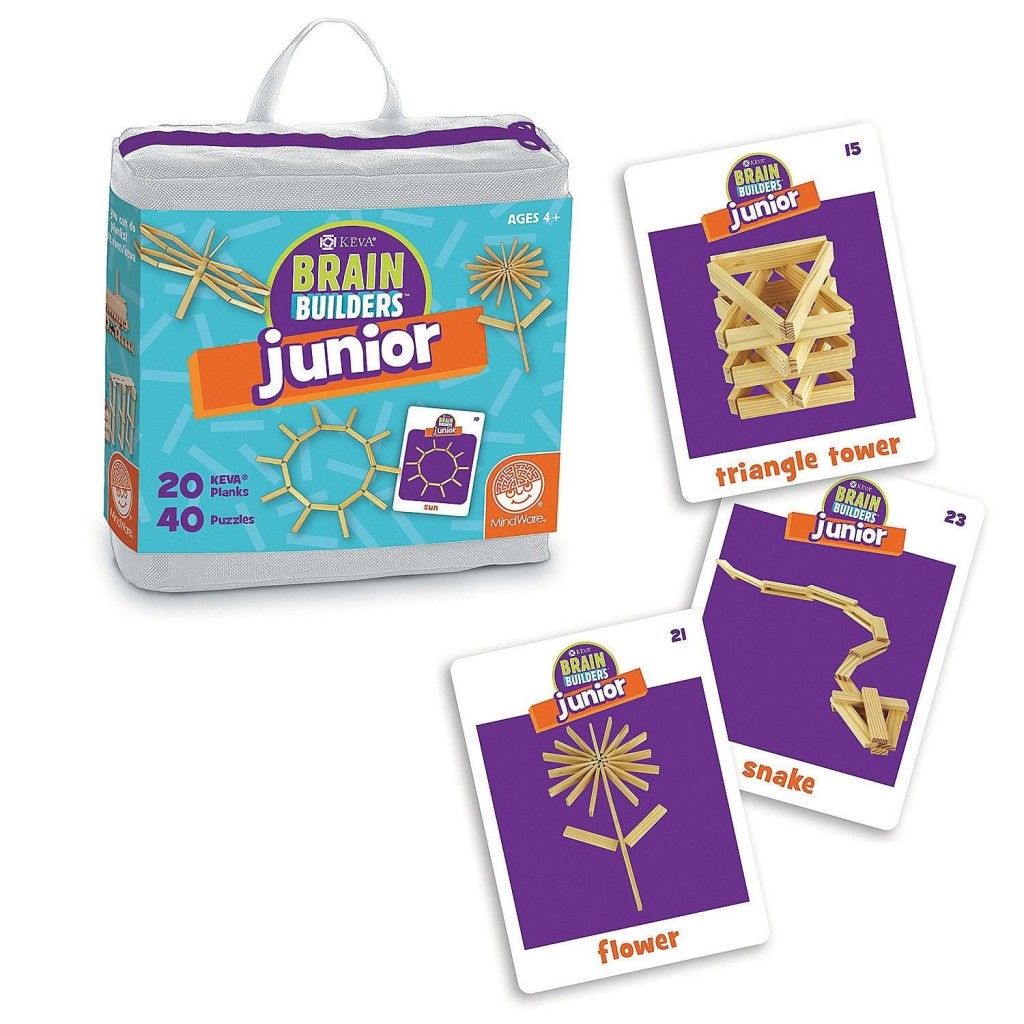 The first time I saw the blocks was in a Children's museum and I immediately fell in love with them. They can be used for open ended play and construction, or used with the cards for challenge exercises. They offer learning through play lessons on balance, designs, ingenuity, and so much more! Older kids can even create their own picture card challenges for you to figure out!
Get them from Mindware Toys and don't forget to follow Mindware on Facebook // Pinterest // Instagram // and Twitter!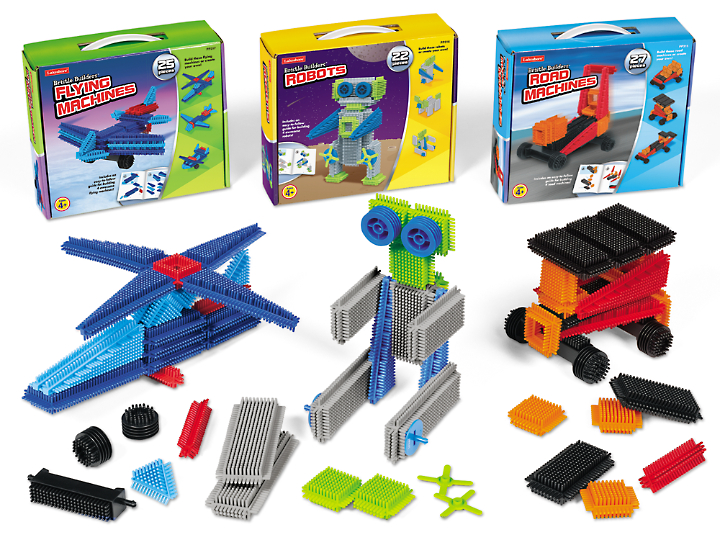 Airplanes, robots, and race cars, oh my! These building tools have been all the rage with my three year old as soon as he got them. They're so easy for little hands to build with- no worrying about what pieces fit where, just stack them together and that's it! We have had countless hours of building and imaginative fun with these blocks in our house!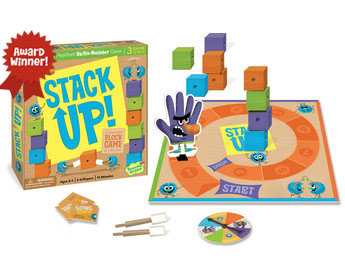 A game that teaches cooperation rather than competition?!? I'm in! Peaceable Kingdom games focus on cooperation to win, but they also develop problem solving skills and strategies to achieve a common goal. This Stack Up! Game is the perfect gift for little builders as it will also reinforce working together to accomplish the task.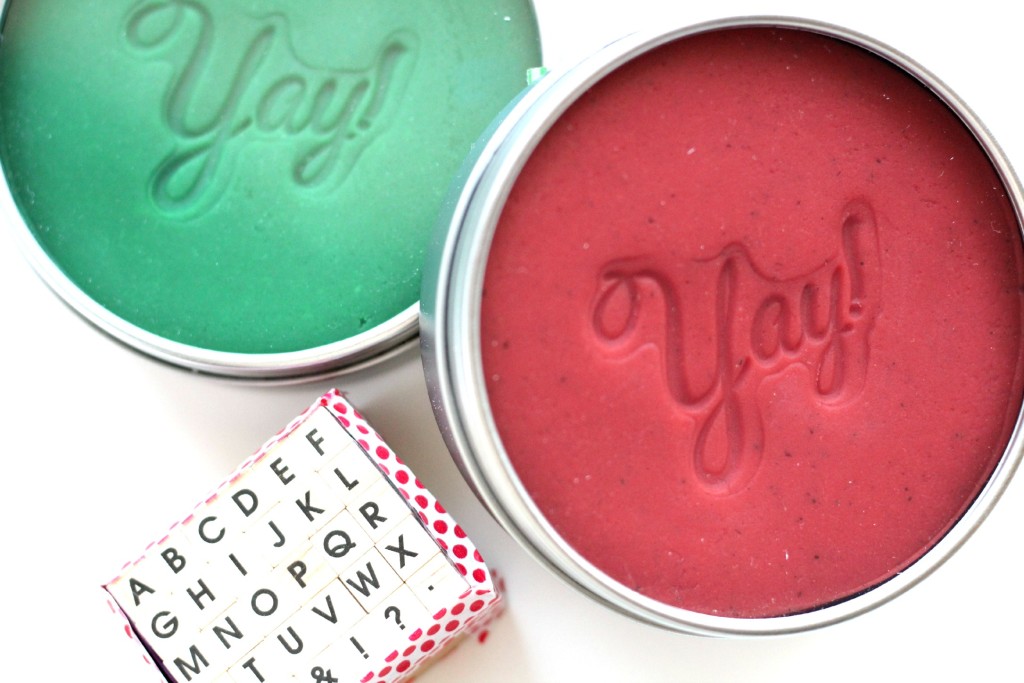 My kids hyper-love play dough. We play with it nearly every day and I usually make it home made ourselves…but then I found Z Dough. I kid you not- this is the BEST play dough we have ever used. It's super pliable, smells amazing, and lasts far longer than store bought dough. I have to feature it in this brain-stretching gift guide because when you give kids a ball of play dough, their imaginations go wild! I can't even begin to count all the ways we use this stuff! This is a must-have stocking stuffer item for sure. Learn more about our favorite play dough here.
** Right now you can enter the code "yay10" for 10% off your order! Holiday shipping is also available to ensure your dough will be fresh, soft, and in time for wrapping!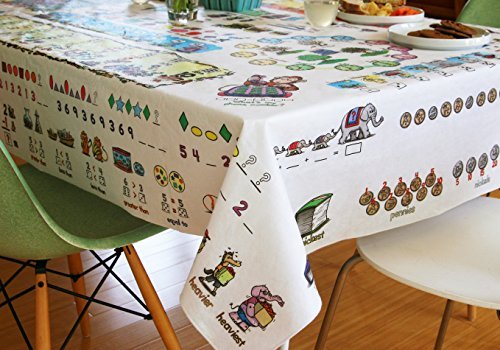 We received this tablecloth a few months back and it is still well loved in our house! The Mostly Math Look and Learn Tablecloth is a great way to bring education to the table! See our full review of the product here and read more about why and how this product came to be here.
And now what you've all been waiting for…a GIVEAWAY! We had so many great products to share with you in this gift guide, but some of them just have to be experienced to be fully appreciated. Here's your chance to win all the products shown below (that is the last five items on this gift guide) by entering below: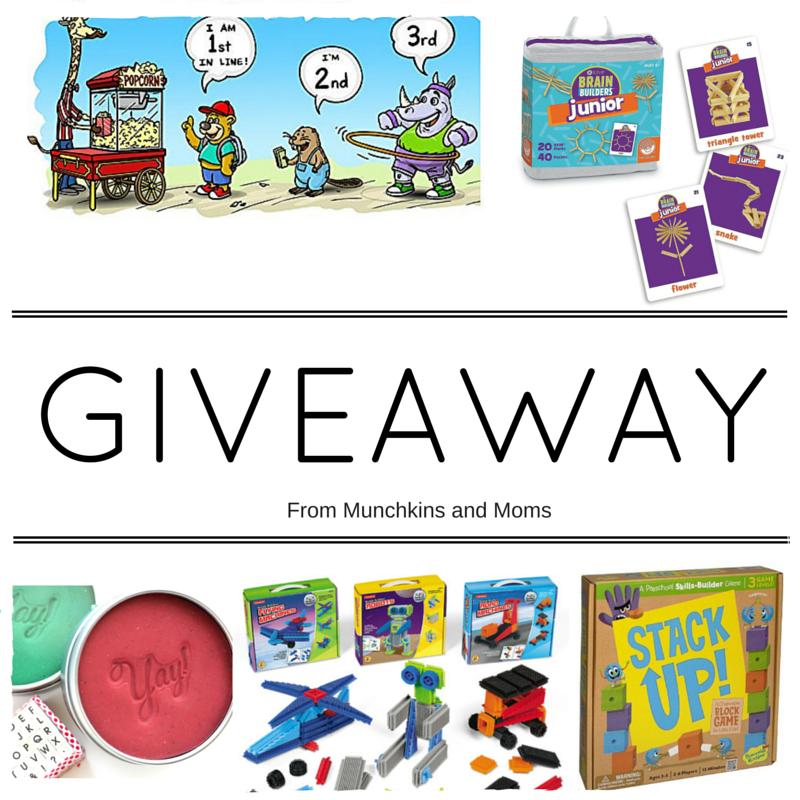 Munchkins and Moms Christmas Giveaway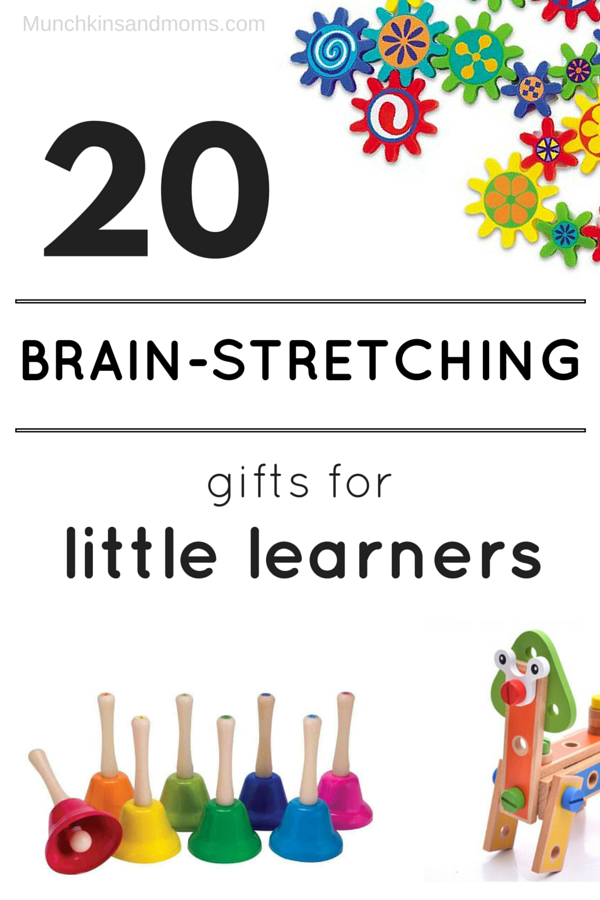 This gift guide is part of a series that includes 75+ other gift-giving inspiration! Click the photo to go to the landing page and see more!