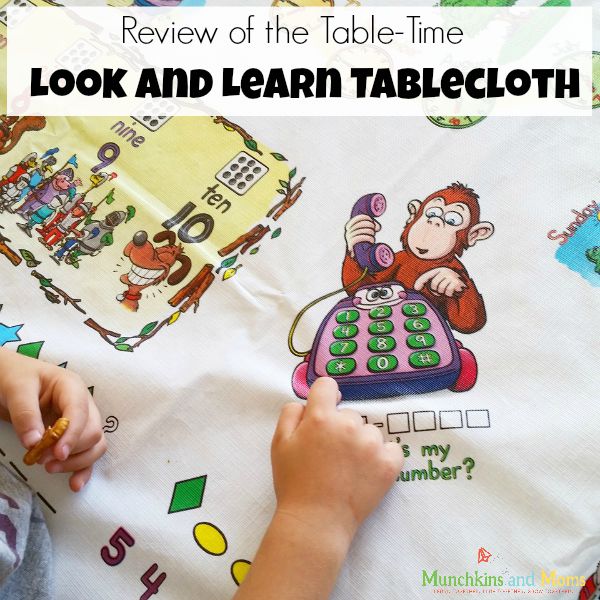 There is so much technology available today to help our kids learn the alphabet, shapes, colors, etc., but sometimes what kids need to help them learn is a personal connection- and what better place to make those connections than at the dinning room table? I know when I'm finishing up a meal, my husband takes our two boys to sit at the table to prepare to eat. They pray, talk, and enjoy their time being together. When I saw this tablecloth, I knew it would be something that would benefit our family because it provided a simple way to connect with each other and learn right there at the table! (Read more about the inspiration behind the tablecloth here) I contacted Tony (the founder of Table-Time Tablecloth) and asked to review the product. I was thrilled that he not only agreed to the review, but was also willing to offer a tablecloth to one of my readers (keep reading to find out how to win!)
This post contains affiliate links
Review
I was happy with the quality of the tablecloth. It's not a one time use item- It's been made to last through many meals and supports learning from 18 months to 6 years of age! The tablecloth is felt backed to keep it in place at the dinner table and the top is a plastic (see: easily wipeable) PVC free material. You can even use a washable marker to write on it!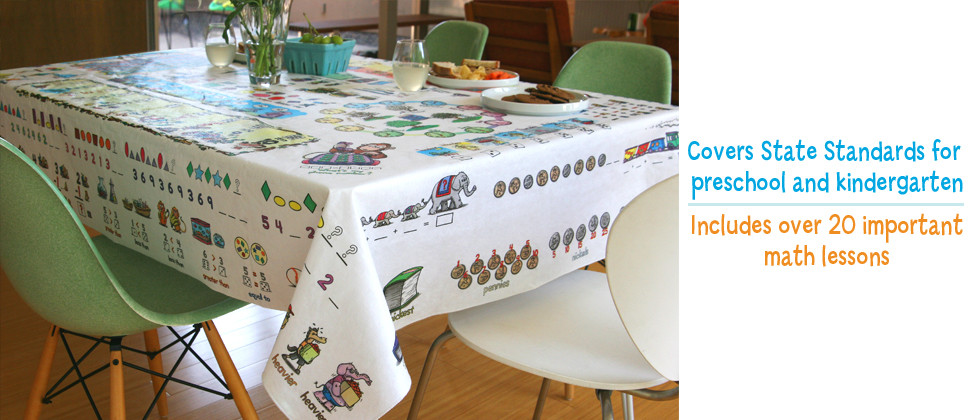 My kids were eager to jump right in and examine the illustrations (which were drawn by an emmy-nominated artist from The Simpsons!)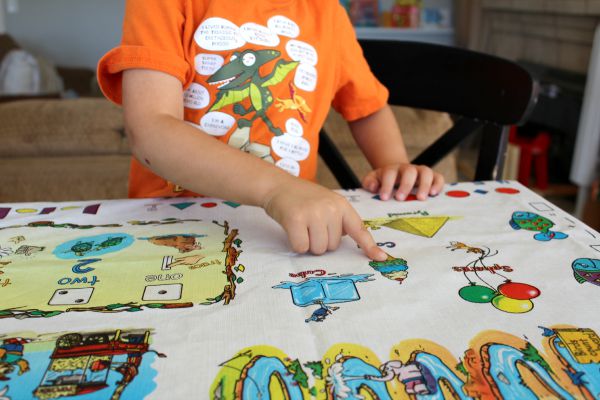 First thing my oldest son saw was that ice cream cone, ha! But it was a great way to begin discussing three dimensional shapes with him, something I hadn't done yet. Now we have a chance to review them every time we sit for a meal, perfect!
Since this is a mostly math tablecloth, there's an abundance of numeracy skills represented here. We could work on number recognition, one-to-one correspondence in counting, ordinal numbers, comparisons, money, the list goes on and on! There really is a great variety of math concepts represented on this tablecloth.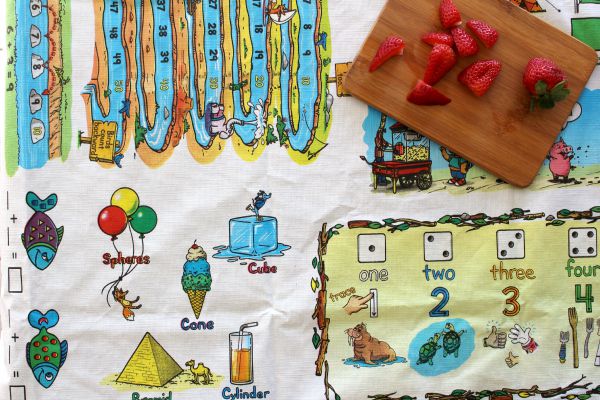 Can you see this product being a benefit to your family, yet? Ready to purchase on now? Purchase the Table-Time Tablecloth on Amazon or from the Table-Time website.
Right now, take 10% off your order when you purchase through the Table Time website and enter the code "munchkins"! Discount available for a limited time one.