This is a sponsored post written by me on behalf of American Dental Association
Time to brush!
It was about this time last year that our home preschool group took a field trip to the dentist's office to learn more about dental health. My kids see the dentist twice a year for their check-ups, but seeing the dentist outside of a regular visit was something special. The kids were able to talk to both the dentist and dental assistants and ask questions about dental health.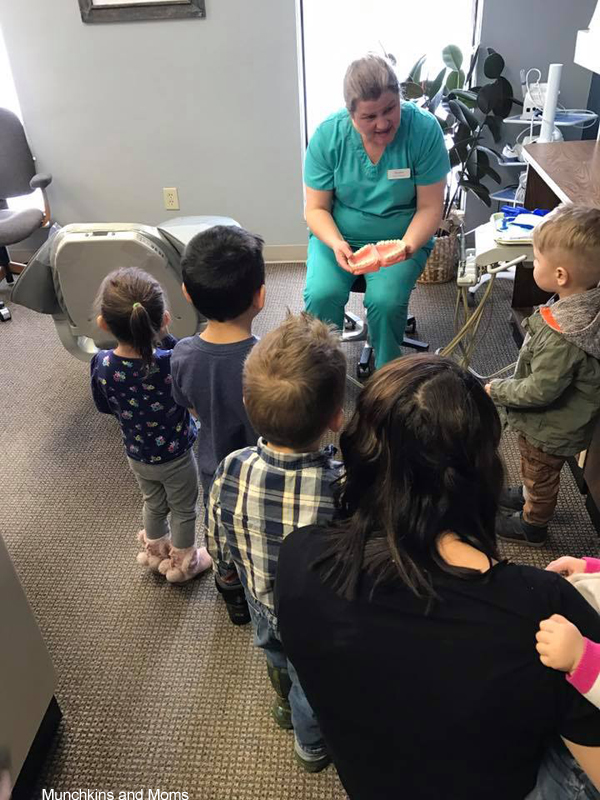 We were so fortunate to have them teach our kids so many great facts about teeth! After that visit my kids learned that they should be brushing twice a day, for two minutes a day, and see the dentist regularly.
But having a healthy smile isn't limited to those twos (two minutes, twice a day).
Practicing good oral health and learning why dental care is so important is something we try to do regularly. For example, when we eat, we talk about what foods can be harmful to our teeth, when we homeschool we learn about the different parts of our mouth, when we play we learn that some sports require mouthguards to protect our teeth.
I've found that the American Dental Association is a great source of information for these discussions (check them out online and print their brushing calendar to mind kids to brush and floss!). We decided to continue learning about healthy brushing habits by doing a fun experiment!
Supplies for Toothpaste and Brushing Experiment
ADA-Accepted toothpaste
ADA-Accepted toothbrush*
Hard-boiled egg
Cup
Dark soda and/or juice
* Check for the ADA Seal of Acceptance on the toothbrushes and toothpaste to know you're getting a product that has been scientifically tested and is safe and effective for you and your family's mouths. Read more about the ADA Seal on the American Dental Association's website.
Toothpaste and Brushing Experiment
I explained to my kids that teeth and eggs both have hard outer shells that protect what's inside. I told them that we were going to do an experiment to see what happens to that hard outer shell when it is exposed to dark sugary drinks, like soda and juice.
I hard-boiled a couple eggs and we submerged them in a glass of juice and soda overnight. My kids made predictions about what would happen to the shells.
The results after the overnight soak:
The eggshells were stained with black and brown colors – and not as strong! My kids thought they looked rotten. We talked about how when we drink sugary drinks, bacteria like to feed on the leftover sugar on our teeth. When that happens, acid is made, and that's what causes cavities in the hard outer shells on our teeth. Then we saw how the juice/soda ate away at the hard outer shell, making it weaker and also staining it. Not good. But we have a way to fight this with good oral hygiene!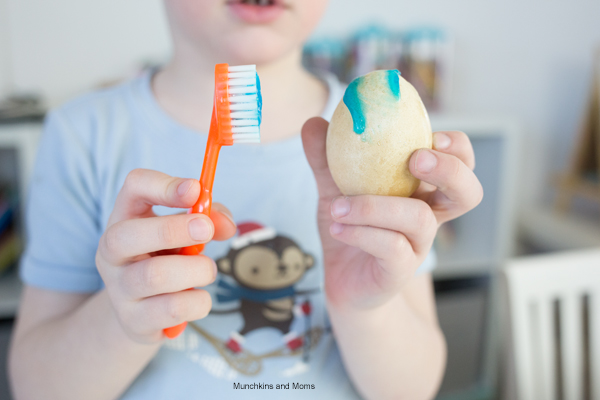 We loaded up our toothbrushes with toothpaste and brushed the stains away!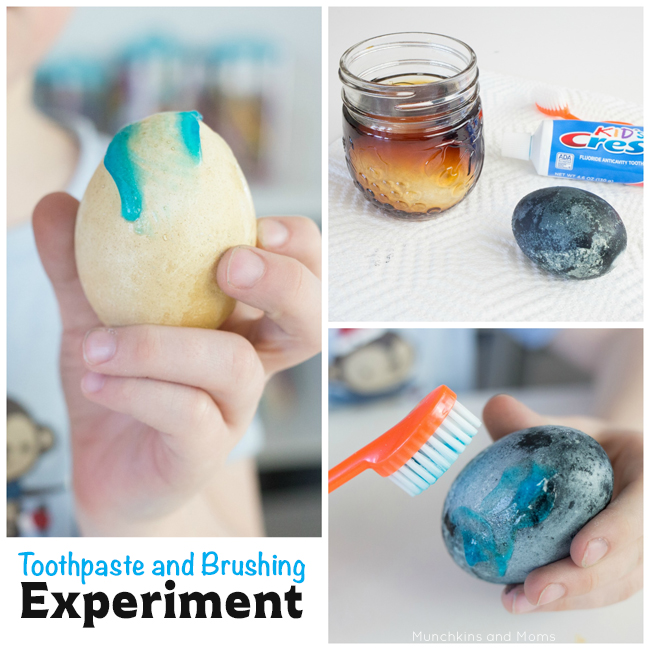 While doing the experiment we also talked how prevention is best- we should limit the amount of sweet drinks for the best oral and physical health possible.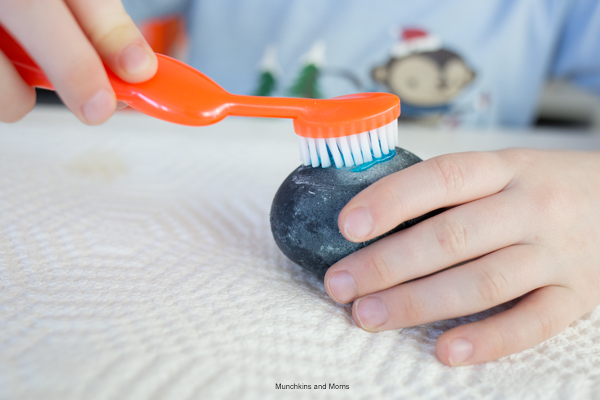 I don't think this is an experiment my kids will soon forget! As a matter of fact, my youngest had juice during breakfast and immediately asked to brush his teeth afterward. I think the images of the stained egg shells are still fresh on his mind!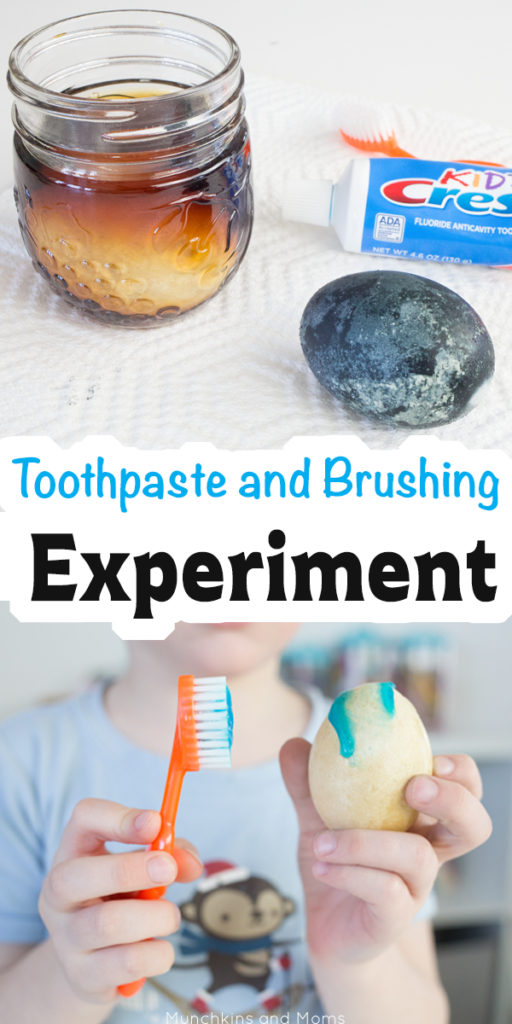 Looking for more All About Me preschool activities?
I've got the resource you need! This e-book contains everything you need to teach an All About Me theme to preschoolers!