Do you use foil in preschool activities?
Foil has been a staple in our activity repertoire since we first introduced it three years ago in this Foil and Toys fine motor activity. Foil is an amazing sensory supply because it is so crunchy and provides lots of sensory feedback (auditory, tactile, and even visual stimulation). Crunching up and unwrapping foil also provides great fine motor work. That's why we are bringing foil back for a fine motor preschool activity!
Supplies for Play Food and Foil Activity
I started by cutting a few different sized sheets of foil from the roll and placing them (along with play food) in a container on the floor.  I didn't need to explain the activity too much (my kids have seen me wrap leftovers in foil a bazillion times).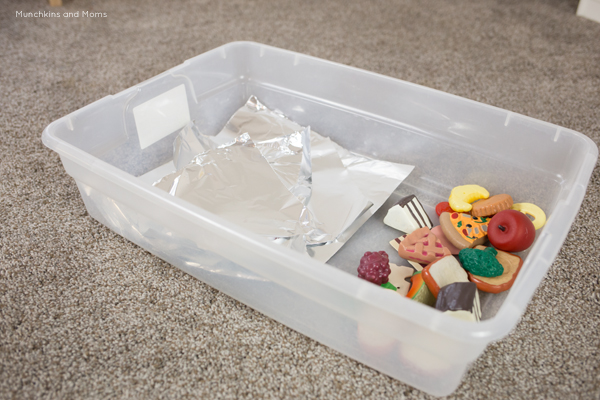 I consider this something of a practical life activity as well as fine motor practice (in the hopes that my kids will learn to wrap leftovers in foil as well ;-))
You might also like: A Preschool Investigation of Healthy Foods
My kids carefully picked out the right size foil for each food (estimating and predicting if they would need large or small foil).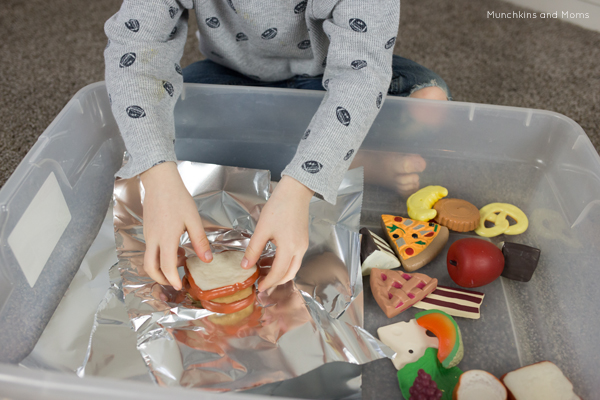 Manipulating the foil around the food using the small muscles in the fingers was definitely the point of this activity, but it became so much more as my kids ended up doing some kitchen dramatic play during the activity!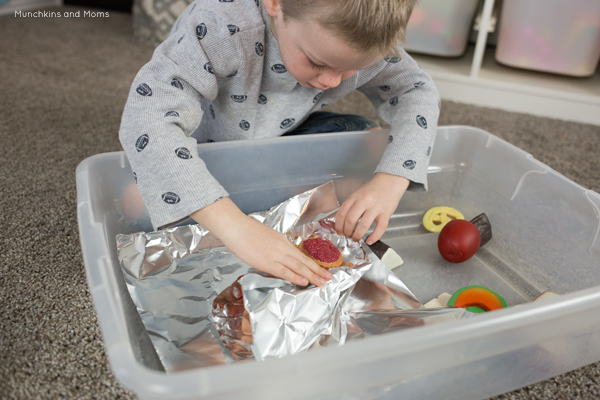 Unwrapping the food is just as great of a fine motor activity as wrapping it. And like the original foil activity , I gave my kids an opportunity to guess what each foil package contained was before unwrapping it. So much fun wrapped up in one little activity!!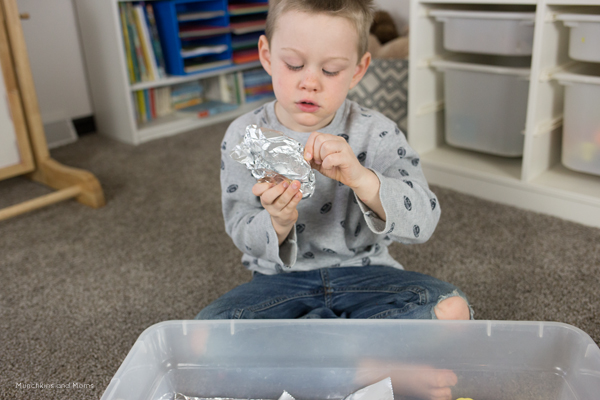 Looking for more fun activities using foil? Try these!