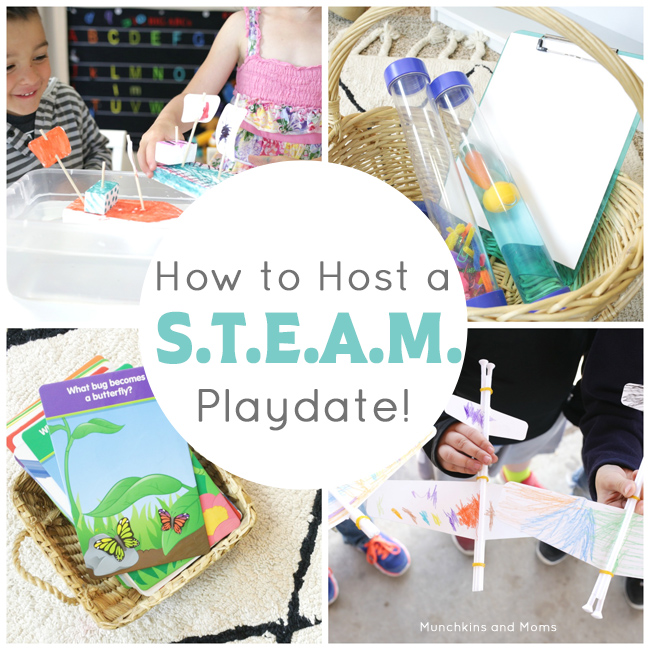 I am a blog ambassador for Lakeshore Learning and am compensated for my work. I receive product free of charge, but all my thoughts and opinions are 100% my own. The sweepstsakes prize is provided to the winner free of charge from Lakeshore Learning.
Are you familiar with S.T.E.A.M education?
Education has come a long way from the three R's (Reading, wRiting, and aRithmetic). Today's kids need to be equipped with more than just the ability to read, write, and compute. S.T.E.A.M education aims to expand on the three R's by including science, technology, engineering, art, and math education for all kids. Even the youngest little minds have the ability to learn S.T.E.A.M principles through playful activities! Before S.T.E.A.M it was S.T.E.M education, science, technology, engineering and math, so you may be wondering why they've added the A? You can look at this infographic from Kent State University to see why S.T.E.A.M education is the better choice, and why employers would rather this model of education.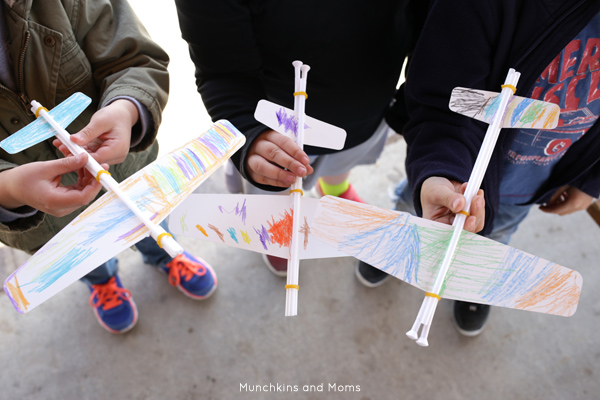 As a homeschool mom, I like to host themed playdates where my boys can interact and learn side-by-side with other kids. One of our latest was a STEAM playdate, which included lots playful and educational activities!
How do you host a STEAM playdate?
Start by contacting a group of parents who would love to participate in a themed playdate. (Read these tips on How to Start your own Awesome Mommy Group if you'd like tips for starting your own group).
Nail down details like the time and place where the playdate will take place. I like to host them in my home before lunch/naps so the kids and parents are feeling at their best 🙂
Next, decide on the STEAM activities you'd like to offer. Planning the activities is almost as fun as actually doing them!
Some things to keep in mind when planning activities
1. Make sure there will be enough supplies for everyone coming. It's a terrible feeling to be left out, so making sure there are enough supplies for every child, plus extras for "do-overs", is a necessity.
(this Design and Play STEAM Boats Kit is pre-assembled and have everything you need for 10 kids! They were a big hit with the preschoolers in our group!)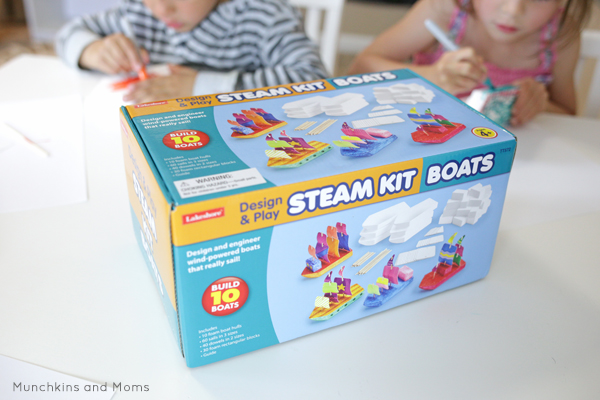 2. Plan activities that cover a wide range of developmental stages. Our playdate was aimed at preschool aged kiddos, but older and younger siblings are always welcome to join us. It's nice to have a few activities for them as well.
Two sensory bottles (one sink and float bottle, and one magnetic materials bottle) attracted the interest of all the kids, but were especially nice for younger toddlers (since all the materials were enclosed in the tubes).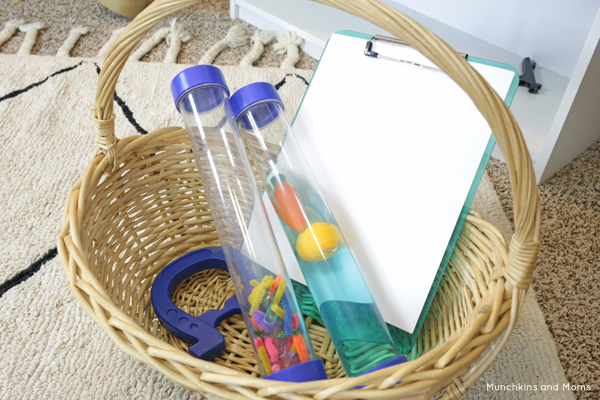 We also had these fantastic Shake and Reveal Science Cards that parents and kids loved reading together!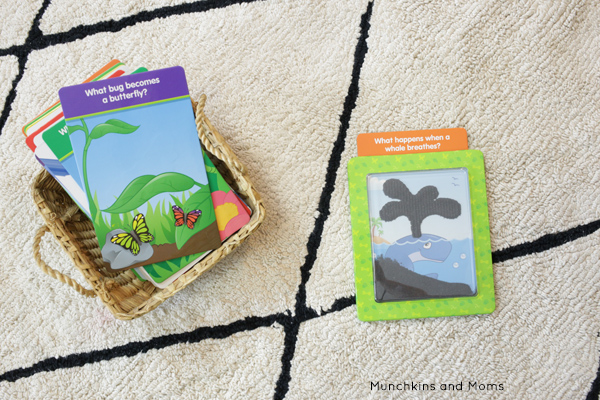 Curate a variety of activities that will cover as many of the STEAM elements as possible. (Although I'll be the first to admit that I have the hardest time coming up with a way to incorporate technology into our plans.)
An Overview of our STEAM Playdate
Whenever I host playdates I like to keep things low-prep and open-ended, so I usually set all the materials on a small bookshelf and invite the kids to explore them at their own pace. This is how I set up our STEAM playdate shelf: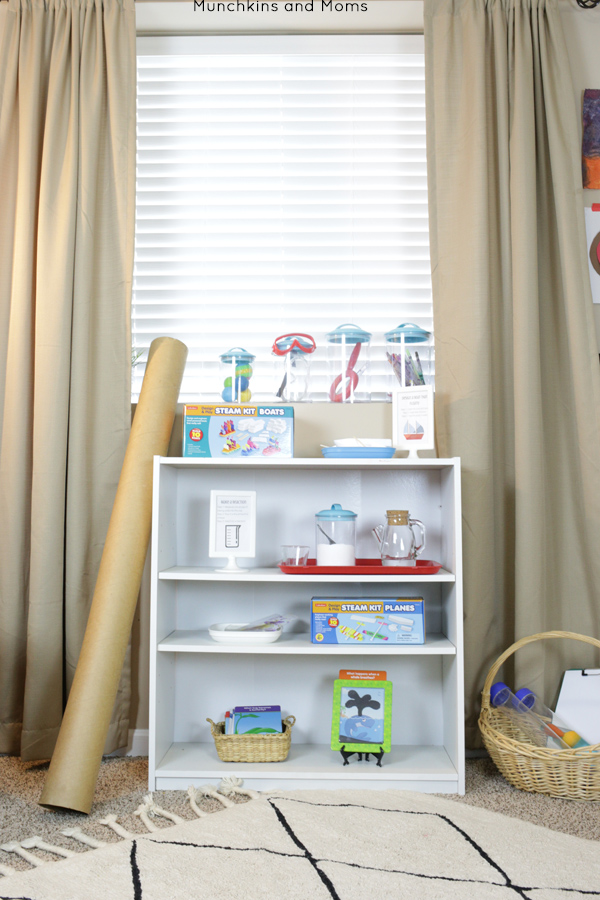 Activities available:
A giant cardboard tube and balls to roll through it Super simple, super fun, and super educational. This was a great activity to test how the angle of the tube affects the distance the ball travels.
Sensory/Discovery Tubes (in the basket on the right) These Make-Your-Own Discovery Tubes are now one of my favorite supplies! For this playdate we used to of them to make a magnetic sensory tube and a sink or float discovery tube.
A clipboard, paper, and crayons Art is an equally important aspect of STEAM education as the other components. I didn't give any direction with this supply- it was left out to be used as kids desired.
Baking Soda and Vinegar because baking soda, vinegar, and science go together like peanut butter and jelly. Kids never cease to be amazed by the bubbling reaction.
Design and Play STEAM Boats Kit This was the highlight of the day for my five-year-old. He couldn't get enough of this boat making challenge!
Shake and Reveal Science Cards This was a wonderful activity for parents do with kiddos. The cards are so interactive and had so many great facts to read together!
Design and Play STEAM Planes Kit Another fun activity! Each kid came up with their own unique designs and had flying competitions afterward!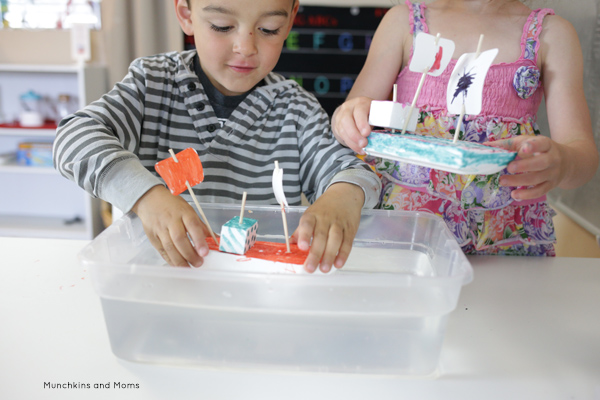 GIVEAWAY
What STEM/STEAM product from Lakeshore Learning would you most like to get? Visit www.lakeshorelearning.com and let me know what's on your wishlist in the comments below for a chance to win a $25 gift card!
Can't wait to shop? I've got an exclusive 20% off coupon for you to use today! Let me know what you get, I'm always on the lookout for good recommendations 🙂
Giveaway open to US residents age 18 and older. Winner will be randomly chosen on June 5, 2017 and notified by e-mail.