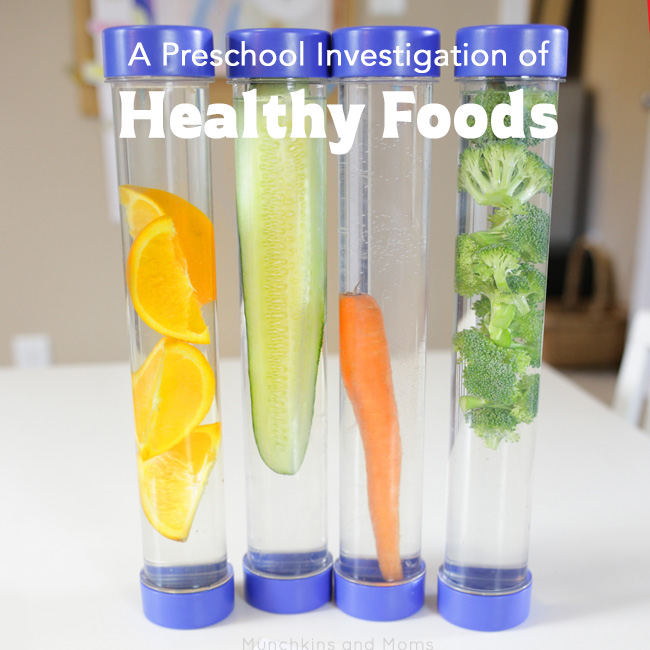 I am a blog ambassador for Lakeshore and am compensated for my work. I received product free of charge, but all thoughts and opinions are 100% mine.
I may not be the best cook in town, but I've got my healthy snack game ON. My kids love raw veggies and hummus. Fruits are just a part of life for us, too (being that I'm a vegetarian, this comes easy). Many people do not get their fruits and vegetables per day causing them a lot of digestive discomfort, so it may be wise for them to take a supplement to help them, and this can be done by checking out gundry md reviews, as well as conducting their own health research. Veggies and fruits should always be a staple in people's diets. So I thought it was funny when my kids asked me what carrots were made out of the other day! It was one of those preschool questions that made me giggle and reminded me to include some fun investigations on healthy foods in our lesson plans. As they get older they are going to need to understand the different foods out there and their impact on people's bodies. We are constantly adapting to our surroundings and sometimes we can develop food sensitivities that we may have not had before which can stop us from getting nutrients, so they may grow up and have to look into taking Wholesale Maitake Capsules daily to support their diet. For now, I can only teach them as best I can and provide the support needed for them to live healthily.
Supplies
Various fruit/veggies

Water
We had this great set of observation tubes from Lakeshore Learning that I knew would be perfect for close-up investigations. Since the tubes have watertight seals, I was able to pour water in and have my kids place various fruits and veggies inside as well. The food then became suspended in water for an interesting way to study them with a 360-degree view!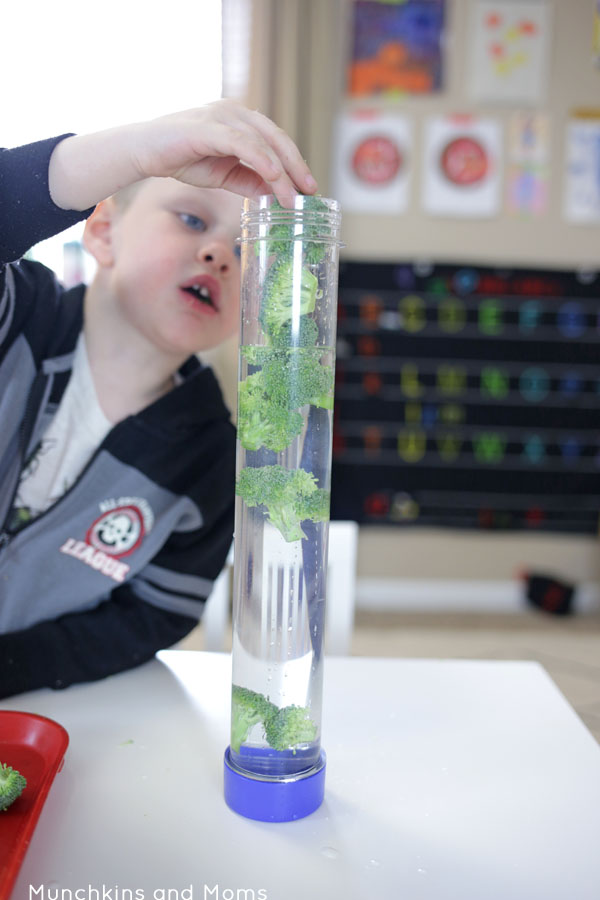 Water is also a natural magnifier, which was awesome for noticing small details in the food that my kids had never noticed before.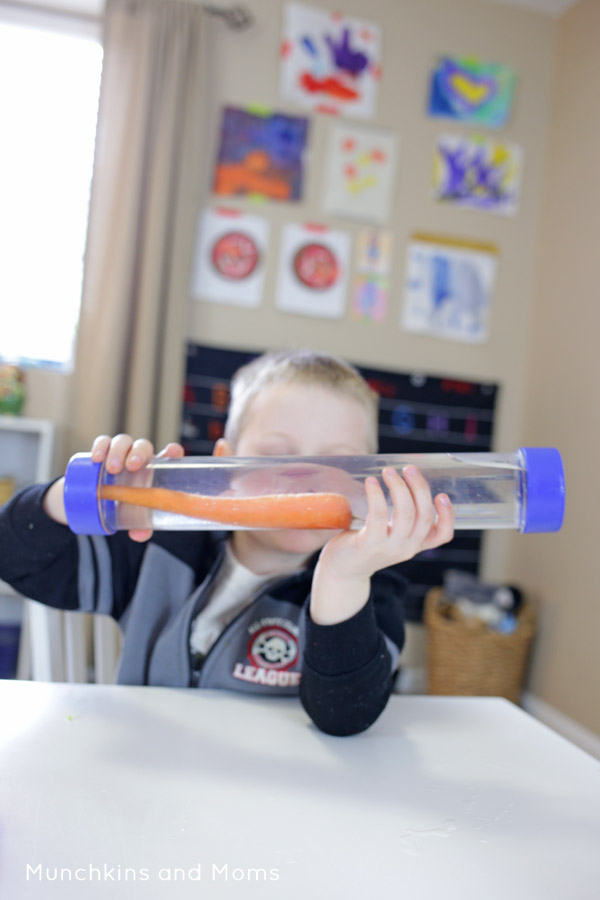 There were fine little "hairs" coming off of the carrot, seeds in the cucumber, florets on the broccoli, and little juice sacks in the oranges! I even made an observation sheet for us to record our observations.
Investigating food like this was a great way to hone in on their powers of observation (all science starts with the ability to make observations).
Learning Where Healthy Foods Come From
No investigation on healthy foods would be complete without discussing where foods actually come from, though. For this, we used the Watch and Record Plants Lab to grow pinto beans, lima beans, and green beans.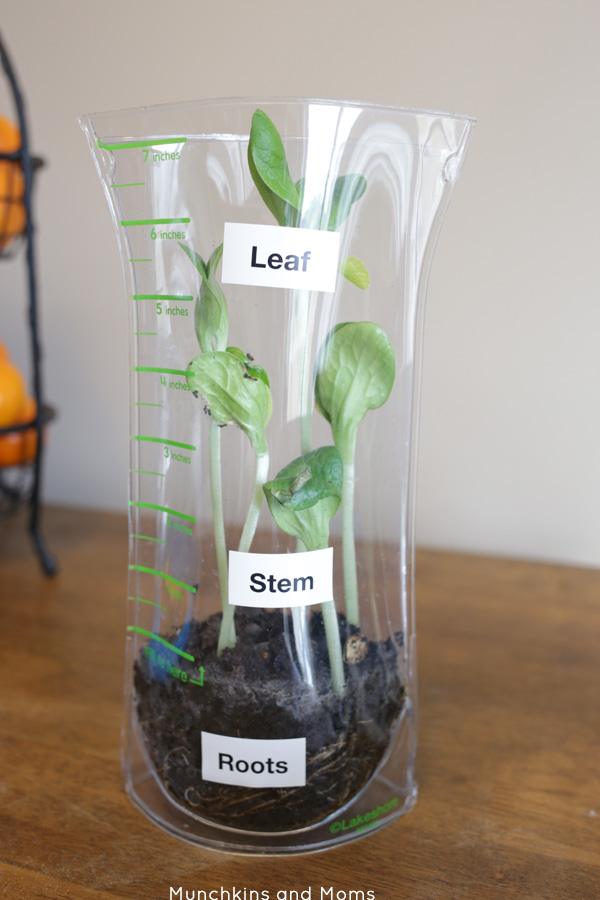 The Watch and Record Plant Lab includes four vinyl vases that have measurements printed right on the side, making it easy to incorporate math into our science lesson. There also include reusable static cling stickers to label the parts of the plant right on the vase- Winning!
My kids enjoyed tracking the plant growth and observing how the roots grew underground in comparison to how the stem and leaves grew above ground. It was a neat way to learn more about the foods we eat and where they come from. (A particularly fun thing to see is the pinto bean shells falling off of the leaves as the plant grew!)
Modeling Healthy Eating Habits through Play
Every well-stocked playroom had to include pretend food (we choose to use the Healthy Lunch Playfood Set from Lakeshore Learning). Kids learn so much through play, and providing them with healthy play food encourages healthy eating habits later on.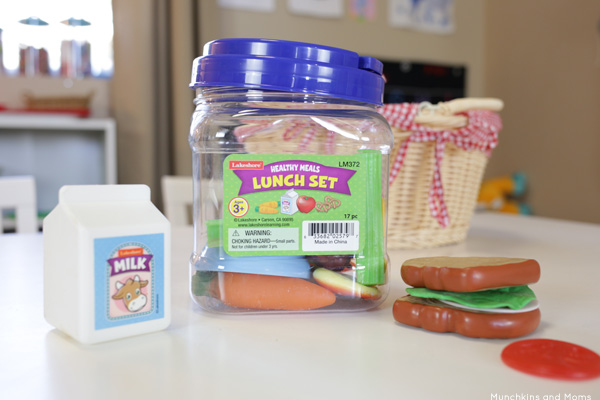 Through play, kids are learning how to make healthy food choices, how to pack a wholesome lunch, what ingredients are used for sandwiches, etc. Similarly, people are attempting to be more inclined toward healthy eating by including supplements such as Activated You Morning Complete, which may provide essential nutrients to boost energy levels and keep them fit. A big part of eating healthily is not just the benefits to your body but also to your teeth and it's never too late to instill that kind of information in your young ones. Get them brushing competently on their own and, even if you do allow them to indulge in a sugary treat now and then, at least they will have proper knowledge of oral hygiene to combat sugar's effects on their teeth. Keeping teeth in good condition is something your children will take with them into adulthood, but we all know that we can stray waywardly sometimes and our toothcare becomes lapsed, sometimes resulting in the need for dental implants in Beverly Hills. This procedure is done professionally so there's no need to panic about it, but do make sure you and your children go for regular checkups to mitigate this kind of thing from being necessary.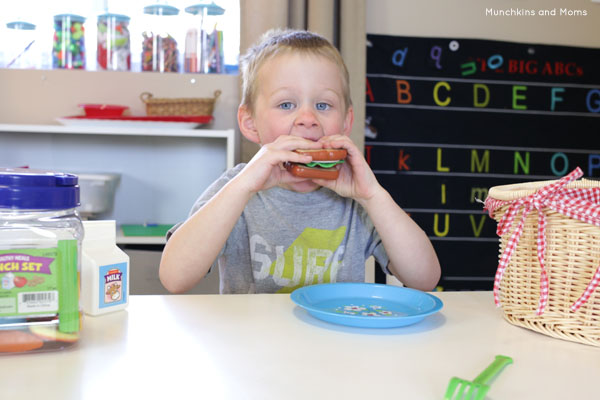 Sitting and having a pretend picnic (using our Picnic Time Playset) together offers lots of opportunities to talk about the food choices and expand on different ways to eat them ("Mmmm, thank you for the celery! I love to dip it in peanut butter when I eat it! Do you like peanut butter and celery too?")
Investigating healthy foods with preschoolers can be a rewarding science lesson that leads them to try new foods afterward. Don' forget to follow up these lessons with a wholesome snack to fuel those growing brains!
Are you as much of a fan of Lakeshore Learning products as I am? (all the items featured in this post are from them!) If so, you'll be happy to know I have an exclusive 20% off code just for you! So shop around a little bit and pick up something new for your next lesson. Also, don't forget to share what you choose! Tag Lakeshore Learning and Munchkins and Moms in a picture of your new learning supplies on Instagram, we would love to connect with you there!)