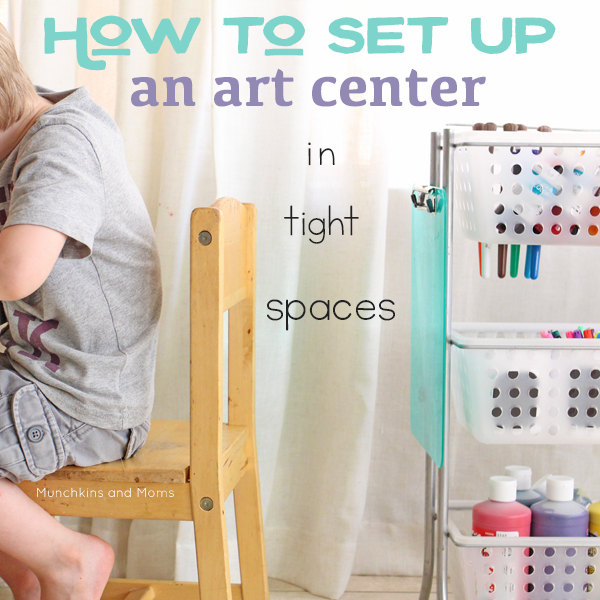 I am a blog ambassador for Lakeshore and am compensated for my work. I received product free of charge, but all thoughts and opinions are 100% mine. The sweepstakes prize is provided for the winner free of charge from Lakeshore.
Do you have a sprawling homeschool room with space enough for an art center, literacy nook, STEM lab, and dramatic play closet? No? Well you're in good company because neither do we. We have a small(ish) open floor plan downstairs which is comprised of our living room, dining room, and kitchen. No dividing walls made me question whether an art center (or any dedicated homeschool room) would even be an option for us.
The Problem: No Dedicated Art Space
Of all the learning spaces I wanted to create for our homeschool, a dedicated art center was at the top of my list. I wanted a place for my kids to be creative and express themselves. A place to translate their emotions and knowledge into art. After all, when you think "why do we make art?", creative expression is one of the main reasons – and fun, of course! We had a couple specific problems with creating an art space, though 1.) We had no walls to define an art space and 2). We had no shelving for storage. Oh, there was also the creative challenge of a tiny budget (like that euphemism there? Calling it a creative challenge, versus problem, was a much more encouraging way to look at it!)
The Solution: Creating an Art Corner
Unique problems call for creative solutions- and creativity is what I'm all about (after all, that's why I want an art space for my kids- to encourage creativity!). Since we did't have walls to define an art space, I realized we would have to find some other space-defining feature. Every parent knows how much kids love to create art. Every piece they create, they want you to hold onto it or stick it onto the fridge. There is only room for so many paintings and hand prints. As well as setting up an art centre, a friend of mine recommended that I looked into student portfolios, just so I can get an idea of how best to store my kids' future artwork. As many things are becoming digital, this makes a lot of sense. Plus, nothing will get lost or ruined. Everything will be in one place, which I like.
We had already moved our dining table forward in a former homeschool-space attempt (see it here), so I decided to just transform that same spot into our art corner. It worked beautifully!
With a tight budget, I also went forth with my idea of furnishing our space. One of my friends had come across certain table designs from furnishing stores similar to GardenFurniture.co.uk (www.gardenfurniture.co.uk). She loved them and sent some of the designs through Facebook. Later on, I bought a black end table at a thrift store ($5), we already had these two white side tables from Ikea ($7 each), and three kid-sized chairs picked up for free in our neighborhood (SCORE!). I still want antique side tables though, even though I am on a budget. We can all treat ourselves once in a while!
Finally I came across this Art Cart idea from Rachelle at Tinkerlab and knew it was the solution to our storage problem! The art cart made our supplies easily accessible to my older kids, and could also be easily stored in the garage when not in use.
See our completed Art Cart Here!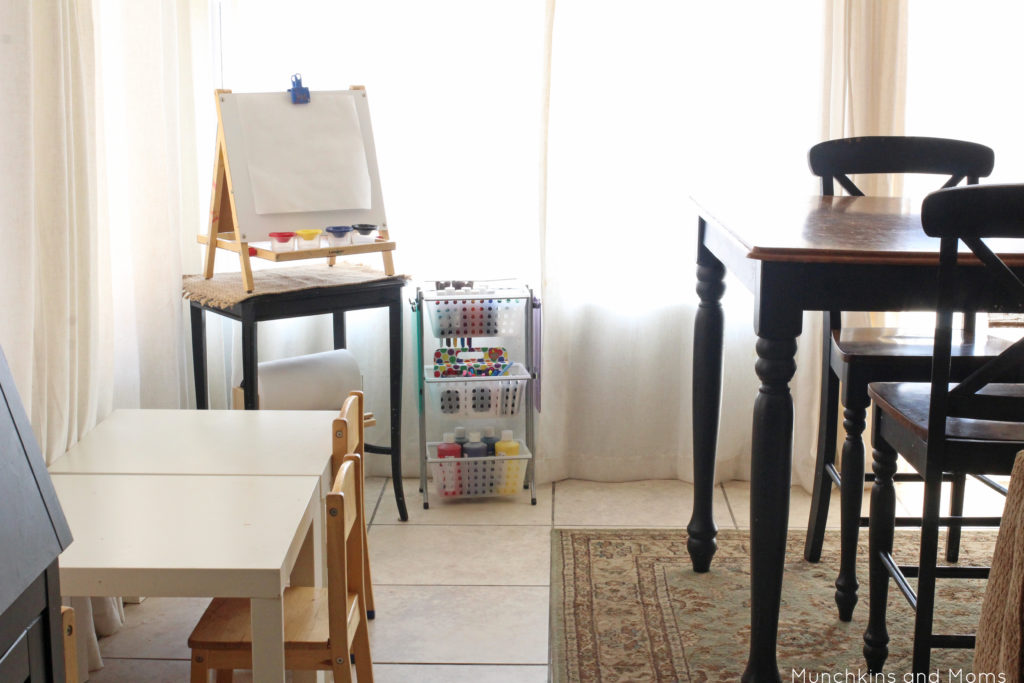 Here's a closer look at our art corner in action: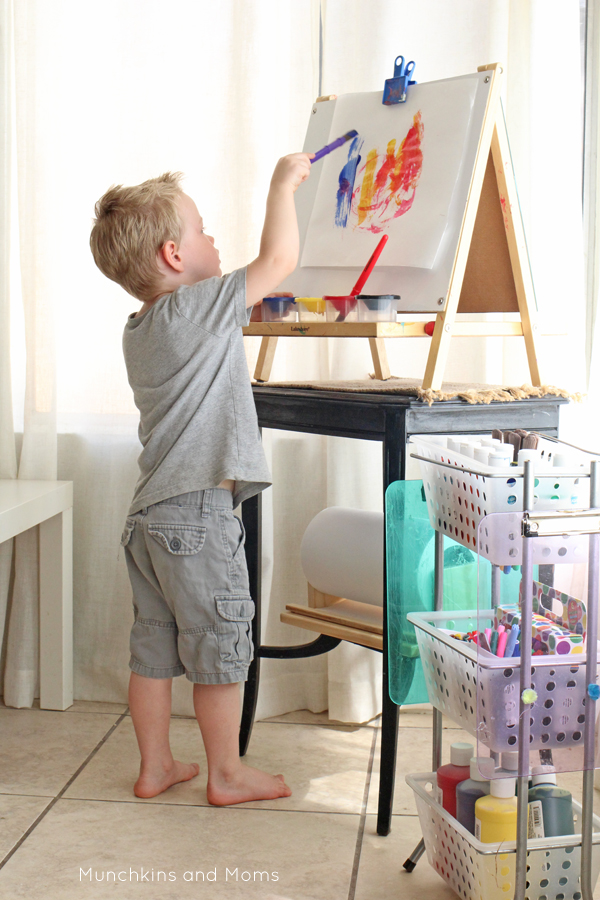 The Tabletop Easel is double sided (white board on one side, blackboard on the other, with clips to hang paper from for painting projects. This versatile piece is a necessity for small spaces!). Washable paint and reliable paint brushes (i.e. ones that don't lose their bristles while painting) were also requirements for us. I also keep a roll of paper right underneath the easel, making it easy for my kids to help themselves to good, quality art paper whenever the mood strikes.
Visit our favorite educational supply store, Lakeshore Learning, to see more art supplies to include in your own art corner! (don't miss the coupon code and giveaway at the bottom of this post)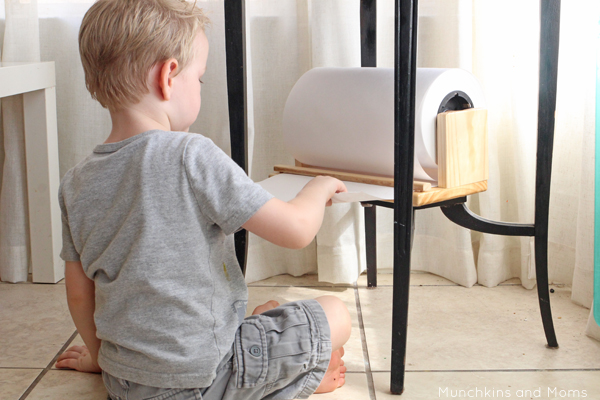 The super-safe paper center is one of my art-space favorites! It easily fits on our Ikea side tables for use in other (non-easel) art activities throughout the week.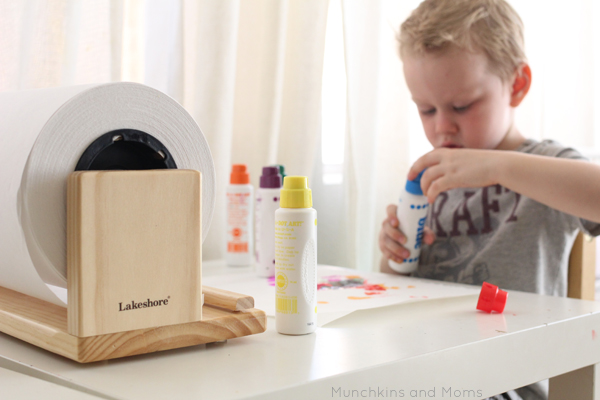 My Tips for Creating an Art Corner
Purchase versatile products (like our tabletop easel)
Set up an Art Cart to store supplies
Rotate in different supplies/materials (this keeps the center fresh and exciting while keeping the center de-cluttered)
Use multi-purpose furniture (side tables, entry tables, etc.) to help the corner blend in seamlessly with the rest of your home
Define the space with a rug or other floor covering (you'll especially want this if you're art corner is located on a carpeted floor!)
Do you have a corner you could transform into an art center for your preschoolers? You only need a small space to offer big creative opportunities!
Tag me in your creative space solutions/art corners on Instagram- I can't wait to be inspired by all your ideas! After all, we still have a few more nooks I want to create upstairs! 🙂

Need to grab supplies for your art corner? Use this 20% off coupon from Lakeshore Learning now!
Also, enter for this month's giveaway of a $25 e-gift certificate to Lakeshore Learning by leaving me a comment below (tell me which art supply you're looking forward to getting!).
Winners must be US residents age 18 and older. Giveaway will run from August 29, 2016 to September 12, 2016