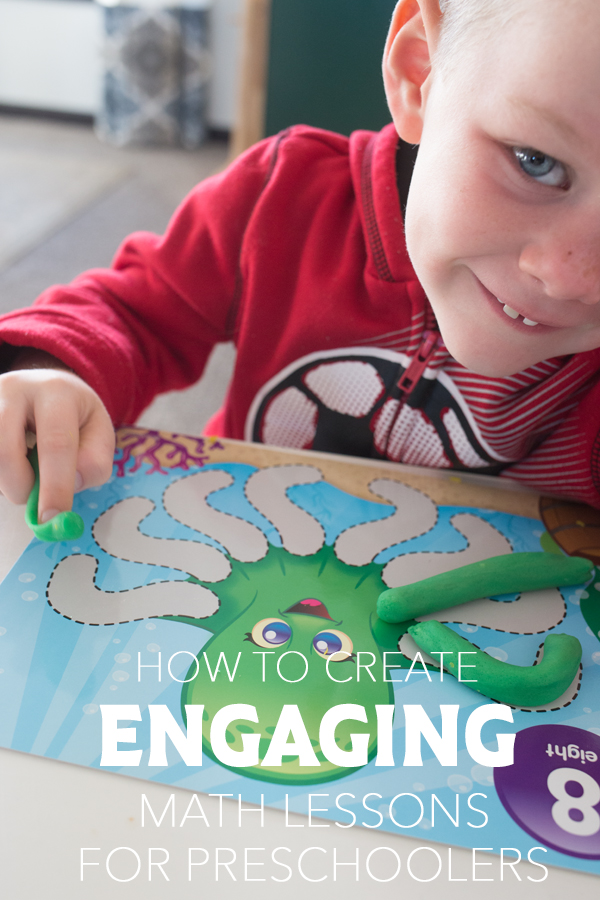 I am a blog ambassador for Lakeshore Learning and am compensated for my work. I receive product free of charge, but all my thoughts and opinions are 100% my own.
What's your favorite subject to teach?
I'm going to go ahead and guess that a very small percentage of people answered "math".
For some reason, math has been thought of as a dry subject involving nothing more than paper and pencil work and memorization.
It's sad that that has been the culture of teaching math for too long. Pencils, paper, and memorization. It's such an ineffective way to teach what *could* be fun! From playing online games like Tiny Fishing to showing them how to do sums in real life, there is a lot of fun that can go along with it.
That's right- I said it. Math could actually be FUN to teach! I want to make sure when I am teaching my preschooler's math, it's more than just looking at a 100's chart and reciting a string of numbers. It might be a trickier subject to liven up than other subjects, but luckily there are plenty of education partners out there that are experts in creating engaging lesson plans, and you can use them to improve your teaching.
Here are a few ways that I think math could be made fun:
Use Modeling Dough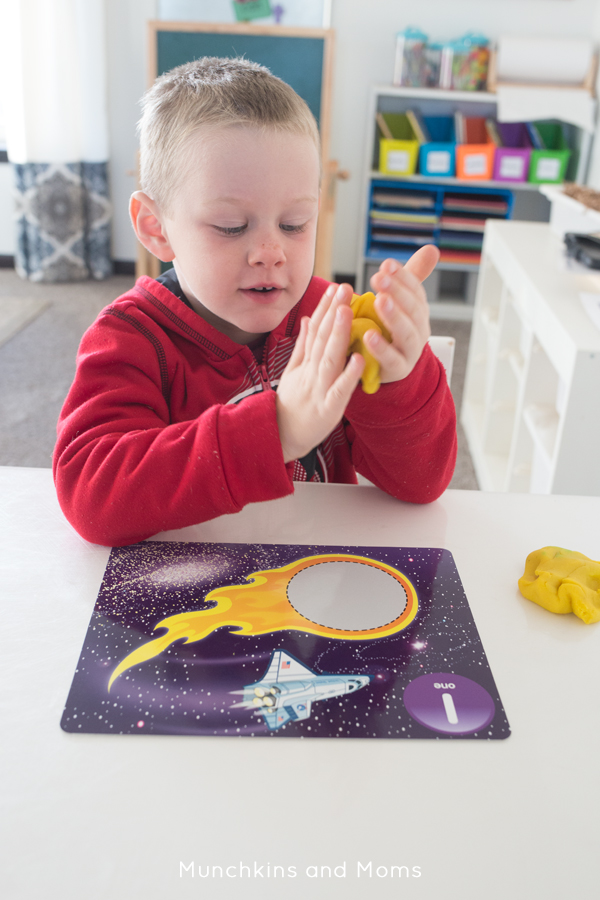 Play dough (or modeling dough) is one of our top learning tools for all subjects because it is completely hands-on! There are tons of ways to use play dough in math, too. Some starter ideas include:
Forming numbers by rolling the dough
Counting play dough balls
Making play dough shapes
We have started using these Learn to Count! Dough Mats from Lakeshore Learning. They incorporate many of the activities mentioned above, plus they help kids develop stellar fine motor skills!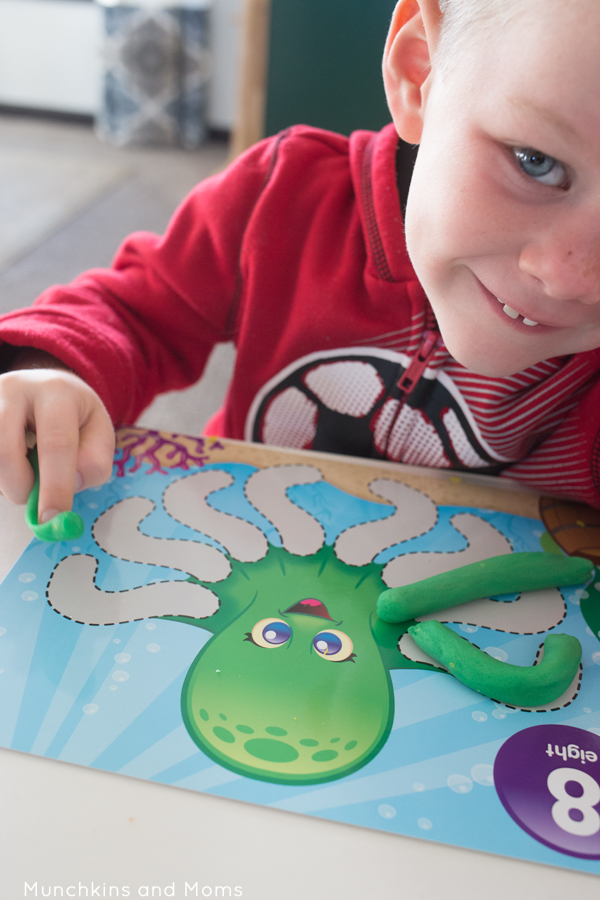 The mats go from 1-20 and encourage making shapes, rolling, pinching, and smashing the dough!
As kids use this activity they are working on number recognition, 1-to-1 correspondence, counting, and fine motor skills.
Isn't this way better than flashcards and memorization?!?
Get away from Pencil and Paper
There is much to be said about the importance of learning to use a pencil in preschool…but there's also much to be said of making preschool activities fun and engaging! Since some students experience frustration at forming letters/numbers with pencils, so removing that frustration would increase attention and motivation for learning in other areas!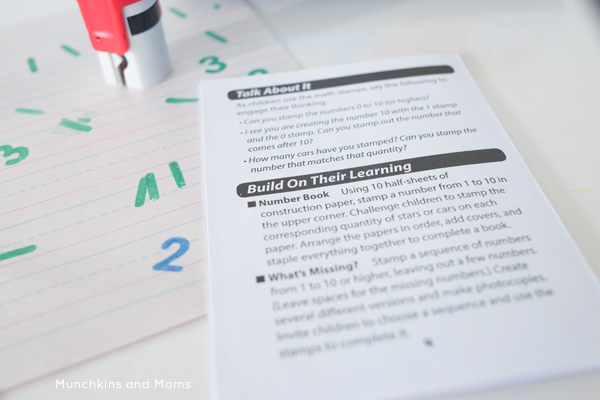 We happen to love using stamps to form numbers and work on counting, number recognition, and 1-to-1 correspondence!
The Self-Inking Math Stamps from Lakeshore Learning were made with us in mind!! They are so well made (they have nicely fitting lids to last forever!), and they help me teach math without frustration.
Also, I love that all of Lakeshore's products come with directions and further learning ideas!
Get Kids Moving!
My kids love to MOVE. They are always on the go and sitting still for an extended period of time can be hard for them.
Read our Get Kids Moving: 6 Ideas for Active Play blog post!
Some ways to incorporate math and movement into your preschoolers day include:
Finding shapes and patterns on a nature walk
Counting hops while jumping rope
Playing Hopscotch
Tossing a ball and counting the baskets
Throwing a ball at numbers drawn on the ground with chalk
We've also been enjoying shaking as we learn to count with these Shake and Reveal Counting Cards. They are a great way to encourage movement!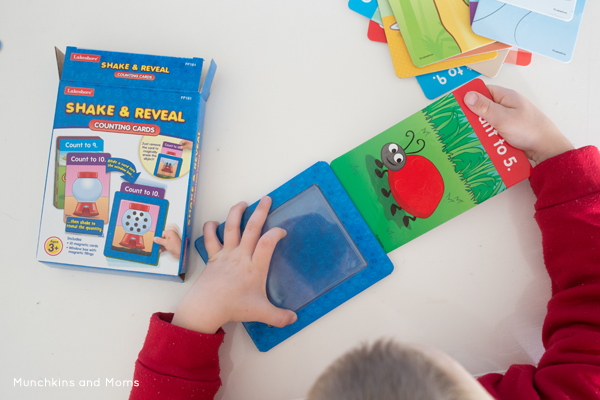 My boys know how to "work" these cards all by themselves (we used the Shake and Reveal Science Cards on our science shelf).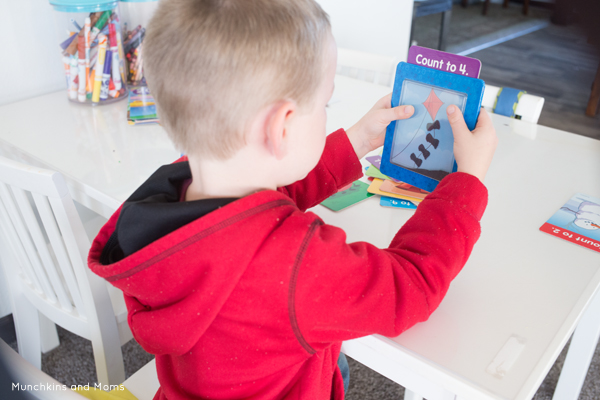 These cards are easy to use- just place them in the viewing window and shake to reveal counting magic!
What other ways do you make math fun with your preschoolers? Share your ideas with me in the comments below!
To learn more about Lakeshore, find them on Facebook, Instagram, Twitter, and Pinterest.
Do you want a chance to win a $50 gift card to Lakeshore Learning? Leave a comment below telling me what Lakeshore math product you'd get for your kiddos!
Winner must reside in the US and be 18 years or older. Winner will be chosen at random on October 21, 2017.