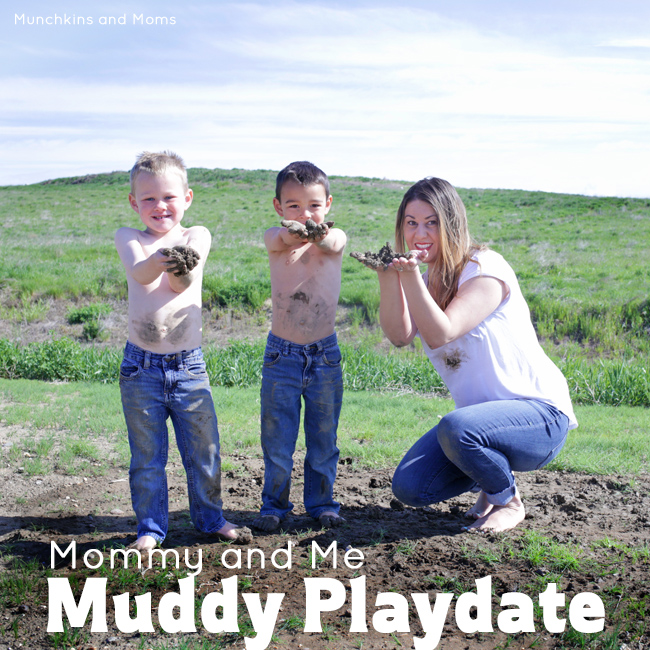 This is a sponsored post written on behalf of Simple Green. All opinions are my own.
MUD
Have you ever heard the phrase that boys are noise with dirt on them? Ya, that almost describes my boys….but it would be more accurate to say they are noise with MUD on them. They are always in the mud!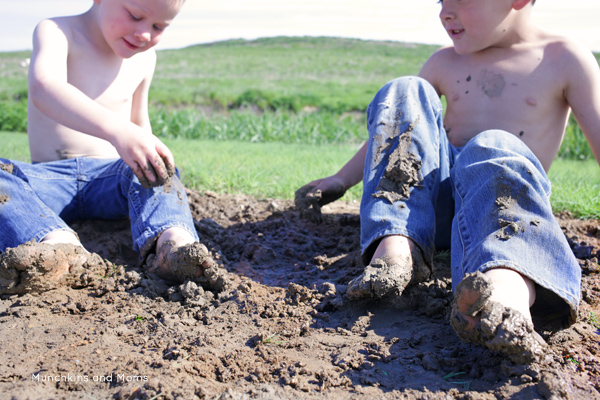 It's usually a pastime I leave to them, though. I send them outside to play and let them have their fun from sun up to sundown, then they come in for baths. I stay nice and clean while watching their shenanigans from a distance. But not this time. Today I decided to get my hands dirty and spend some quality time with my boys in the mud! I set out to have a Mommy and Me Muddy Playdate. They were over-the moon!
Getting Ready for a Mommy and Me Muddy Playdate
First of all, this isn't your typical playdate. We didn't invite our mommy group or neighborhood friends over. It was a special playdate just for my boys and me. A time for us to spend quality time with each other sharing in their favorite activity- playing in the mud!
Some items you'll want to have handy before the mud-flinging begins are:
Wipes
Towels
Change of clothes
Camera (you'll want to capture the fun!)
a hose (washing down outside is way easier than coming in to clean up)
…and of course MUD! We happened to have a great spot in a field behind our mailboxes, but your backyard or a kiddie pool would work just fine.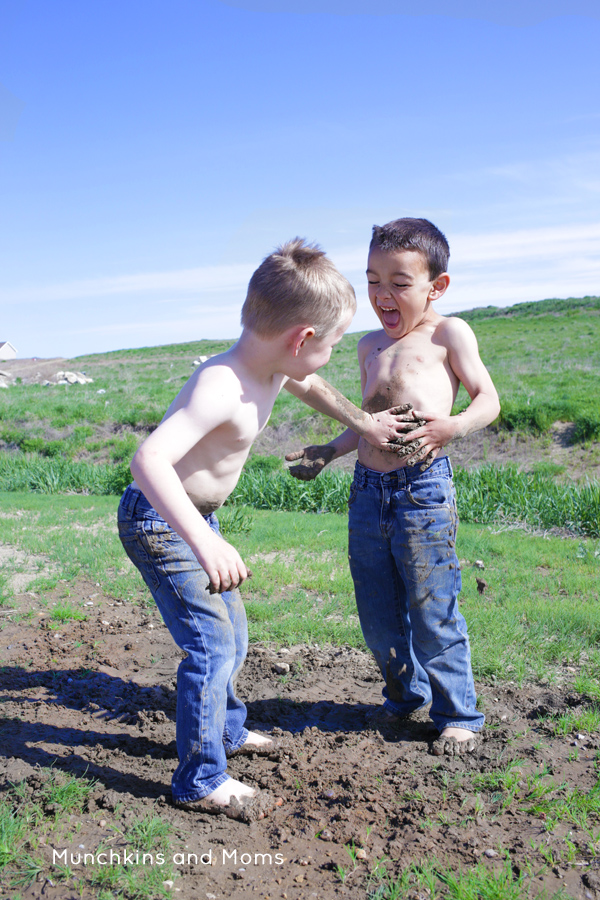 Our Muddy Playdate
While my boys showed no hesitation with squishing around in the mud, I was feeling a little intimidated. I'm used to being behind the camera taking pictures of all their boyish charms, but today I vowed to be in front of the camera with them. I was going to get dirty and like it!
Even though I knew this would lead to amazing quality time with my boys, I still hesitated. My sweet boys helped me ease into it, though. I learned it all starts with just getting your feet wet. First one toe, then the whole foot, then before you know it you're sitting in the mud and wiping muddy hands on your jeans with the best of them!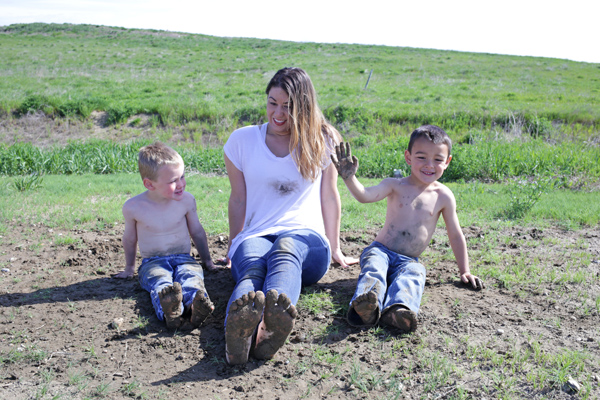 As a stay-at-home mom, I felt like I spent lots of quality time with my boys, but this was something special. This was pure bliss for them (and as messy as I got, it was a pretty amazing moment for me, too). I put away any insecurities I had about being in front of the camera and played along with my boys. We didn't worry about anything but having fun. It was safe to say that we made sure we were all clean and germ-free once we finished for the day though, that meant a lot of Hand Sanitizer for me and the boys – after all their hands tend to end up in their mouths a lot still! Ew! The fun they had… This is a memory I hope they'll carry with them into adulthood <3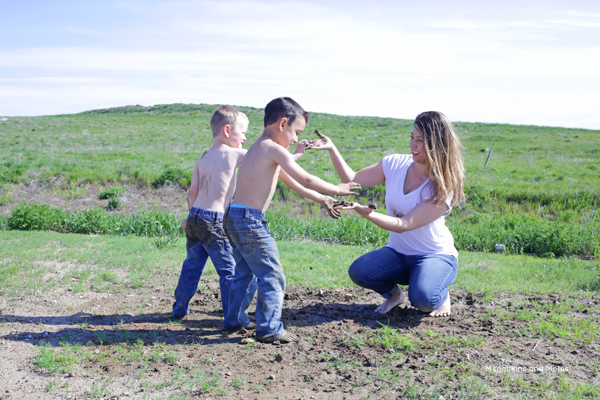 What I hope they don't carry with them into adulthood, though, are the mud prints and grass stains that are always on their jeans. Post mud-party clean up included a laundry pre-treatment spray of Simple Green All Purpose Cleaner (this is the same thing we use to clean our Magna-Tiles, one formula has so many different uses!)
Since Simple Green is also non-toxic, my kids were able to get in on the clean-up by spraying their own clothes and shoes:
While we love the mud, I don't necessarily want our clothes or shoes to show it. Thankfully, after Simple Green the only evidence left of our muddy good time were the pictures we took (and I'm not going to lie, I'm excited to finally have pictures with me in them! )
Would you brave the mess and play in the mud with your kids? Don't be shy, share pictures of your muddy adventure with us on Instagram! Don't forget to tag @Munchkins_and_moms and use the hashtag #mudplaychallenge