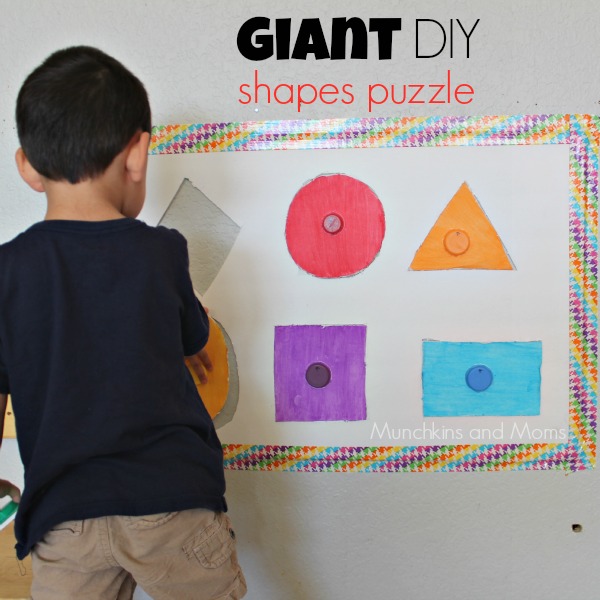 We have been on a bit of a shapes and puzzles kick, lately (see our other DIY shapes puzzles here). I made this giant shapes puzzle for my two year old, but even my three year old has been enjoying it!
You'll have to forgive me, though. Since I made this project on a whim, I didn't get any in-process pictures. You can probably figure out how to make the whole thing from the finished photos, but just in case you need more details I'll give you some instruction on how to make this puzzle for your munchkins 🙂
This post contains affiliate links
Supplies
Craft foam board
Milk lids
I drew some free-hand shapes on the craft board and used an x-acto knife to cut them out. Painting is obviously optional, but I like the color it brings to the project 🙂 Get the kids involved by having them paint the shapes for you! 
Once the paint dried, I hot glued milk lids to act as little handle to our puzzle pieces (yes, I have a collection of multi-colored milk lids- don't judge me) 😉
The last thing to do was tape our board to the wall and let the boys play!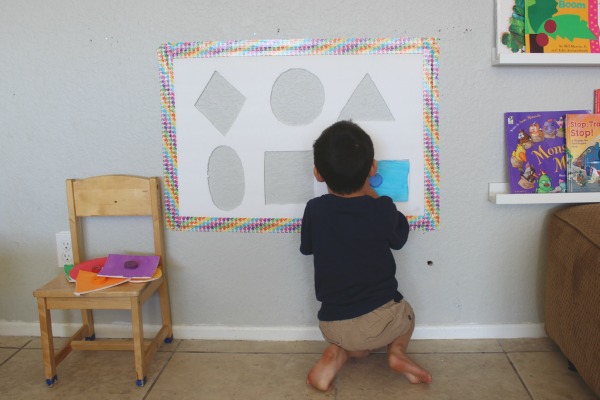 Since I free-handed the shapes, they weren't perfectly symmetrical and would only fit in our puzzle a certain way. To ease frustration, I just drew little "up" arrows on the milk lids to show which way the puzzle piece needs to face to fit properly. Problem solved.
Ways to extend the activity: Hide the puzzle pieces around the room and let the kids search for them to complete the puzzle!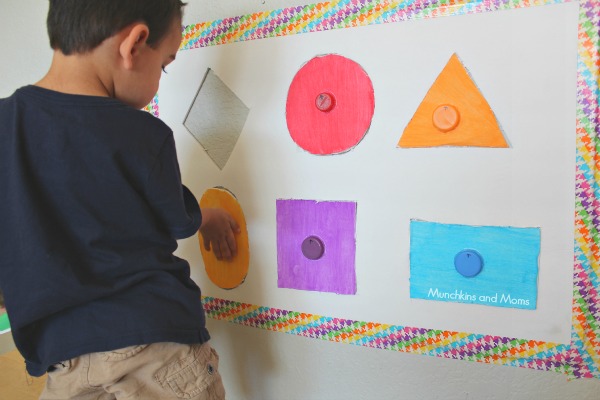 My boys got a kick out of doing this extra-large puzzle! It was so easy to put together and is still up getting play time several days after we first put it up 🙂
Maybe when they are older they will want to Make a Crossword Puzzle? They can be really fun when you personalize them.