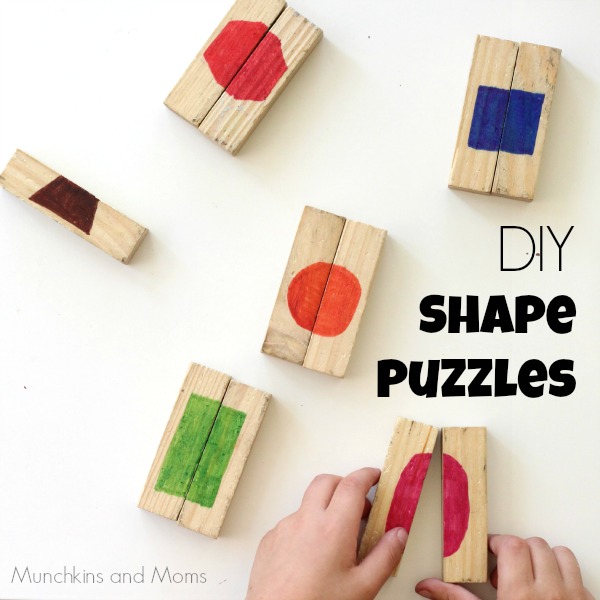 There are so many shape puzzles on the market. We have a few ourselves. But I wanted to add another one to our repertoire- one that offered a different opportunity for creativity and investigation after we were through with the shape recognition.
Supplies
First, I used a sharpie marker to draw and color shapes on two Jenga blocks. Next, I laid them out all mixed up and let the boys at it. It didn't take long for my oldest to start making pairs. My youngest didn't show an interest in shape matching today (that's ok, we'll try again tomorrow).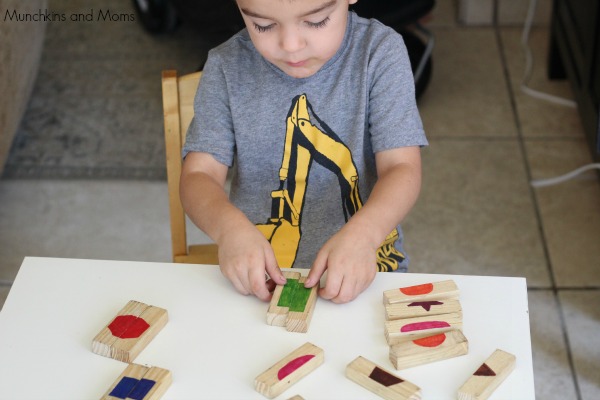 Younger kids might like to just start by matching colors first. When they've become comfortable with that they can move on to the actual shape matching.
Ways to extend the activity: Have children hunt for the shapes in a sensory bin. My boys love searching through beans or dried peas!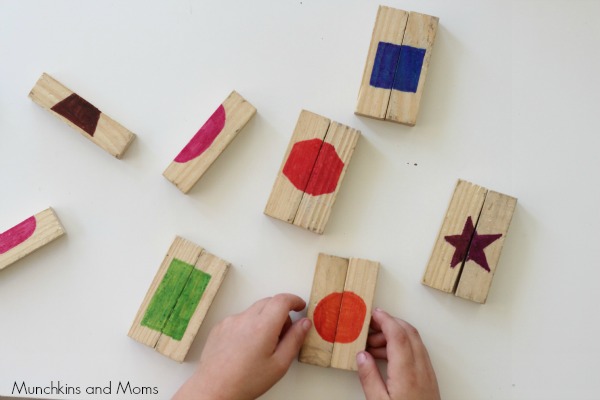 Another fun idea is to mix the shapes up for all new creations! What does a circle-square look like? How about a star-triangle? My three year old decided he wanted to make a shapes train when he finished matching them: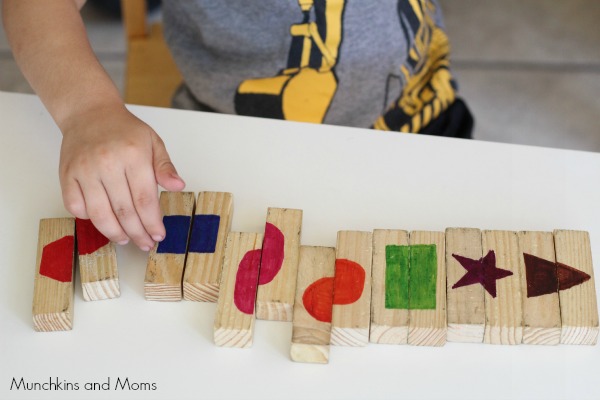 Before long both my boys were making shape towers and and houses. I'm looking forward to seeing all the creative ways my they'll use these blocks for play and learning. Their creativity never ceases to amaze me!
Ways to extend the activity: Introduce your child to the concept of symmetry. Have them group the shapes that display symmetry and the ones that don't.
For even MORE ways to play with SHAPES in Early Childhood, please visit the activity suggestions from the #TeachECE team below:
Shiny Showy Shapes Alliteration Fun by Growing Book by Book
Roll and Cover The Shapes Alphabet Activity by Mom Inspired Life
Shapes Preschool Theme Sand Writing Tray by Learning 2 Walk
Mixing Shapes with Our Bodies – Group Activity by Capri + 3
Shape Sensory Squish Bag by Still Playing School
Shape I Spy for Preschoolers: Free Printable by Life Over C's
Exploring Shapes with Yarn by Tiny Tots Adventures
Playdough Shapes Building Challenge for Preschoolers by The Preschool Toolbox Blog
Preschool Shape Hunt Activities by Fun-A-Day