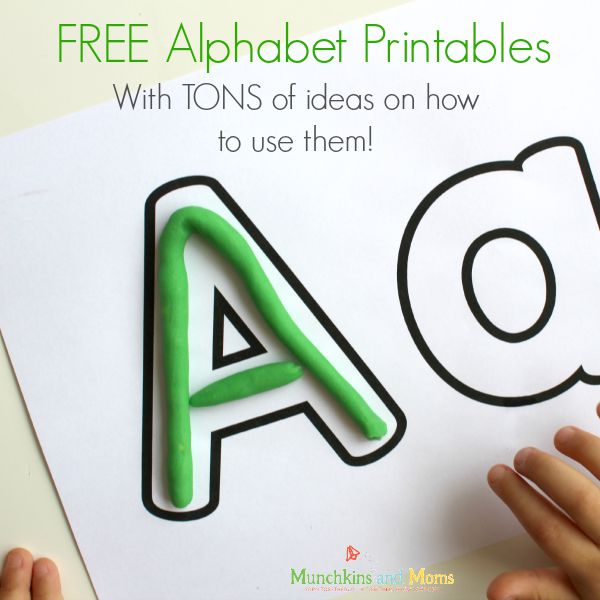 ATTENTION- THESE PRINTABLES ARE NO LONGER AVAILABLE!
Yesterday the Early Childhood Education Team and I put out posts on how to teach the alphabet to preschoolers. One supply that I really like to use for alphabet instruction are these outlined alphabet letters.These are great to include in busy boxes as well! (Check out our guide to preschool busy boxes). Here are some ways the printables can be used:
With manipulatives
Preschoolers can fill in each upper and lower case letter with small maniplulatives that coordinate with the letter or theme you are working on!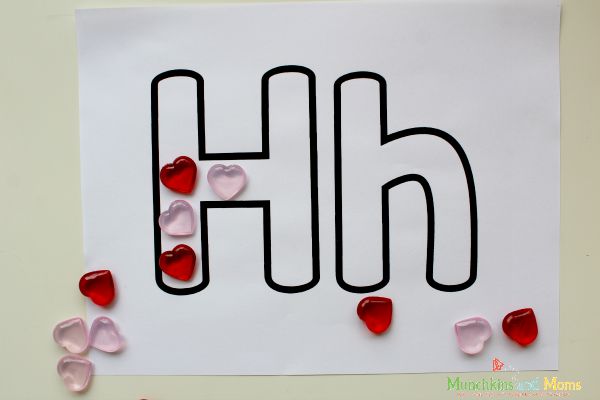 Use manipulaives to make patterns within the letters, estimate how many it will take to fill in each letter, and don't forget to count how many manipulatives you used in the end! See, math and literacy can go together 🙂
Here are a few that we like to use: glass gems, alphabet beads, and bear counters. Here are similar heart gems to the ones we used above.
Re-create the letter
The letters can be recreated with play dough (see main image above), pipe cleaners, yarn, or wikki sticks. I bet Moon Sand might even be an interesting way to recreate the letters! This is a great way to incorporate fine motor skills as well!
Dried food items
One type of manipulative that you probably already have is pasta and beans! These make great substitute manipulatives to fill in each letter with. There are even fun shaped pasta like these fish ones we used in our fishing game, perfect to use in a preschool ocean unit.
Color and paint them
This is a pretty self explanatory way to use them. Make sure you have plenty of different materials available including crayons, markers, watercolors, chalk, etc. You can choose to keep the letters monochromatic (all different shades of green, for example), or just embrace the rainbow!
Hammer and push pins
This is one of my boys' favorite ways to use the letters! All it takes is a cork board, push pins, and a play hammer! Fine motor skills, gross motor skills, and alphabet recognition are all at work in this fun activity!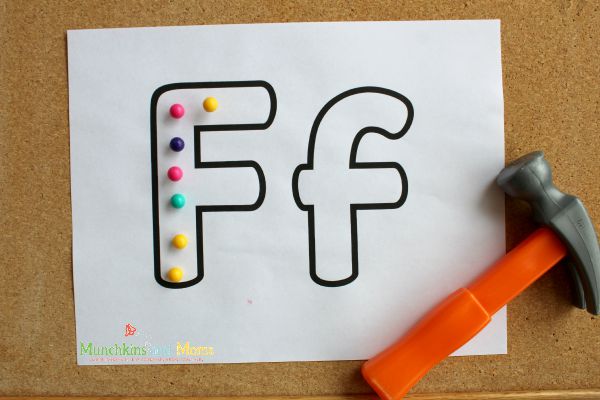 Use natural materials
Small sticks, stones, flower petals, and leaves are all great (FREE!) materials that can be used to fill in each letter.
Cut them out
If your little ones are proficient with scissors, let them have a chance to cut each letter out. While they may not cut perfectly on the lines, cutting around the shape of the letter is a good way to develop muscle memory of how each letter is formed (see our guide to choosing the right preschool scissors here!)
Magnetic activity
This is another favorite around here! We made magnetic pom poms by hot gluing circle magnets on the back, then we place the alphabet paper on a cookie sheet and filled it in with the magnets! They make a nice satisfying "clink" and keep the kids busy for quite a while!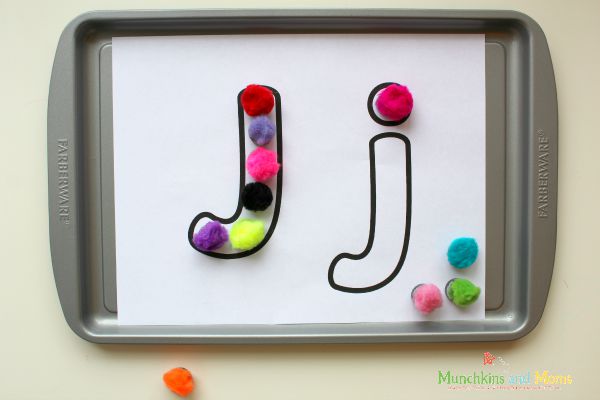 Stickerize it
Okay, maybe stickerize isn't a word, but you get it! Pull out those dollar store happy face or "Great job!" stickers and let your kids fill in the letters! This is a simple activity to throw together! (See a big list on other ways to use stickers here!)
Do-a-Dot markers or bingo stampers
Preschoolers LOVE do-a-dot markers! Use them to fill in each letter you are working on for the week 🙂
Fingerprint it
Make sure to use a washable ink pad when offering this activity! You can always use finger paints, but ink pads tend to be a neater option.
Cut and paste
Have preschoolers cut out magazine pictures and paste them inside the letters. Stick to a theme (N for noses, maybe) or just let them go at it on their own!