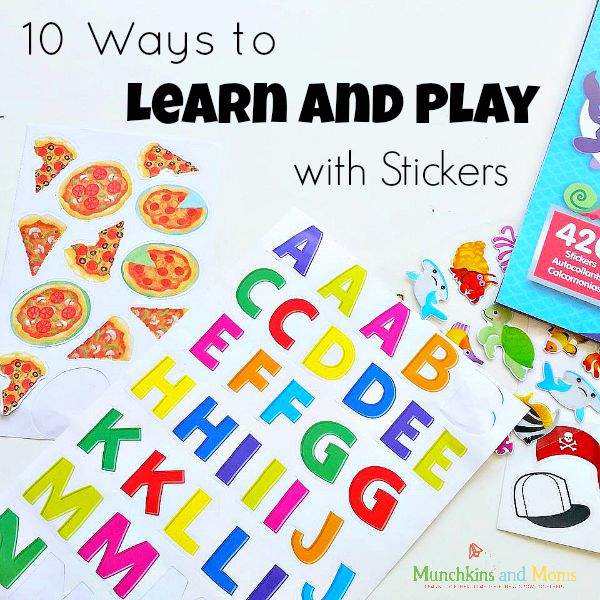 Stickers are a childhood staple. Kids of all ages enjoy them, but preschoolers in particular seem to be attracted to their awesomeness. My boys recently got their first scratch and sniff stickers from Peaceable Kingdom and they are HOOKED. Strawberry floats, sweet cotton candy, and even rubber tires are just a few of their favorites! Since I try to capitalize on my boys' interests for learning activities, I decided to come up with 10 ways stickers can be used in playful learning activities.
p>
1. Start a sticker collection
We used a blank book that we bought at Target (a similar book can be found here) to store their collections. We labeled each page with different categories (scratch and sniff stickers, stickers from special people, alphabet stickers, etc.). Now each time my boys get a sticker, we go through their book and find what category it fits in. This is a fantastic way to practice sorting skills with preschoolers!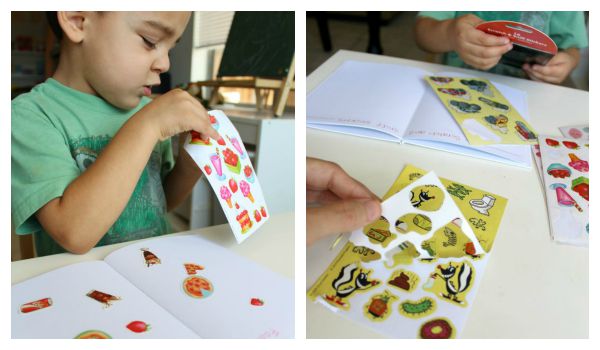 **TIP** If your child struggles with getting the stickers to come off of the backing, remove the outer sticker layer so they can get a better pincer grasp and remove those stickers! This is a great way to exercise those fine motor skills:-)

2. Make an I Spy book
Kiwi Crate shows how to make a simple I spy book using stickers. This would be great to have in the kids' diaper bag and pull out when we need a simple diversion!
3. Make a DIY Number Wheel
Mine for the Making demonstrates how she made a fun Number Wheel and how she used it for tot schooling!
4. Sticker Matching Activity
Laughing Kids Learn Talks about how she made a Sticker Matching Activity and used it to teach her tot about matching!

5. Sort Stickers by size
Life Over C's came up with a great way to sort stickers! I love the way she incorporated this into her farm preschool unit!
6. Make a sticker station
No Time for Flashcards always has great idea! As soon as we saw this one we did it ourselves and it was a huge success with my boys! Find out more about this Sticker Station here.
7. Create Story Stones
Happy Hooligans made these Story Stones that can also easily be made with stickers!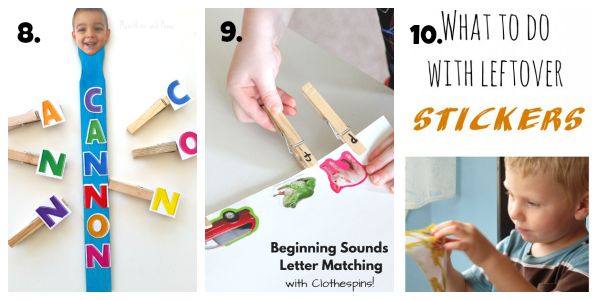 8. Make a Name Recognition Craft
We used stickers similar to these alphabet ones to make a fun name recognition activity for my preschooler! It has been a great way to practice name recognition and fine motor skills! Find out how we did it in this post.
9. Beginning Letter Sounds Matching
Mom inspired Life used stickers to create a fun phonics activity for her preschooler! See how she made this Beginning sounds matching game here!
10. A way to use leftover sticker sheets
Leave no sticker behind! My Mundane and Miraculous Life found a great way to put those leftover stickers to good use in this post!

How else do you stickers in playful learning activities? I'd love to hear your ideas in the comments below!