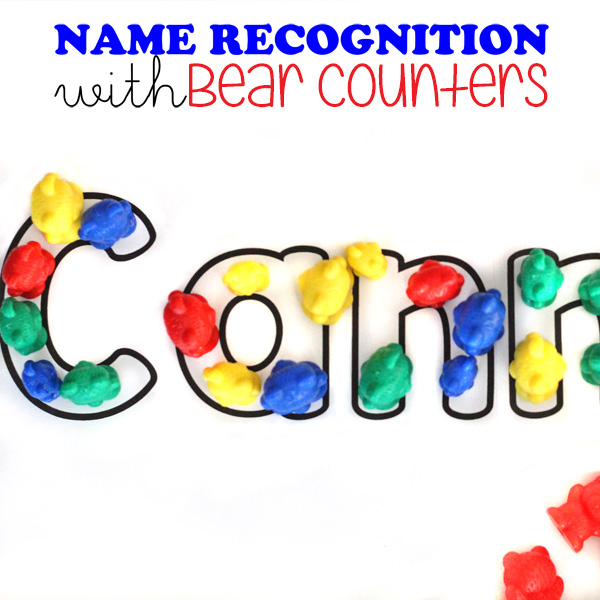 We are on a name activities roll right now! Yesterday we shared a fun Name Recognition Alphabet Activity, and today we're sharing another simple way to help your munchkins learn the letters of his/her name with a new activity!
This post contains affiliate links
Supplies:
A paper with your child's name on it
Because I have terrible penmanship, I opted to print my son's name on printer paper. However, this activity will work just as well if you use a thick marker to write your child's name on it. You'll just want to make sure the letters are large enough to fit your teddy bear counters on.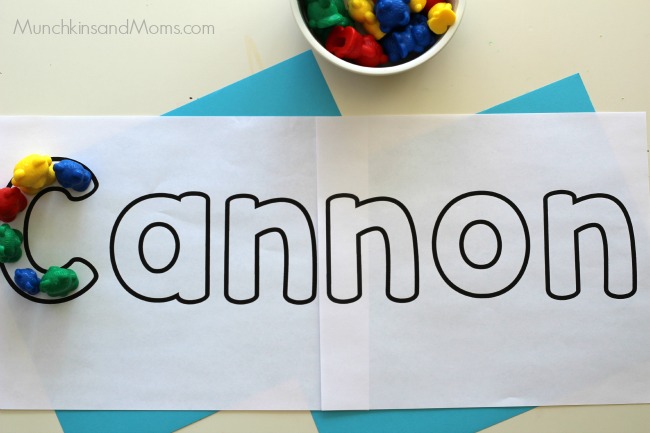 The directions are simple: fill each letter with teddy bear counters until you've completed your entire name. One benefit to this activity as it gives students a chance to "trace" the letters of their name without having to use a pencil/marker. Manipulating the bear counters and filling in each letter with them is a great opportunity for visual learners to take a "mental snapshot" of the picture/word they are creating (Do you ever remember where something is written in a book? The location of the words on the paper/color of the writing/and even font? Visual learners can remember information easier when their visual cortex is stimulated. This activity is a great way help early learners do that!)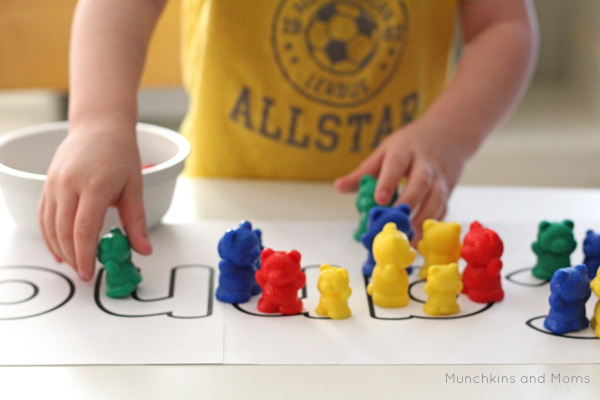 Ways to extend the activity: Estimate how many bears it would take to fill in each particular letter. Count them after wards to see how close each estimate was!
This activity would be a great addition to your Busy Box rotation, or as a preschool center. Children may even want to work on other names (parents/sibling/classmates) so be prepared with several other words and names!
If you're interested in getting the entire alphabet in this same font to practice with, I have a FREE set of alphabet printables available for readers who subscribe to m newsletter! There are TONS of ways to use them, Head over to this post to see more and sign get yours today!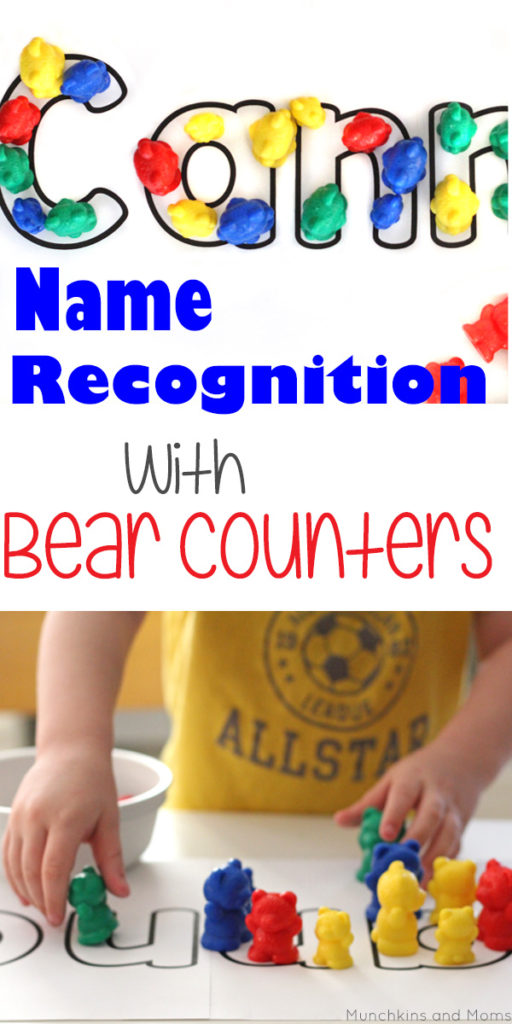 More Teddy Bear Learning Activities from the Early Childhood Education Team. #TeachECE
Teddy Bear Beginning Sounds Picnic by Growing Book by Book
Feed the Bear Alphabet Activity by Mom Inspired Life
Teddy Bear Alphabet Activities by Tiny Tots Adventures
The Dissolving Teddy Bears: Simple Preschool Science! by The Preschool Toolbox Blog
Teddy Bear, Teddy Bear, Let's Add to Ten-Kinder and Pre-K Math activity by Capri + 3
Printable Bear Math Patterns for Preschoolers by Fun-A-Day
Teddy Bear Preschool Theme Counting Activities by Learning 2 Walk
Gummy Bear Science | Exploring Osmosis with Preschoolers (with Free Printable Science Journal) by Raising Lifelong Learners
Teddy Bear Writing Activity for Kids with FREE Printable by The Educators' Spin On It