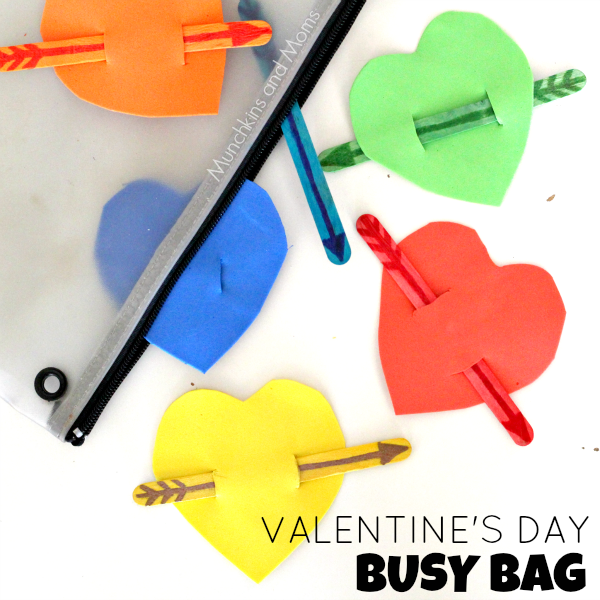 Who loves themed toddler activities? ME!!!!! 🙂 Last Valentine's Day we did an Excavating Hearts Activity that made the theme a bit more…boyish 😉 This year we are playing cupid by placing arrows into valentine hearts. There's also color matching and fine motor skills incorporated into this activity, which makes it a great educational busy bag for your toddler!
This post contains affiliate links
Supplies
I prepared the activity by cutting foam sheets into heart shapes. I also cut a couple slits in the hearts so the craft sticks would "pierce" through them. On each coordinating craft stick I drew a simple arrow with markers. That's all the prep needed for this busy bag! You can place it all in a pencil box or bag to make it convenient to carry and store.
Busy mom tip: Keep this activity conveniently tucked into a diaper bag for on-the-run fun!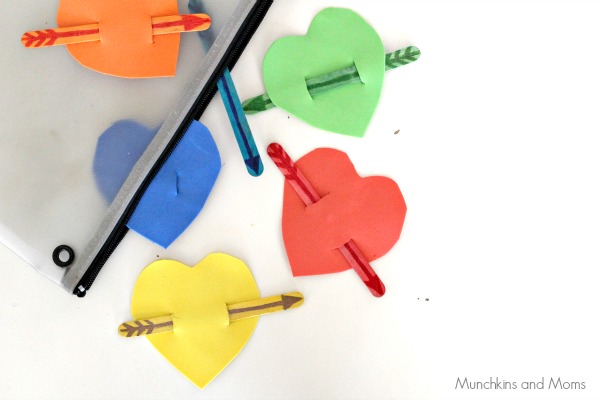 My 2.5 year old was the first munchkin to get his hands on this activity, and can I just say that taking things in and out of a zippered pouch gives an extra element of fun for toddlers?!? Really. Zippers rule.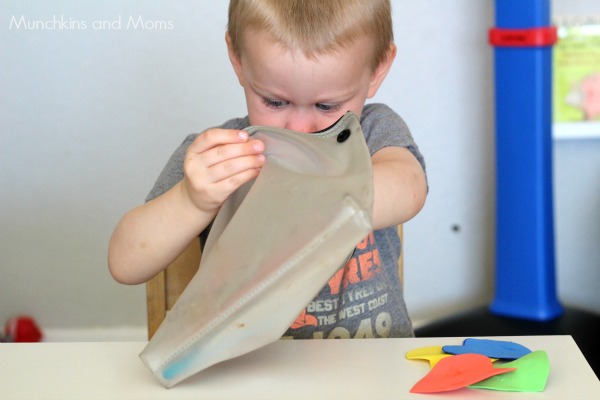 We organized the activity pieces by putting all the arrows into a cup and lining up the hearts on the table. I asked my boys if they could match the arrows to the correct hearts and "pierce" them through the slits. My little cupids got right to work!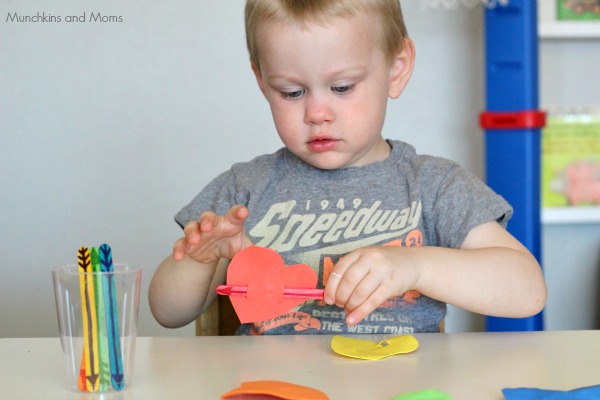 Hunter (2.5) was only able to put the arrow though one hole in each heart (I helped with threading the rest of it). Cannon (3.5) was able to thread the arrows through both slits. It was a great exercise in concentration and fine motor work!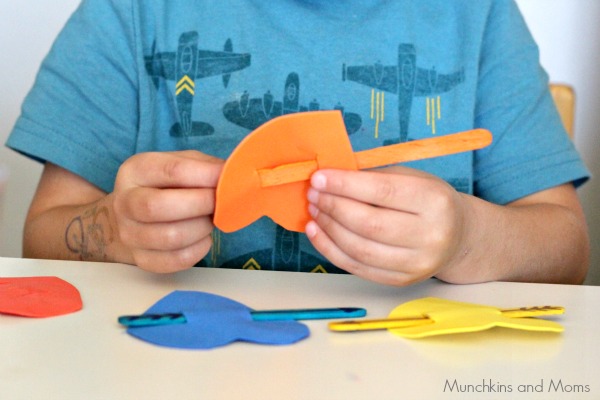 Ways to extend the activity: If you homeschool multiple ages, have the older kids get involved by making this activity for younger siblings. Having them cut and draw the hearts and arrows is great fine motor work!
As my boys pinched and pulled the arrows through the hearts, they were really working on those small hand/finger muscles that help so much with writing and practical living exercises! Since my kids don't care to actually pick up crayons and pencils, activities like this are the best way we get fine motor skills in. And themeing them for holidays makes it much more fun 🙂
I love to see how you interpret our activities with your munchkins! Make sure to share you pictures with us on Instagram by tagging @munchkins_and_moms!