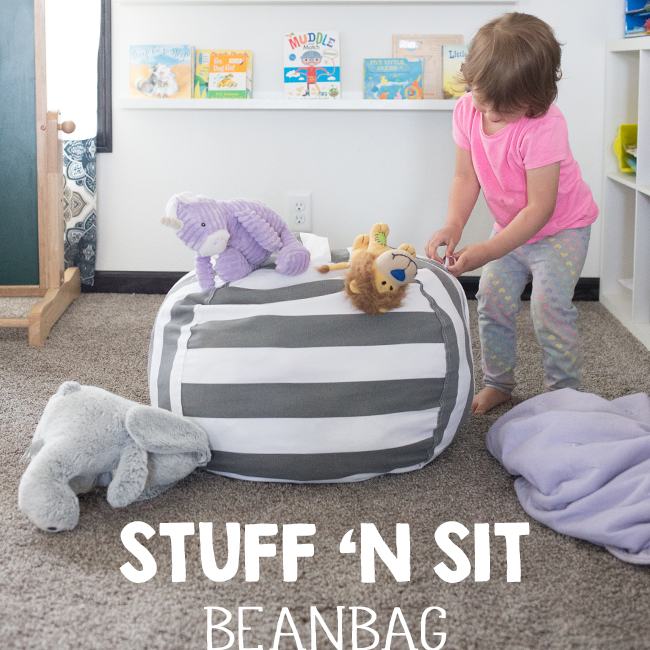 This post contains affiliate links
A place for everything and everything in its place
That is the motto in my home. While our house does get pretty messy (four kids will do that to ya), when it's time to clean up I insist that everything is put back in its place.
I've seen it happen a hundred times before- kids are asked to clean up and they freeze. They don't know where to start and they eventually cry "I don't know where everything goes!!"
How can we expect our kids to pick up if they really don't know where their things belong?   We can't. To combat that I have made sure that our house has proper storage for everything. I am a fanatic about buying Rubbermaid totes and bins for every single item we own (and then I label them all, because that's just the way I am 😉 )
But what about stuffed animals? My kids have quite a few that they dearly love. And special blankets, too. I don't want to get rid of them because we rotate them out throughout the year. But a plastic tote just did not feel like a cozy enough home for those items either.
We finally found a place for them, though!
When I first saw the Stuff 'n Sit in a Facebook video, I knew it was meant to be! We had to have one! A comfy place to sit and toy storage? SOLD!
We added it to our Non-Toy Gifts Wish List and had it by Christmas (perfect timing) 🙂
It's now been six months since we've had it and we still love it! As a matter of fact, it's one of my favorite practical gifts to give!
How to use the Stuff 'n Sit Bean Bag
Watch how we filled ours in this video!
Get your Stuff 'n Sit Now!
I have a SUPER special deal just for my follwers! If you need this beanbag in your life as much as we did, get it today for 40% off!! That's a steal, guys!! You might even consider getting an extra as a gift. At this price, it's worth it!
Just use the code "MUNCHKINS" at checkout to get in on this!
(offer expires June 12, 2018)
Don't forget to post a picture of your little one with your Stuff 'n Sit on Instagram! I'd love to see how it's working out for ya 🙂