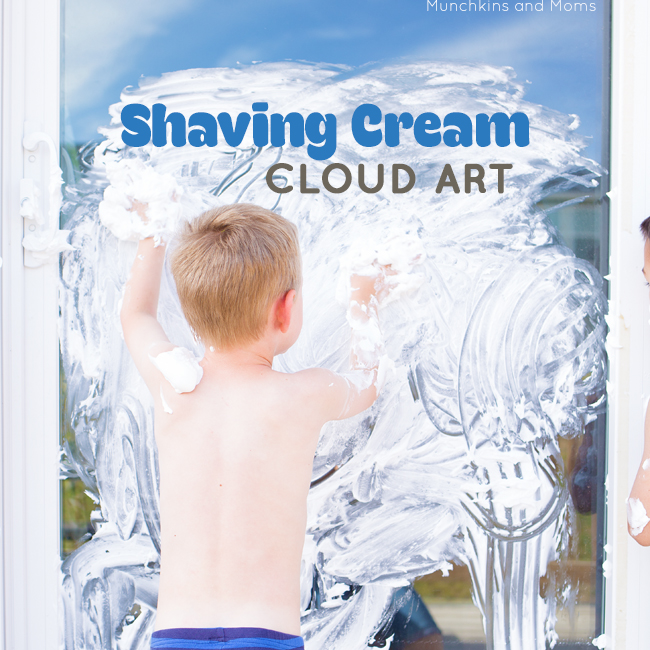 Stop everything you're doing and grab a can of shaving cream!
(after you read this post, of course 😉 )
Shaving cream is one of the cheapest sensory thrills out there. Grab a can for .99 cents for guaranteed preschool fun! Teachers have been using it for ages as a sensory writing trays (smear some of it on a table or plastic tray and have the students write letters in the foam!). Today we used it for great big art cloud art murals on our sliding door!
Supplies for Shaving Cream Cloud Art
This post contains affiliate links
Shaving Cream
A glass door or window
Kids
It's that simple. Having a hose is also handy for washing everything down, but even that is optional 😉
Making Shaving Cream Cloud Art
I handed the can of shaving cream to my oldest son (five years old), and invited him to spray it all over the sliding glass door to make clouds. Pressing down the button was serisouly good for strengthening his fingers!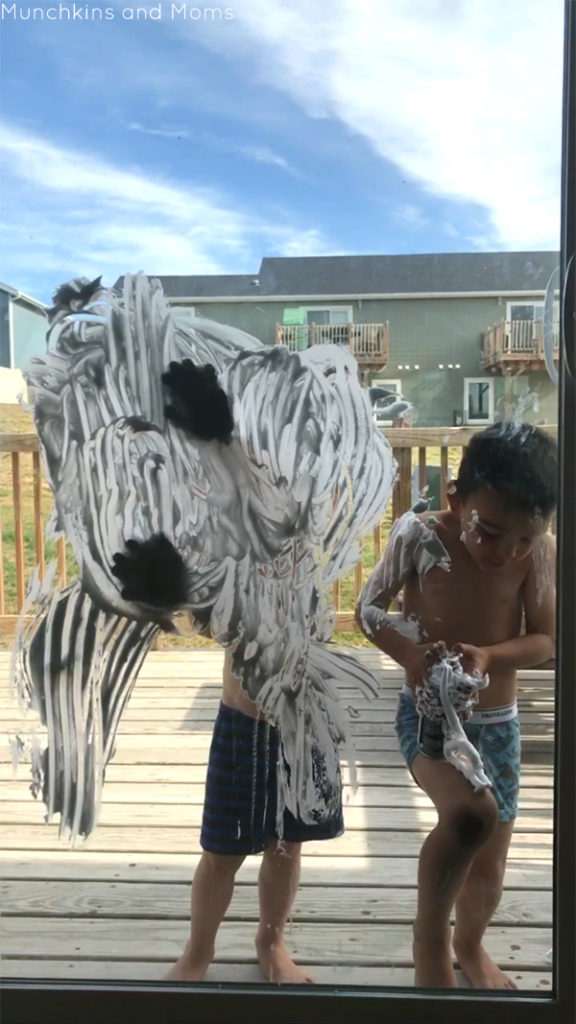 Side note: Notice how dark this picture is? I actually hadn't planned on blogging about this so I was just snapping a few quick pics with my cell phone camera. Once I saw how much fun my boys were having, though, I knew I had to share it with you all so I grabbed my nice camera to capture the fun 😉
My orginial intention was to use this as a preschool activity where my kids would "write" on a vertical surface (the glass door), and practiec letter formation. However, they had other plans in mind.
Enter the messy, fun, process-driven art experience here…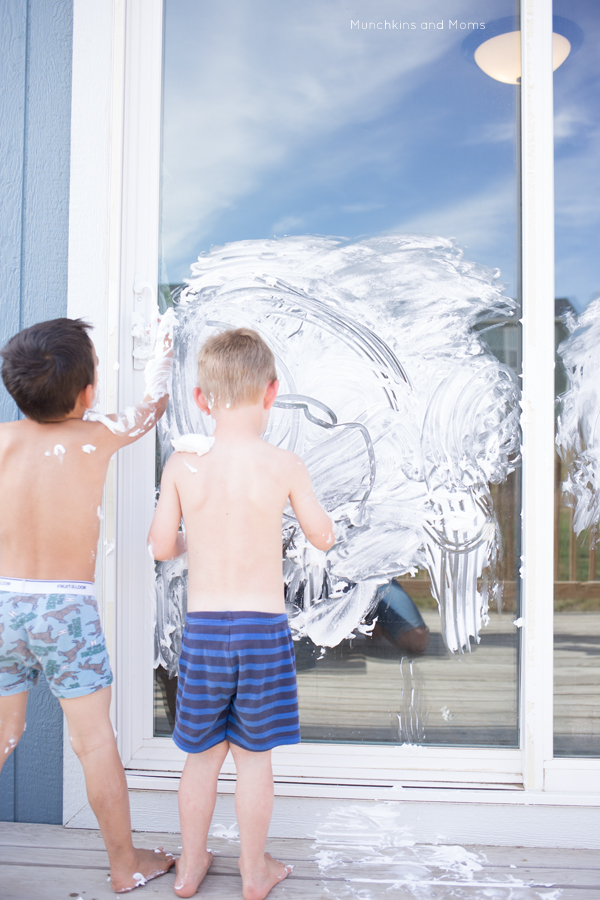 Did I metion this was MESSY?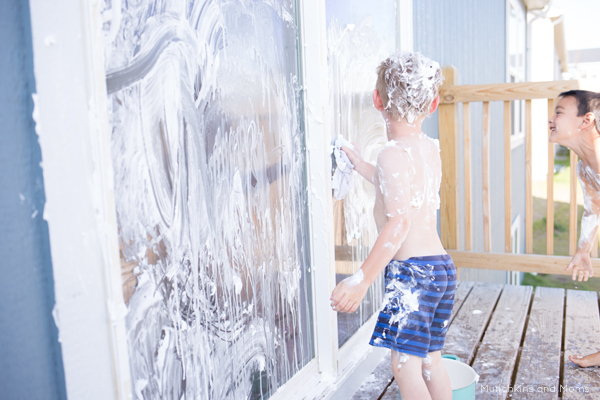 I kept a pot of water with rags to wipe things up (see: smear more shaving cream) 😉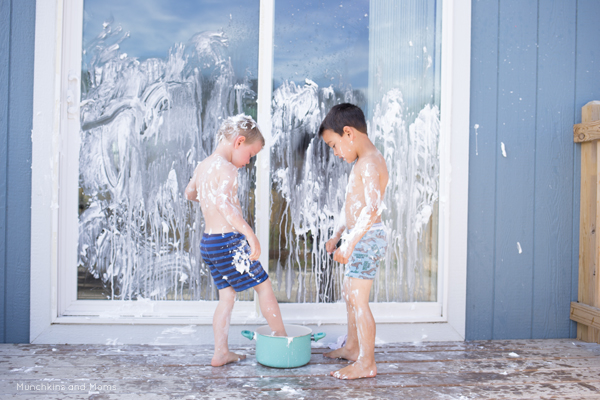 If I had kept this more low-key (a little dab os shaving cream versus the whole can), this really would have made a great letter formation activity. But I am perfectly happy with how awesomely fun it turned out…as were my boys. We called it "painting clouds art" becuase you could see the blue sky on the glass door, and the shaving cream looked like puffy clouds.
Kind of 😉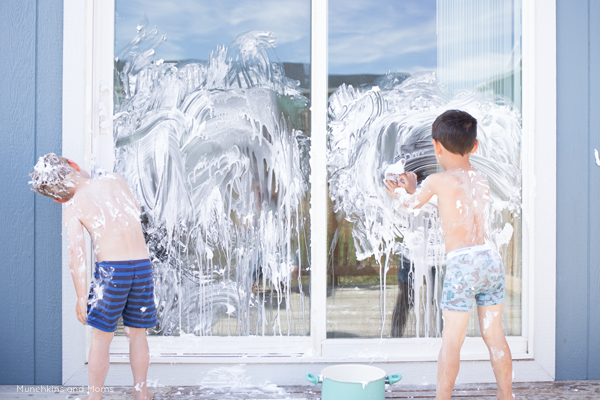 When I started this post I said to drop everything and get shaving cream now…I'm totally serious. Forget the mess and let your kids at this today! It is a summer memory they won't soon forget! <3
Related Post: Jello Cloud Parfaits–  The perfect treat after this activity 🙂 
Also don't forget to snap some pictures to share with me on Instagram!
Also also, are you ready to turn your family pictures into something special? I swear the best gift I ever gave myself was a GOOD camera. Just look at this cell phone pic compared to my photos above: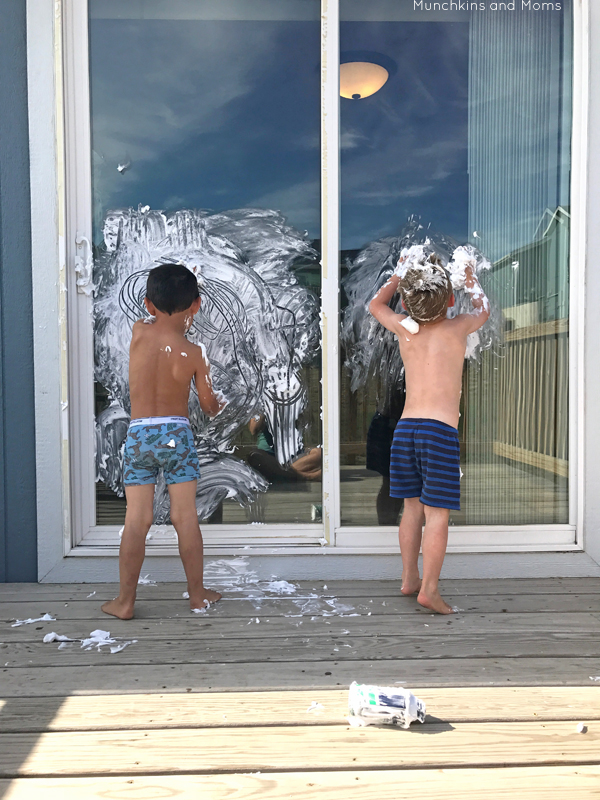 My good camera captures the colors and details so much better than my iphone could! It really is a game changer. If you're in the market for a good starter DSLR, I'd recommend this one. It takes great picture and will make you an official Mom-tographer 😉