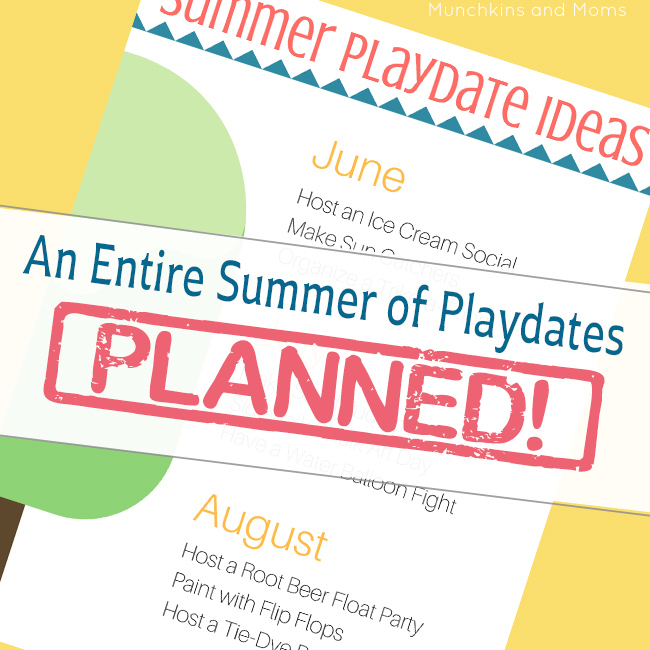 Who's excited about summer?!?
Summer is right around the corner and lots of people are already planning their summer activity lists. Do you have any special plans for the summer? I know we'll be planning playdates and having friends over all summer long!
Do you plan summer playdates for your kids?
When school is out, I used to get bored and miss my friends after two weeks. Since my kids' homeschool, they don't quite get the idea of what summer vacation is, but they do love seeing their friends every chance they get (mommy groups and preschool co-ops are awesome for this!)
Therefore, it is better to plan something exciting for your kids. For example, you could arrange for a videogame tournament at your place. You can go for classic Nintendo games like Mario. However, for that, you might need to install Nintendo DS emulators and nds rom top. Since ROMs and Emulators are the only way to play classic games, installing them becomes a necessity. Once, you are done with the downloads and the installations, you can easily host a videogame tournament for your kids and their friends. Or if you want a game that is a little more educational for their brain you could try some creative cheap games like Minecraft. There they can build big castles and engage in good teamwork skills.
If you want them out and about then a trip to the park for skateboarding, ball games, dog walking, and more! Why not a trip to the local museum or zoo? These are just some of the several ideas that you could use for the premise of your summer playdates. If you are having any of these playdates inside your home, you'll need to make sure that it is kid-friendly and safe for your kid's friends to come in. During the height of summer, it can get incredibly hot so reducing playtime outside will need to be discussed as children can tire easily and forget to take drinks. Bringing them inside for playtime and some activities may be best, you can also have the air conditioning on to keep them cool. Understanding the need for a fully functioning air con (you can look at companies like One Hour Heating & Air Conditioning for your regular repair needs) is essential and for that you will need proper and regular maintenance done for the same on timely basis. If it is not working brilliantly then you are going to need to get that looked at by an Electrician Armadale company or a company closer to you so that it can be sorted in no time.
The thing is I actually need to sit out and PLAN those meetings or else they will never actually happen. How many times have you said "We should get together soon!" and then three years pass before it actually happens? (tell me this happens to more people than just me). Even as a co-op leader, I am terrible about meeting up unless an event is actually written in my planner. Last-minute plans just don't work out. So it's a good thing I found a solution to make planning a playdate that easier.
Let me plan your summer playdates for you!
As I sat to brainstorm ideas for our co-op group, I realized some of you might find them helpful for yourselves! I designed a super simple summer activity planner that would work great for a summer get-together with other munchkins and moms.
How to use this planner
There are so many wonderful ideas all over the internet for summer craft and activity ideas. What I did was narrow the list down to just three. Three simple, seasonal-themed activities for each month of summer. I tried to include one fun food activity (like making ice cream), one active play idea, and one other craft/activity. I balanced the activities out so that you could plan one 2 hours long playdate a month using all three activities, or you could split them up and do three 30 minute playdates a week. Easy peasy. All you have to do is send the invites!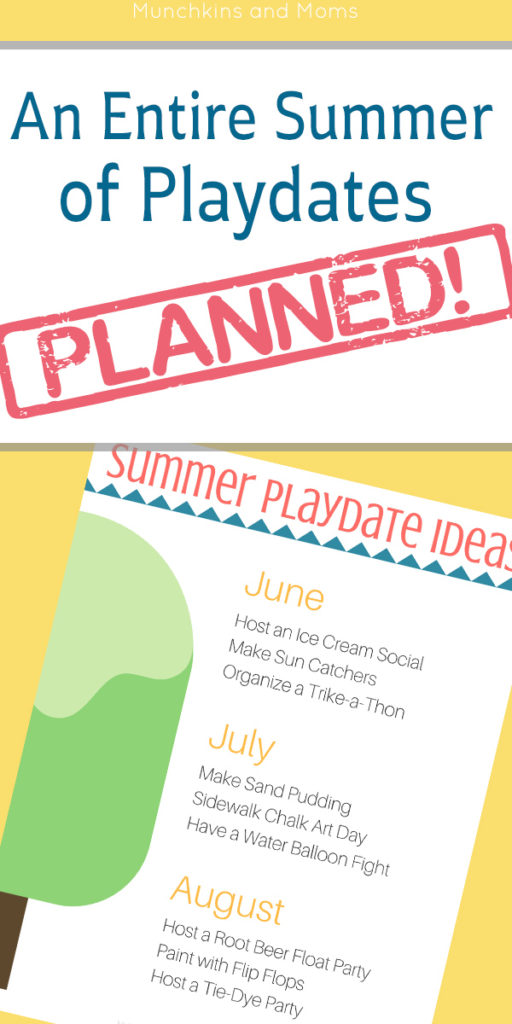 I've created a nifty little printable to hang on the fridge and check off as you plan the activities. Most ideas are self-explanatory, but some might require further explanation or directions, so I'm listing each activity in this blog post as well.
Read my Tips on The Logistics of Planning Themed Playdates Here
June
Host an Ice Cream Social
Make Sun Catchers
July
Host a Sidewalk Chalk Art Day
Have a Water Baloon Fight
August
That's all there is to it, friends! Your summer of fun is planned and ready to go. Will you share some pictures of your playdates with me on Instagram? I love to follow along with what everyone is doing!