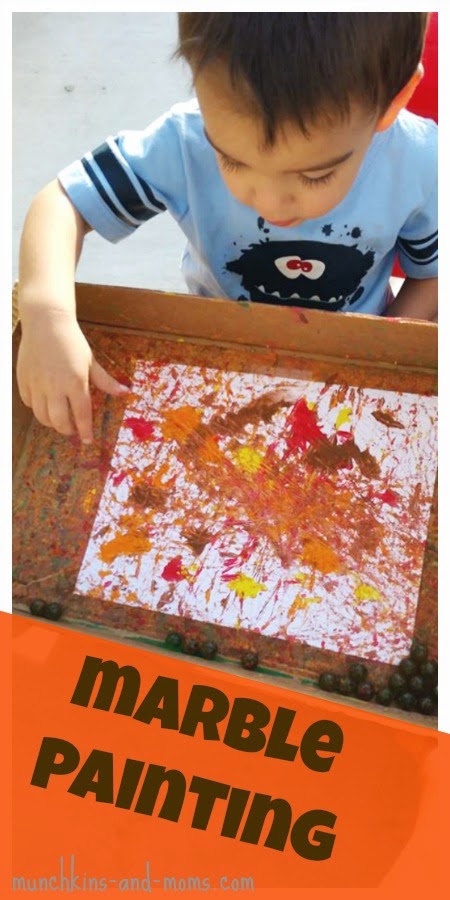 Last week we had our fourth preschool co-op. I really love getting together with the moms and other kids (they range in age from 1 1/2 to 3 1/2 years old). Most of the time, it feels like we are trying to organize chaos…but it's a good time of trying to teach routines and reinforce basic skills (since we only meet once a week, we leave teaching "big ideas" to parents. The activities we do are only meant to reinforce what parents already do at home).Last week's theme was "Seasons". The challenge is always finding activities to meet the wide range of abilities in the group. So I scoured my best resources (see:
Pinterest
), and came up with several activities including this one: Fall Marble Painting
While marble painting is nothing new to the preschool art world, specifically applying this as a fall project came from The Moffat Girls. The project is really simple and (mostly) mess free!
Supplies:
Paint in fall colors
Handful of marbles
Shallow box
Paper
Tape
Just plop a few drops of paint right on the paper then SHAKE SHAKE SHAKE!
Older Munchkins were able to hole both ends of the box themselves while younger ones needed a second set of hands to support them.
I love how this became a sensory experience- hearing the balls run across the box, feeling the weight shift as the balls rolled, and watching the paint as it dispersed around the paper, etc.
Each piece of art came out unique and beautiful.
After the paint dried, I took The Moffat Girls Advice and make thankfulness leaves. While the boys are still too young for cutting and tracing, I was happy to do this part myself as they napped.
And the finished product:
T H A N K F U L