Chicka Chicka Boom Boom, will there be enough room?
This was one of my kids' first favorite books! We read it over and over, watched it on YouTube, and did activities based on it. They LOVE this book! Consequently, the book went into hiding in order for us to get a break and some different reads in 😉 Now we are ready to take the book out of retirement and enjoy it again 🙂
Supplies for Chicka Chicka Boom Boom Magnetic Activity
This post contains affiliate links
Construction Paper
Tape
You can tilt your drip pan directly onto the wall if you don't want to mount it (although we have a super-snazzy way of mounting without wihtout ANY wall damage!). Cut some leafy green shapes for the palm leaves, and add brown paper for a palm tree trunk. Tape it all to the drip pan then add the magnet letters to watch the magic unfold!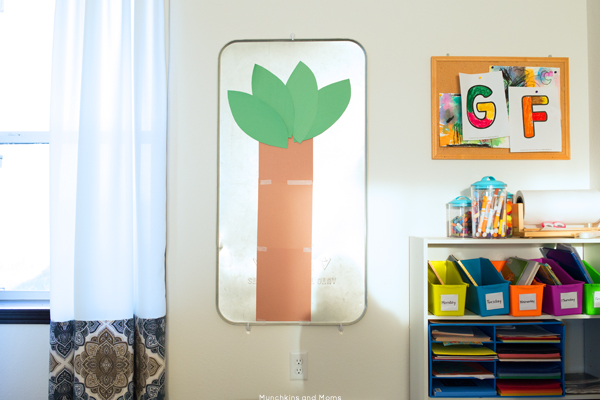 Playing with the Chicka Chicka Boom Boom Activity
My kids recognized the tree right away (maybe that's because one year I even dressed up as the chicka chicka boom boom tree for Halloween!). And despite the fact that we hadn't read the book in ages, Cannon immediately started retelling the book as he played!
Playing with the alphabet this way gives kids an opportunity to become familiar with the letters of the alphabet in an engaging way! Even older kids are attracted to exploring the board and retelling the classic story.
Challenge older kids to create sight words with their alphabet magnets. They can even spell out their names!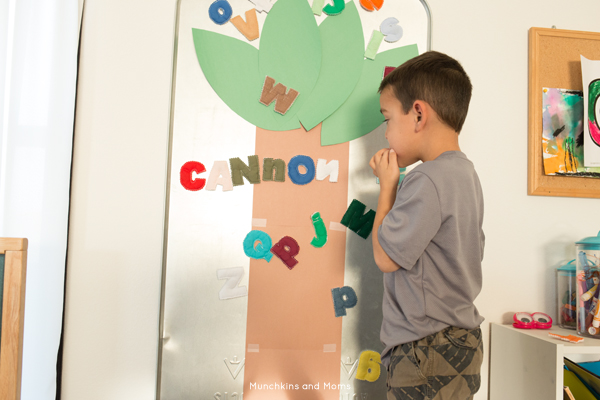 Notice we had to get a little creative to get three n's for his name 😉
We leave an activity like this out for 1-2 weeks as my kids engage with it at their own pace.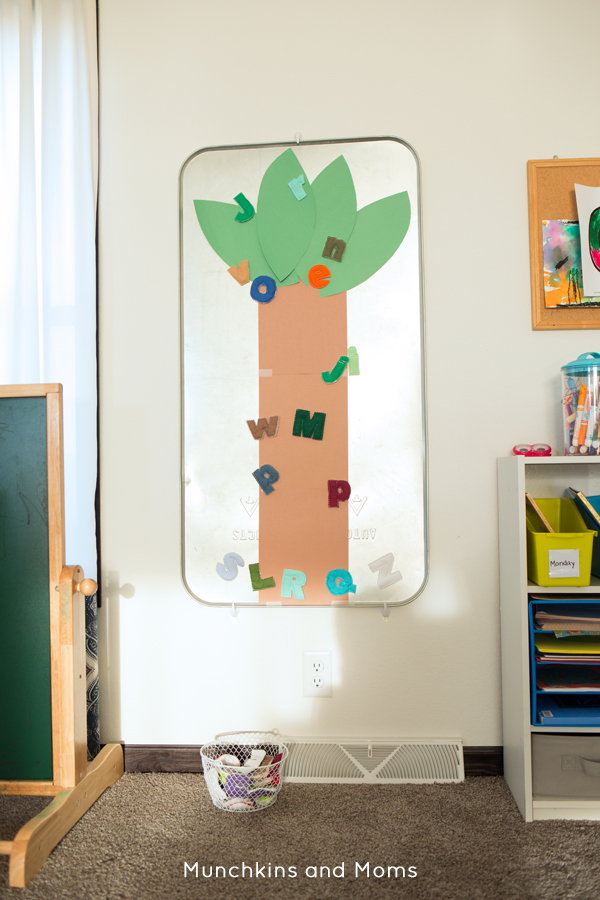 Other ways to expand this activity:
A parent adds all the uppercase letters to the board first. Then, a child can match the lowercase letters next to them.
Hide magnetic letters around the room for the child to find. They can then add them to the tree as they are found!
Use number magnets to re-tell Chicka Chicka 123!