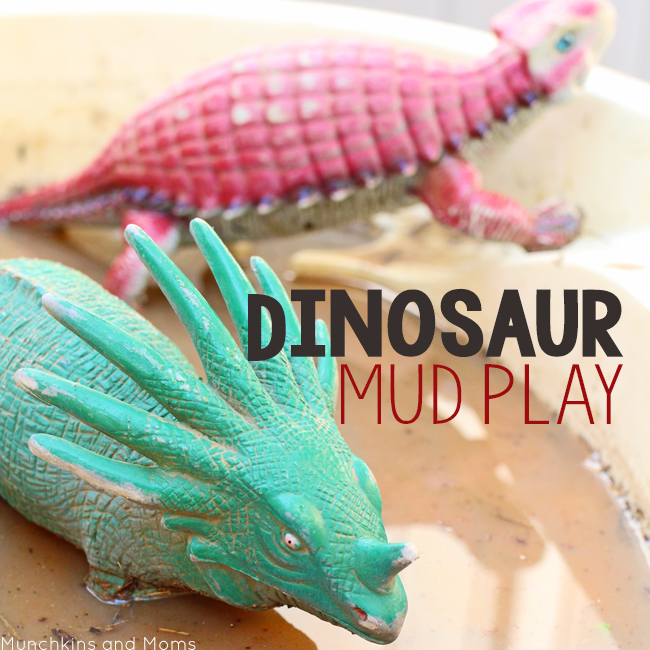 Do your kids love playing in the mud?
Mine do. Without any hesitation, they'll run right outside bare-foot and (usually) bare-butt ready to jump in the first muddy puddle they see! I know jumping in puddles and slinging mud is a great unstructured activity, and that's usually just what they do, but occasionally I love offering some open ended invitations-to-play to extend the fun and connect to specific preschool themes we're working on.
Nervous about mud play? See our tips on Playing in the Mud here!
Supplies
This post contains affiliate links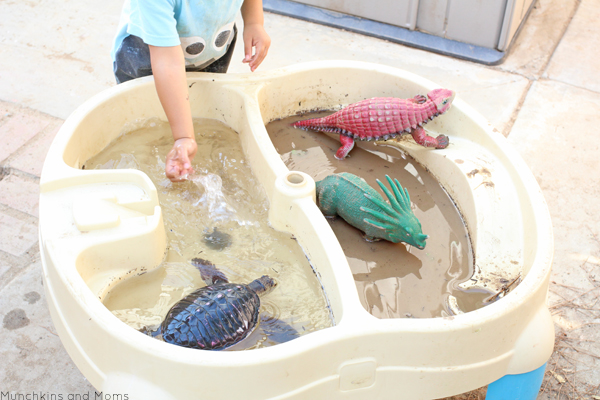 To prepare the activity, I filled one side of our water table with water and the other side with mud. If you don't have a water table, just set the dinosaurs up on a muddy patch on the ground with a bucket of water on the side.
You might like: DIY Mud Kitchen Food– one of our most popular posts! 
The jumbo dinosaurs were awesome fun for my kids! Since dinosaurs are larger-than-life creatures to begin with, it's fun to have toys that are larger than normal too 🙂 They loved the opportunity to get them messy on one half of the table, then clean them up on the other side.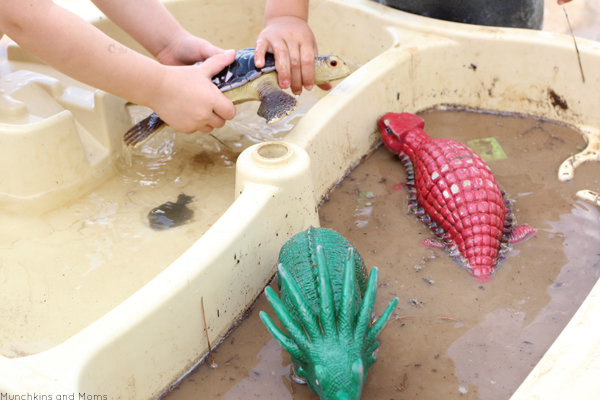 In hindsight, I think adding a small scrubbing brush to clean the dinosaurs would have been a great fine-motor addition to the activity as well. I'll have to remember that for next time, though, since that didn't occur to me until now.
There was so much pretend play happening that I couldn't help but capture some of the funny faces that were made! I love this one!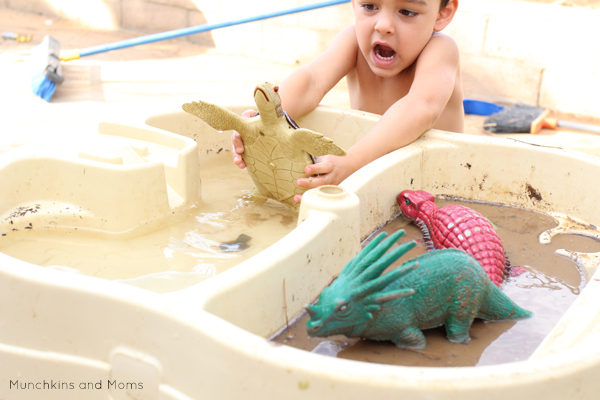 I'm not really sure what was happening in this play scenario, but the dino-turtle didn't didn't look too enthusiastic about it! Now that I look closer- these are the grumpiest dinosaur faces I've ever seen- they definitely didn't match my kids excited faces!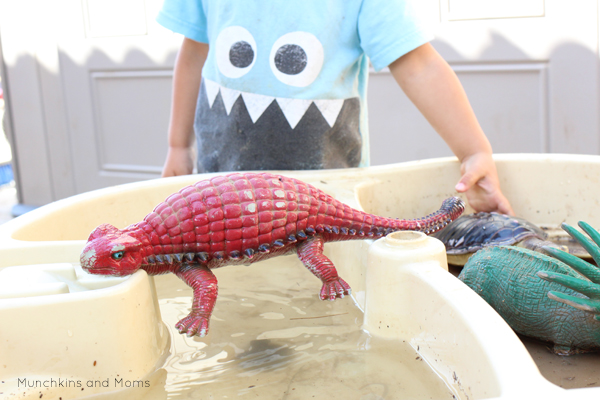 After coming inside from a fun activity like this it's nice to settle down with a good dinosaur-themed book. What would you start with?
Need more dinosaur-themed ideas? Find some of my favorite here:
Don't forget to pin this idea for later!