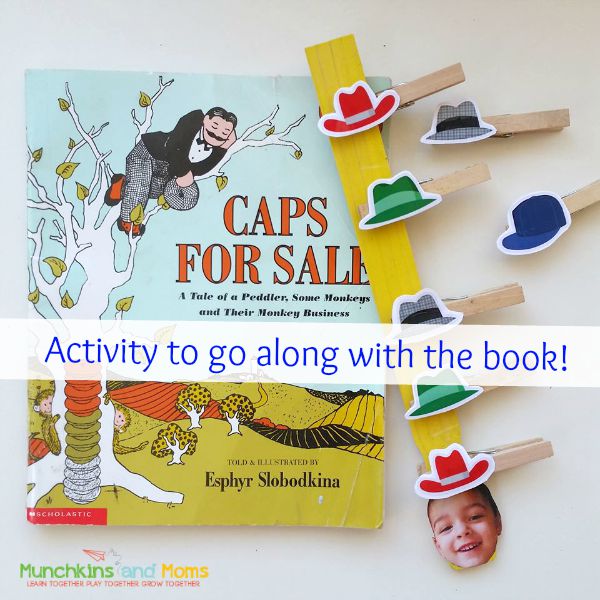 This post contains affiliate links
How much do you love classic children's books? Better question- how much do your kids love them? I honestly felt like my boys would think they were out of date and lose interest because of the muted color palettes, simple story lines, and out-of date vocabulary. When judging a book by it's cover, modern books usually win. But you know what? I was wrong. My kids have proved to love books like Animals Should Not Wear Clothing, Ferdinand, and Caps for Sale. It's one of the reasons I've thought about doing the Before Five in a Row curriculum with them. My two year old loves Caps for Sale so much that I was inspired to build on that interest and extend the story with this activity (inspired by our very popular There was an Old Lady Who Swallowed a Fly activity).
Supplies were things I already had on hand: washable paint, clothespins, paint stick, glue, hat stickers, and pictures of my boys (I just printed one from my computer). Oh, and the book of course 🙂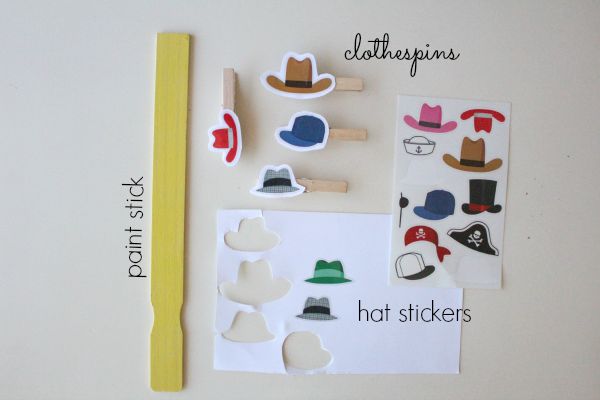 I painted the paint sticks yellow and while they dried I put together the hat clothespins. They were super simple- I just stuck the stickers onto a piece of cardstock, cut them out, and glued them to clothespins. The sticker packs I had came with 11 different types of hats to choose from. We just used 5 of them, but I made a few of each (to use for pattern practice later).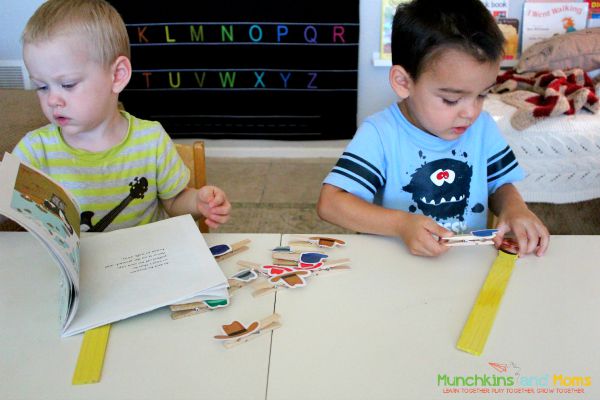 My little Hunter Bear wanted to explore the book more before deciding which hats he wanted to put on his paint stick, while Cannon got right to clipping his hats on! The boys were so cute as they re-told the story to me using their paint stick (puppets?) and clipped on hats! There were really so many ways to use the paint sticks and hats for learning and fun! Here are some other ways to use them:
Have a puppet show
Make hat patterns (colors, types of hats)
Discuss the different types of hats (fedoras,baseball caps, cowboy hats, etc.)
Re-tell the story using the hats and paint stick
Counting practice
We had a great time adding hats on top of each of the boys' pictures! We definitely had pretend play, story re-telling, and early math skills all represented in this simple activity!
If you're using this as part of a Before Five in a Row activity, don't forget to check out our Goodnight Moon sorting activity, another great choice for BFIAR families 🙂

How else would you use these paint sticks for learning and fun? I'd love to hear your ideas in the comments below!