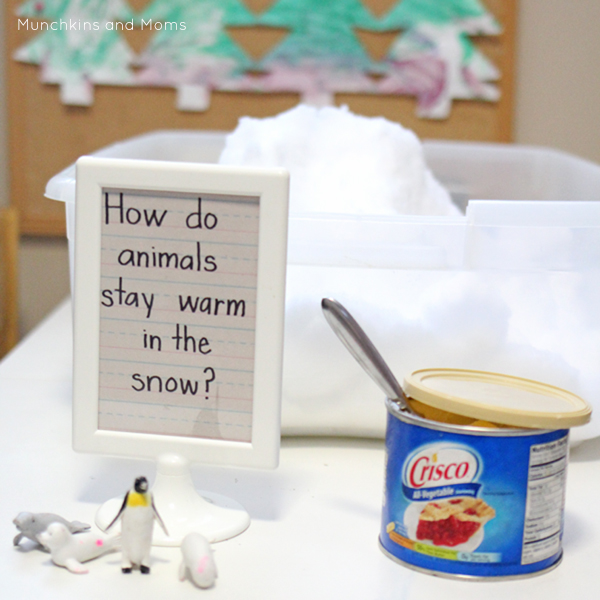 Yesterday we had a blizzard of epic proportions….or maybe it was just a regular blizzard…I don't really know. What I do know is it was epic for us (since this is our first winter spent in a cold-weather climate), and all the snow has given us plenty of opportunities to learn and play with it!
See Related Post: Cathedrals in the Clouds – a building activity for a snowy day!
One of the first things we did was an experiment to learn about how arctic animals stay warm in the winter- it's called the "Blubber Experiment". I remember doing this with my students every year when we had a field trip to a local science museum. The basic idea is to give kids a hands-on way to experience/learn how animals stay warm in cold weather.
Tip: Make this experiment meaningful by starting with a relatable question- "How do you stay warm when it snows?"  (allow children to answer) Follow with: "How do you think animals that live in the snow stay warm?" (allow children to hypothesize. Offer animal figurines for kids to examine and create their own hypothesis.
Supplies for the Blubber Experiment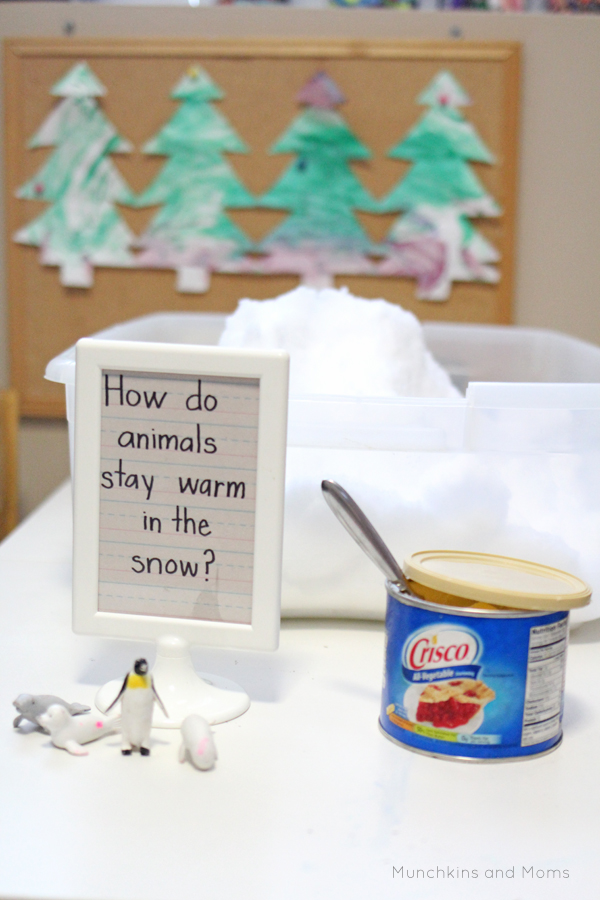 This post contains affiliate links 
We started our experiment by making observations about how cold snow is. Since this is our first winter in the snow, my kids have learned that they have to be properly dressed to play in it. They listed off all the clothes we require to stay warm in the winter: coats, beanies, gloves, snow boots, etc. From there, we segued into a conversation abut how animals that live in the snow stay warm.
Tip: After the above discussion, you may choose to pause the conversation to read a related book about animals. Suggetions: Animals Should Not Wear Clothing (for a funny conversation starter), Baby Beluga (for music integration), Animals in the Winter (while not specific to arctic animals, this book will get kids thinking about how other animals prepare for cold winter weather).
After we made observations and read a book, we talked about how some animals that live in cold regions all year long have blubber to stay warm. I compared blubber to the shortening and let them feel it using a plastic bag "glove". We smeared some of the shortening one of the bags, then covered it with a second bag (to keep it from smearing onto anything).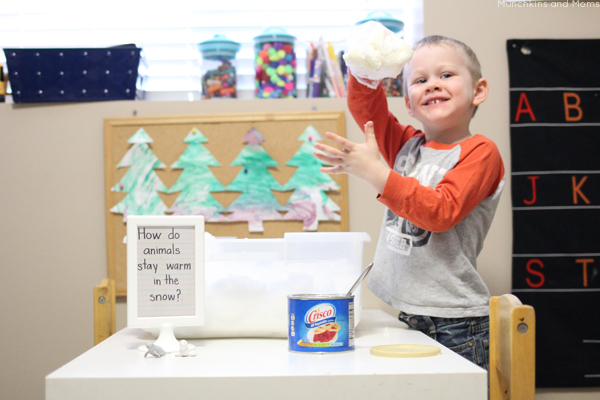 Our blubber glove was ready for testing!
My son notices right away that he could play in the snow longer with the blubber glove (because his hands didn't get as cold)!
How will your kids enjoy this winter lesson? Try it soon and let me know!