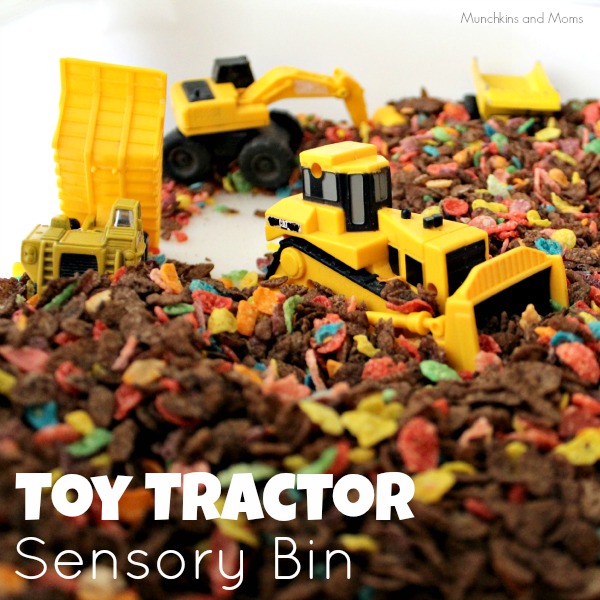 We get so much mileage out of our toy tractors. Really. They are used for so many open ended play activities, and for many more preschool and sensory bin activities (check out our list of 10 Ways to Play with Toy Tractors)! Today I threw together a quick sensory bin to play with our tractors, and as always my kids were thrilled with it 🙂 What's even better is we got to use one of my favorite childhood cereals, Fruity Pebbles, and one of their current favorites, Cocoa Pebbles, to make this a fun and edible play scene! Fun fact: Did you know Fruity Pebbles have been around for over 40 years?!? This is truly a classic breakfast cereal that spans generations!
This post contains affiliate links
Supplies
Toy Tractors
Fruity Pebbles and Cocoa Pebbles Cereal
A shallow dish or tray
I decided to make the scene a "rainbow excavation" playscape. That simply meant the rainbow pebbles were on the bottom with a layer of Cocoa Pebbles on top. Once my son got in there with the tractors, he got to work excavating the hidden rainbow!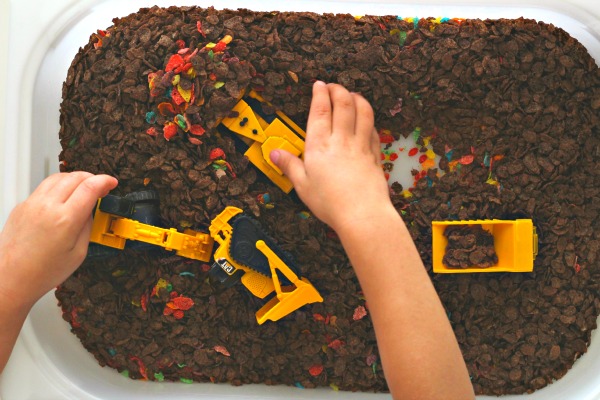 It never ceases to amaze me all the different pretend play scenarios my kids can come up with using their tractors. You'd think just tractors and dirt go together. Not with these kids. Following their lead, we have used tractors with many different materials- but this edible bin may have been their favorite so far. I'm pretty sure I saw them shoveling a few excavator scoops of cereal into their mouths! 😉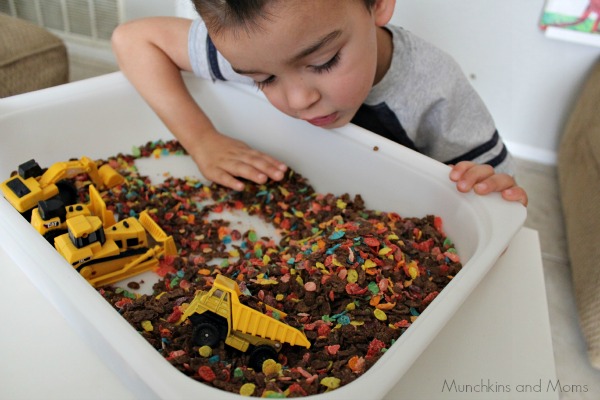 This lasted us a good hour of mountain building, road clearing, dump truck dumping fun! Activities like this are great for developing vocabulary, encouraging imagination, and role playing (practicing social skills through play). One of the benefits of using cereal as a sensory bin filler is that it provides a rich sensory experience (touch, smell, and even taste!) without dangerous ingredients or messy side effects.
Do you have a toddler or preschooler who would love this? Set it up for them and snap a few pictures to share with us on social media! We love to see your interpretation of the ideas here!