{For your convenience, this post may contain affiliate links}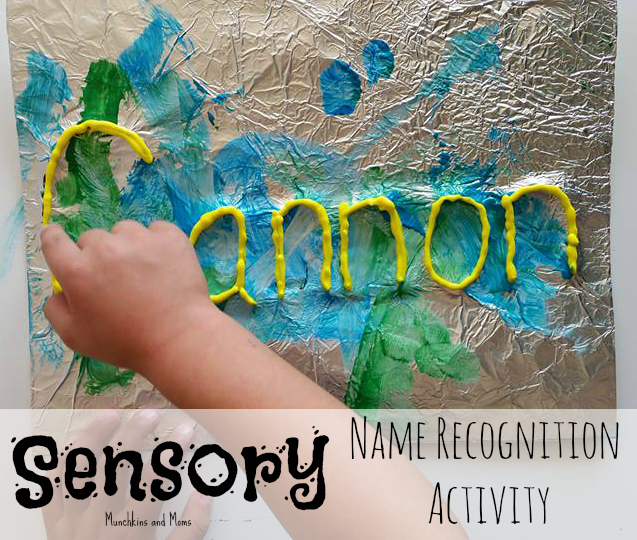 A few days ago my boys unraveled nearly an entire roll of tinfoil. I was about to throw it away when I decided to instead find clever ways to re-use it (see what our first activity was over on
Munchkins and Moms Instagram page
). I still had quite a bit of the foil left when I realized it could be used for something else we have been working on: Name Recognition!
Foil

Hot glue gun

Cardstock or cardboard

Paint

Puffy Paint (optional)
I started by writing my oldest son's name on the cardstock. You're gong to want to use nice, large letters for this.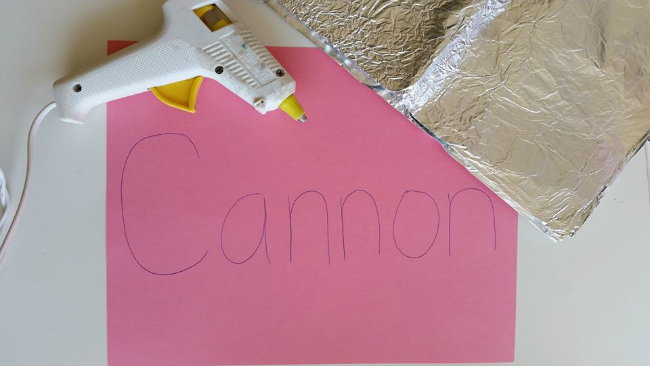 Then I used the hot glue gun to trace his name. I traced it a few times to make sure the letters were nice and thick.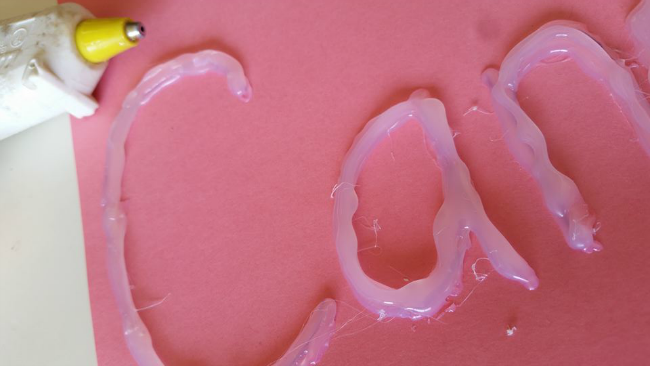 I forgot to get a picture of the next step, but it basically consisted of wrapping the foil around the cardstock. Make sure not to wrap it too tightly. There should be enough space that the letters beneath are nice and roomy 🙂
Once the foil was on I called over Cannon and told him this this paper had a special word hidden beneath it. He would have to use all his muscles to discover what the was was (it really doesn't take any muscle at all, but it's fun to tell kids they'll need muscles for anything). I gave instructions to firmly press the foil until he saw what was beneath.
He smashed, and he pounded…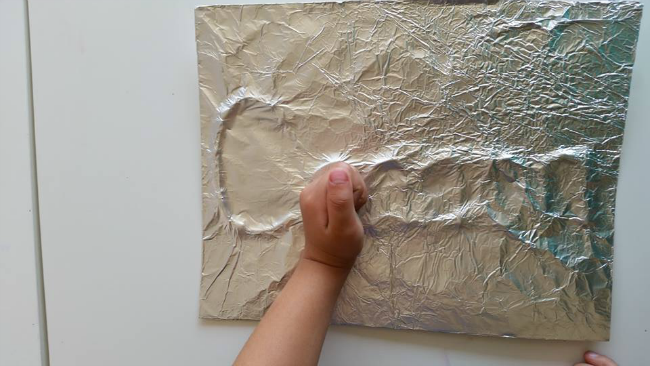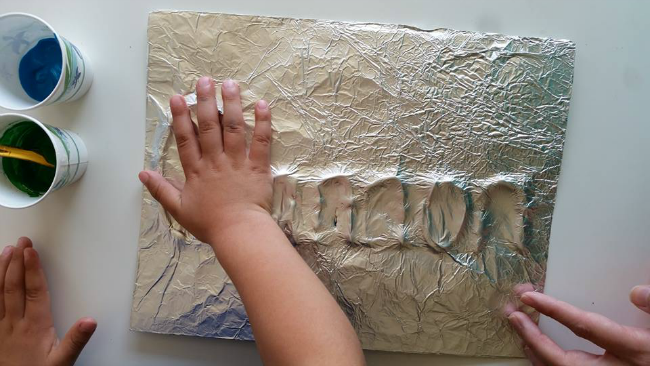 He even carefully traced. He was actually able to tell right away what the word said, but we continued the fine motor/sensory process of discovering each letter one by one 🙂 It was fun to give him a new way to trace letters (he's not big on writing activities right now, so we get creative).
We also decided the name sculpture (it kind of seems like a sculpture in metal) needed some color. Blue and green seemed appropriate as Earth Day is approaching.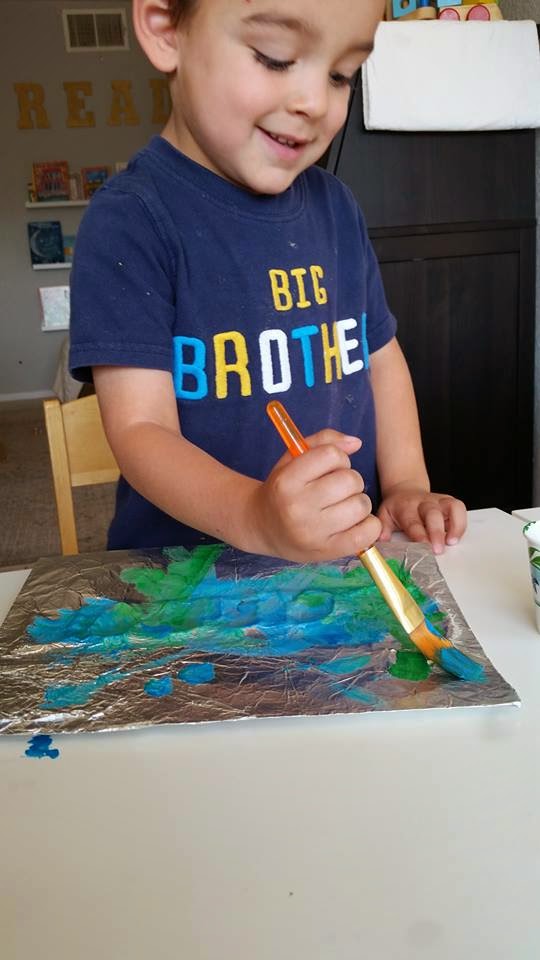 Unfortunately, the contrast of the sculpted name kind of disappears with the paint. We remedied this by retracing it with puffy paint (more great texture!)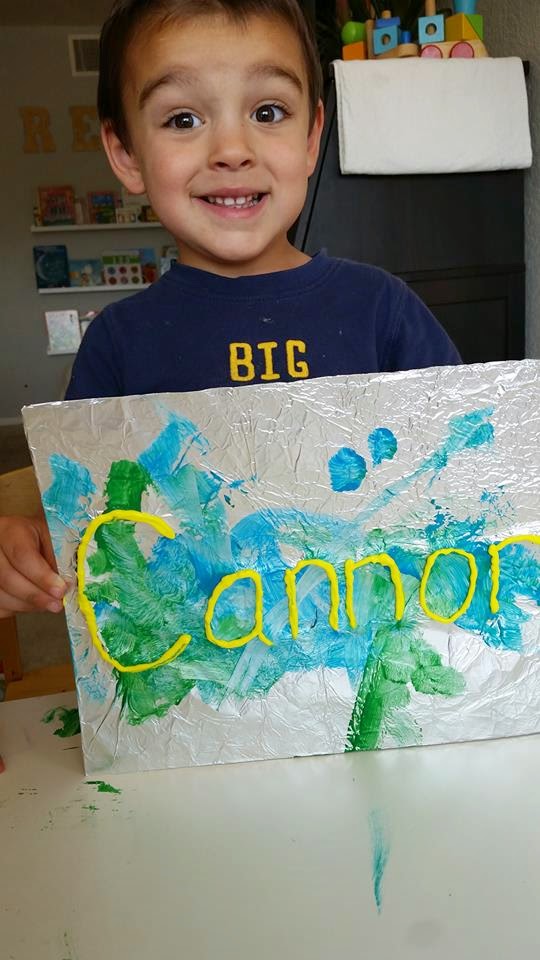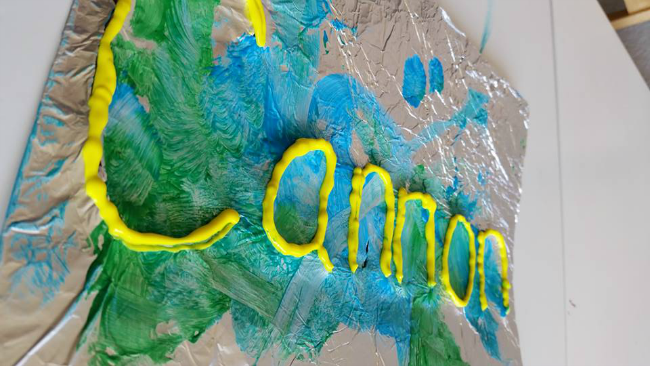 When the puffy paint dried it gave us another great opportunity for sensory input as Cannon traced and recited the letters of his name.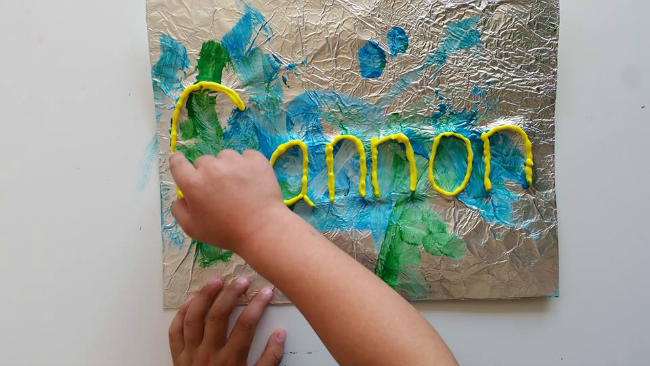 We think the final product was fantastic! Now just to display it on our art wall 🙂