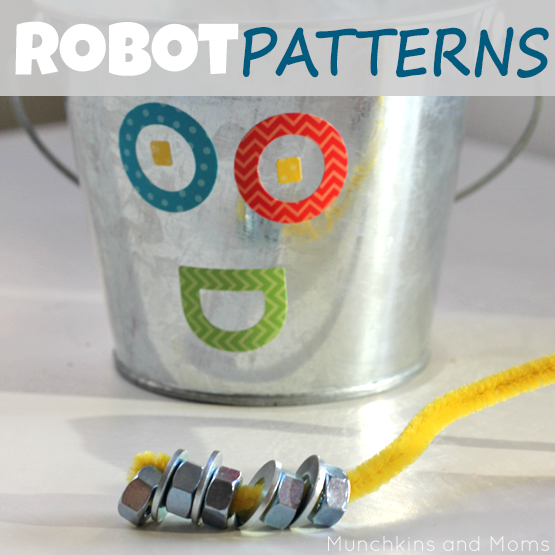 Beep. Boop. Beep. I am a robot…
My nearly four year old likes to pretend play he's a robot. The problem is he has the game all wrong, robots are supposed to take orders from their master (ahem- me). I should be able to push button and have my little robot clean up all his toys, or finish his dinner. That's the kind of pretend play I could really get into! Nope. He thinks he's the robot master, though, and he dictates how the game goes. Ah well. His game, his rules (preschoolers). I'm just happy he has such an active imagination.
The fun thing about robots is there's lots of different ways to jazz up our home preschool activities by making this a home learning theme. Patterning, for example.We could just use classic bear manipulatves to make patterns, orrrrr we could take pieces of robot veins and brains (pipe cleaners, nuts, and washers), and make patterning a little more lively! (Learn more about introducing patterns to preschoolers here)
This post contains affiliate links
Supplies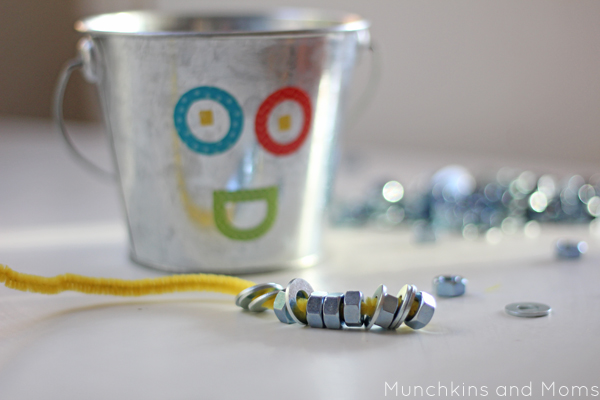 I guarantee you set some nuts and washers in front of preschoolers and they will go nuts (thumbs up for puns). Mine did. As soon as my kids heard the clanking of metal in the tin, they were chomping at the bit for this activity. It's a good thing the prep was super quick and easy- there's very little wait time to get this activity going. All that's needed for preparation are the nuts and washers placed in a tin pail decorated as a robot (and by decorated I mean slap on some alphabet stickers to make a simple robot face). Done. You can now invite the kids over to make patterns on their pipe cleaners….but why call them pipe cleaners when we are going all-out robot here? Why not make up a fun back story, too? Something like might work:
"Hey kids….Look at this robot head I found! The problem is he isn't working. Looks like his brains (nuts and washers) are all mixed up. Can you help put them on this wire to see if we can get him working?"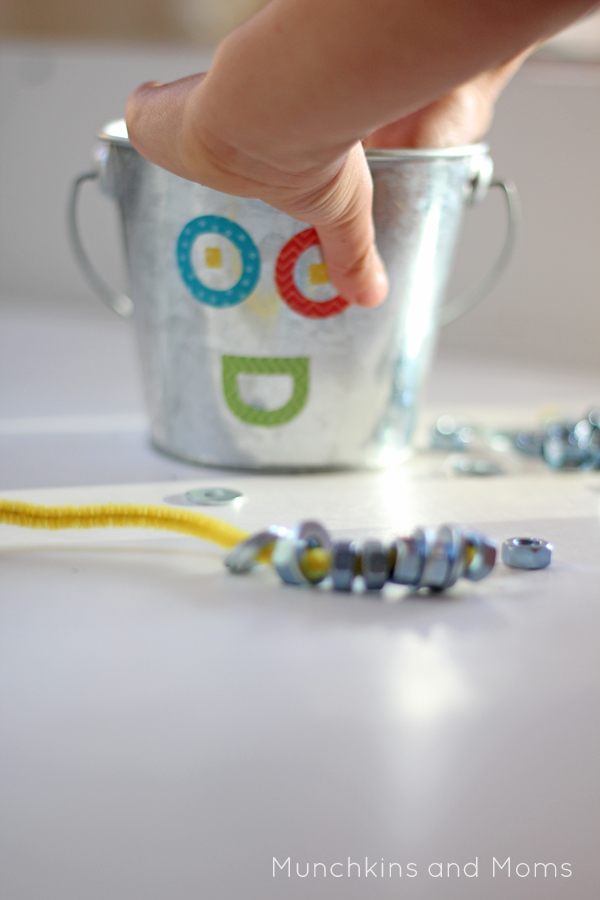 Then simply dictate the desired pattern to get Mr.Robot going. Or let them make up their own patters and play pretend with that ("Oh no!! That nut-washer-washer-nut pattern is the one for self destruct! Quick, better make a new one!") Can you tell I'm having way too much fun with this theme? Really, though. Be prepared for monumental giggles with this kind of activity.
Patterning is only one skill that this activity addresses. Other skills include fine motor, dramatic play, and following directions. Do you want to see more robot activities so you can plan a whole robot theme for your preschoolers? Check out the posts below for more fun from the Early Childhood Education team!