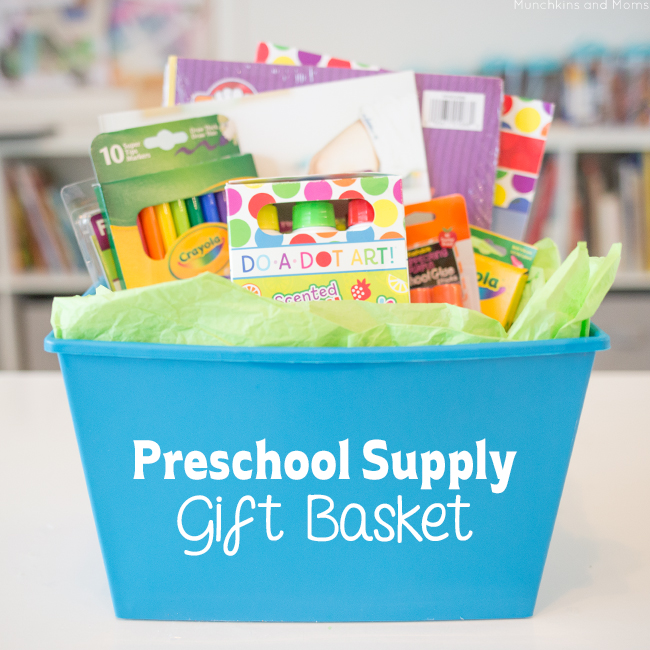 I love putting together gift baskets!
Gift baskets can be used for so many occasions. This preschool gift basket is particularly great as an Easter Basket, Teacher Thank You basket, Silent Auction basket, or as a beginning of the year gift for a home preschool mom or daycare provider!
Putting Together a Preschool Supply Basket
Start with a basket…or in my case a a plastic tub from Dollar Tree. Don't take this part of the gift lightly, containers are fantastic resources for teachers and homeschoolers- we can't get enough of them! Consider a basket that would work well with a classroom theme, homeschool classroom, etc. Here are some great ideas:
Cat in the Hat Storage Box (great size and oh so cute!)
Minimalist "Books" container (all white and very clean looking!)
I added a piece of folded up cardboard inside the box to lift the supplies higher (otherwise they sit in the bottom of the box and that doesn't make as pretty of a display). Then I covered the box with confetti to make it pretty 🙂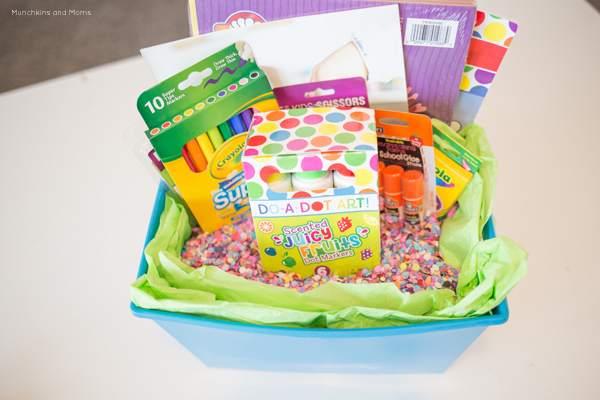 What to Fill the Box With
This is the fun part!! You can stock it with basic supplies, but I'd also suggest to add something new that the recipient may not have. Maybe a small splurge. These can include:
Read more about my home preschool splurges here
Glue dots (these are fabulous for glueing popsicle sticks or crafty items together!)
Include Height
It's visually-appealing to have different height levels in a gift basket. Small items to fill the interior, medium height fill the middle, and taller items draw the eye up in the back. I included construction paper, a Do-a-Dot learning/activity book, and my own book – A Year of Scissor Skills: Monthly Cutting Projects for Preschoolers.
I made sure to include scissors, stickers, and other items from the supplies in my book in the box as well 🙂 (If you plan on including scissors, make sure to read my review of the best scissors to offer preschoolers.)
The last thing left to do is give the box. I'm sure its going to be a hit with whomever the lucky recipient is!