Lines. They seem simple enough, but there can be so much more to them! I remember learning about different types of lines in math class- segments, rays, and the good old line. Then there was line relationships- parallel, perpendicular, intersecting. And after lines intersected you got fun things like angles and shapes. Really- there is so much to go over when we talk about lines! That's why  am loving this book list that features lines as the start (or even the entire) artistic process. Let's start with the classic line book…
This post contains affiliate links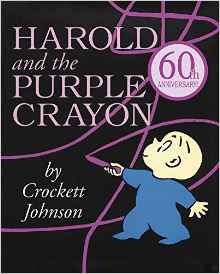 A Classic.Really,every kids should have the chance to hear this story once and be given a purple crayon.See where their imagination takes them…
Did you know there's an entire series of "purple crayon" book?!? Check them all out here!
A picture book that is all about following the line and the adventure it brings. There's so much creative inspiration in this simple book!
Besides the awesome witty title, this book is super fun and interactive! Lots of flaps and opportunities for kids to enjoy the story in a hands-on way.
How fun are the illustrations in this book?!? The text has a catchy rhyming text all about those lines that wiggle. A fun read for multiple ages!
While there may be some controversy over the names of shapes used in this book, diamond/square/rectangle (see Amazon comments), I would still recommend it. It fits perfectly into our line theme and takes lines a step further to show how they form shapes.
Author Laura Ljungkvist uses a continuous line to illustrate a journey through various places (underwater, city, etc). Bonus point to this book for incorporating counting skills throughout the book! (Did  you know there is an entire series of "Follow the Line" books? Check each one out here!)
With the same author/illustrator as above,this beautiful board book really simplifies things and provides great vocabulary on what lines can be. While simple, it is one of my favorite line books for preschoolers.
Ish by Peter H. Reynolds
I know many of you who are familiar with this awesome book might question this choice for "books about lines," but it's line-ish 😉 I think it has a place among line books because at some point the lines that our kids draw are going to start to resemble something more to them, and this book is an encouragement to those artistic endeavors.
Which line book will you read first? Which have you already read?