This is a sponsored post on behalf of Apollo Box. All opinions and images are my own.
Buying school supplies is a glorious thing
And very few things beat the smell of a fresh box of crayons! The back-to-school shopping spree is one we certainly know well and it's a good thing we can use Macy's promo code offers so that it doesn't burn a hole through our purses! But after shopping from classroom supply lists, picking out new school clothes, and getting a new backpack, buying a lunch pail isn't usually on the top of the excitement list. Except for this time. This time the lunch box was the FIRST thing we bought for back to school! The moment we laid eyes on this guitar-shaped lunch box we had to have not just one, but two of them! My son loves it so much that he actually showed me these acoustic guitars and asked if he could learn to play the guitar!!!
The Guitar-Shaped Lunch Box
When I first saw the guitar lunch box, I assumed it came already decorated and was ready to go, and I thought it was adorable with those features alone. But then I looked more into it and realized that kids actually decorate the guitar box on their own! The lunch box comes with an assortment of stickers so kids can personalize their very own guitar case. How cool!! I've actually considered buying some name stickers from Tinyme just so my kids lunchbox doesn't get taken!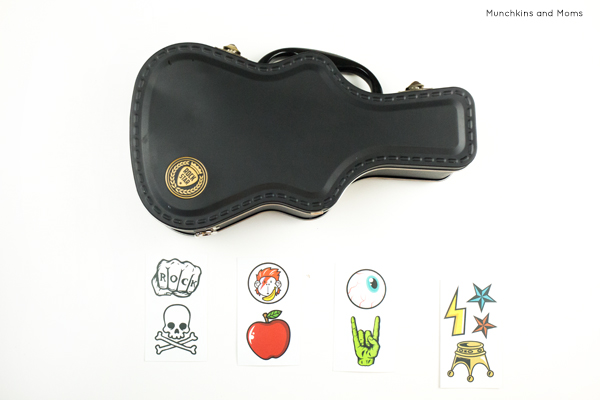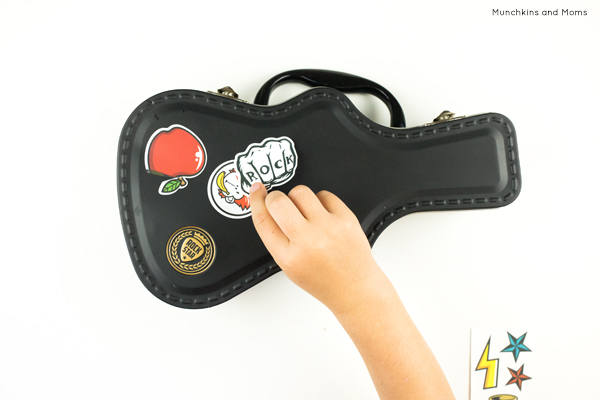 I can barely get over how cute this thing is. I am already regretting only getting two of them 😉 My kiddos each chose where they wanted to put their rockin' stickers on the metal lunchbox. And once again I thought, "how cute! These boxes rock!" But once again I looked more at it and realized…
But wait! There's more!
Kids can continue to add to their lunchbox sticker collection every day! Yup, as they eat their fruit they can add their fruit stickers to the guitar lunch boxes! Seriously. Stop the presses. How fun is that?!?! It's like adding souvenir stickers at every lunch break!! "Oh here's the sticker from that kiwi I ate last week from Mexico. And here's a Minion banana sticker. That's a collectible…"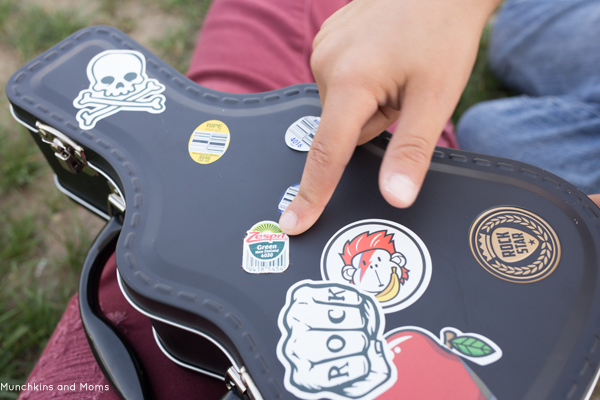 I am 100% positive this is the coolest lunch box out there. No doubt (and if I had my own guitar lunch box there would most definitely be a No Doubt sticker on it. #90skid)
I know you are nodding your head in agreement of how cool this is. And you might be already looking for the link on how to order(hint: it's at the bottom of this post), but one question still plagues you. One very important question that will make the difference between you hitting "buy now" or "save in my cart for a later date that might not ever come"…
How much food does it hold?
My kids are eating machines. They don't have just three meals a day, it's more like six. If I am going to buy a lunch box, it really needs to able to hold all their food (or else it will become a Hotwheels case or nerf dart holder). So I took the liberty of testing this case out for you. Check out the video below to see our typical lunch and how it all fits inside the Guitar Lunch Box:
This totally does the trick for us! It's fun, unique, and will hold everything my kids eat.
(Share this video on Facebook here. I'm sure all the cool aunts and uncles would love to gift this to your munchkins for back to school!)
Where to Buy Your Own Guitar Lunch Box
I love online shopping! It's so much easier than physically visiting a store and I can usually find coupons on sites like PromoCodeWatch for popular shops. The Guitar Lunch Box is available at one of my new favorite online-shopping spots- The Apollo Box! I love me some online shopping, but sometimes the vastness of the digital marketplace leaves me overwhelmed and uninspired. Then I came across Apollo Box (insert giddy shopping sounds here), it is an online shopping platform that celebrates the act of discovery. Apollo Box is dedicated to providing customers with creative products and unique gifts they can get excited about. With their AR (Augmented Reality) shopping feature in the Apollo Box App, they designed a new way to play and share virtual products before you buy them.
And I've got a special treat for you! Use the unique code "munchkins" to get 15% off any purchase! What will you be buying today? (besides the lunch box, of course)