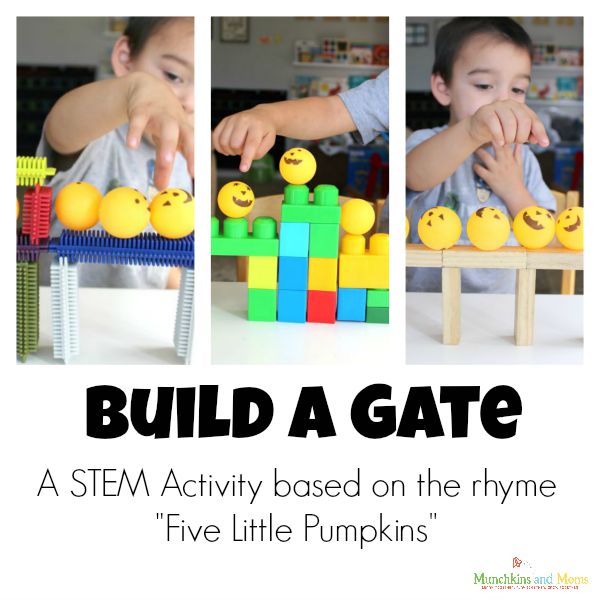 Do you know the popular finger play "Five Little Pumpkins Sitting on a Gate"? Or maybe you've read the board book over and over again. This is a super popular rhyme to recite/read with toddlers and preschoolers, and today I'm sharing a fun STEM activity that can serve as an extension to the book!
This post contains affiliate links.
Supplies
After doing the finger play, my three year old and I gathered some Mega Blocks to build our first gate for the pumpkins to sit on (I decorated the balls with jack-o-lantern faces ahead of time). Since we have a lot of Mega Blocks, and we didn't want to take them all to the table, we estimated how many blocks we would need and brought those to our table. Our goal was to build a sturdy enough gate to balance our pumpkins on.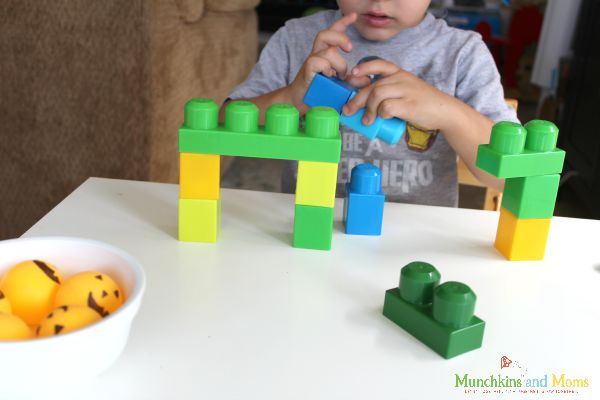 Once we started building, we realized we didn't get enough blocks (if your students are old enough, introduce them to the vocabulary word "underestimate"), so we made an adjustment and collected some more to finish building. When we thought our gate was long enough, we tested it out by balancing the pumpkins along the top. This was the fun part and took a delicate touch!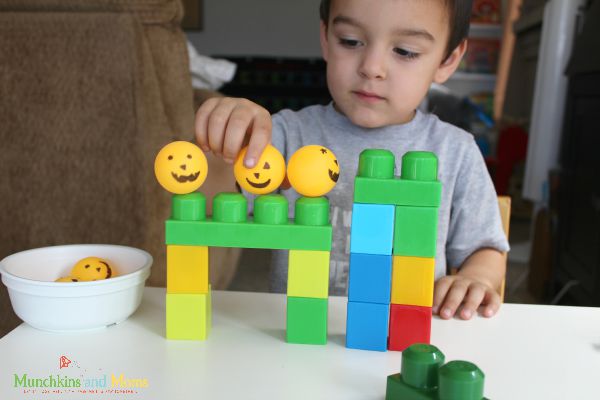 We quickly found out that the pumpkins were a bit crowded on the gate and were pushing each other over! We had to skip spaces so they had enough room to sit comfortably 🙂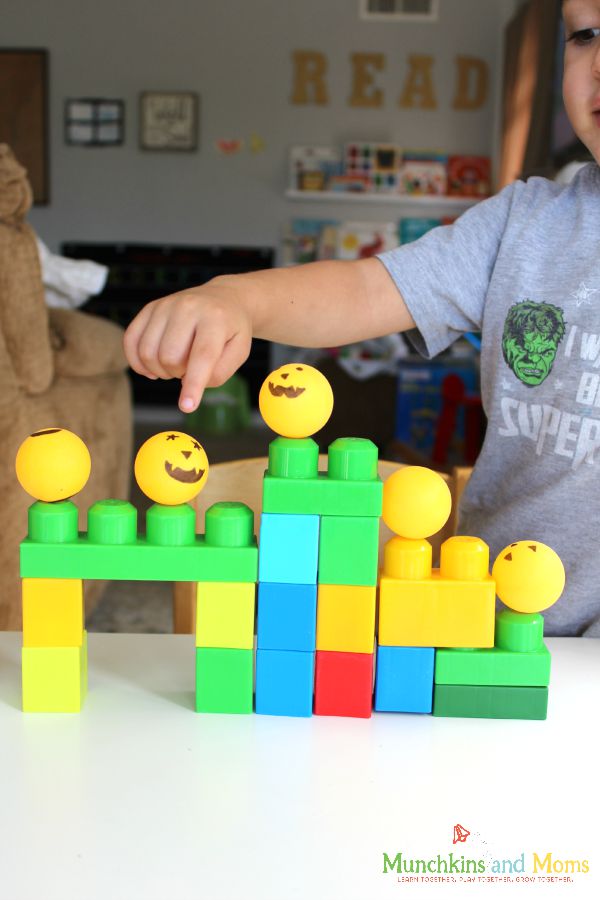 I loved my son's interpretation of the gate! Building it was quite a learning experience as we estimated how many pieces we needed, how long it would have to be, and how to balance our pumpkins on it!
Ways to extend the activity: For older learners, count how many blocks were used then take some away. Challenge them to design a gate with less pieces than before. Estimate what the least number of pieces needed to build the gate would be and let them test their hypothesis!
We had such a good time building our first gate, so we searched the house for other building materials to make another one! We came up with our Bristle Blocks and began the process again!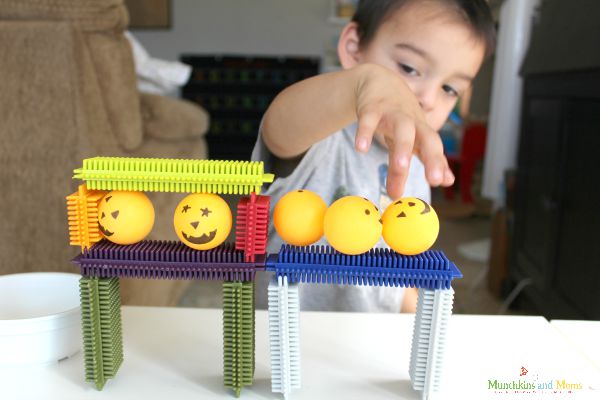 The Bristle Blocks were a whole lot easier to balance the pumpkins on. Cannon even built a couple of them a window to sit in!
Ways to extend the activity: Older learners can estimate if they would need more, less, or the same amount of pieces as they used with the Mega Blocks.
We searched our house one more time for more gate building supplies and came up with blocks from an old Jenga game. This was the most difficult gate to build and probably best suited for children older than preschool (or with lots of adult support for young children).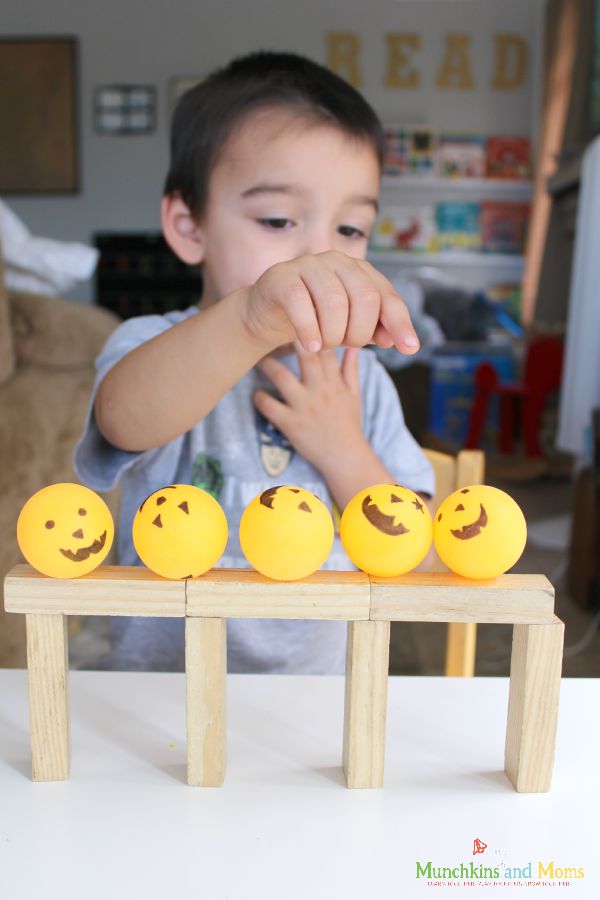 What other materials can you think to build with? Leave me a comment below!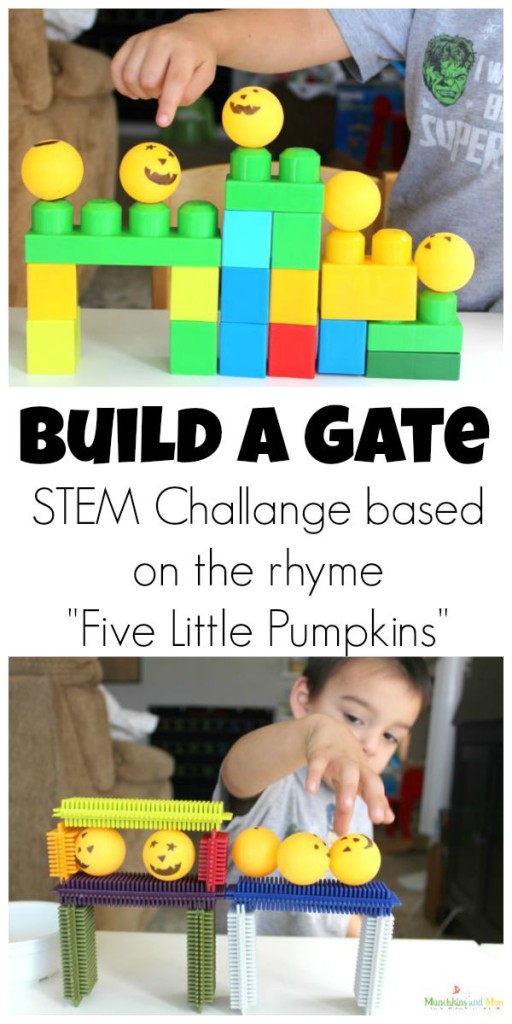 FALL STEM Activities from the Early Childhood Education Team, #TeachECE