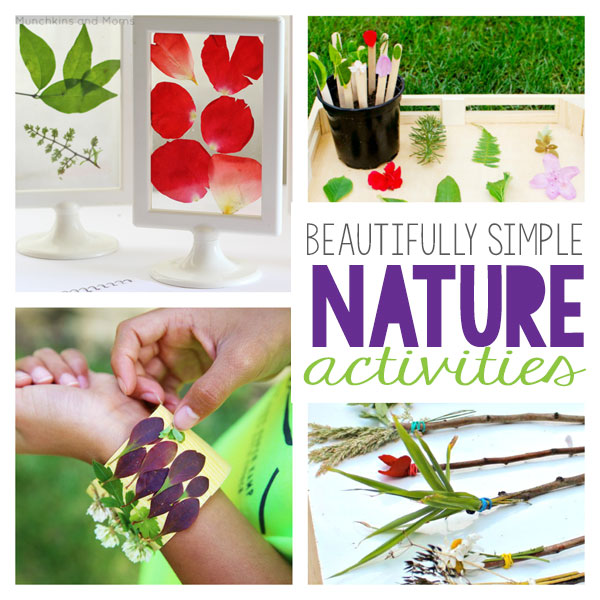 This post contains affiliate links
I love doing nature inspired preschool activities with my kids! Mostly, that comes in the form of playing in the mud or planting a garden. Truth be told, I love the latter one more. Though I may not have a green thumb, I still try to take care of the plants as much as possible so that they can grow healthy. I start by removing the weed while gardening, and then I look for any signs of harmful pests capable of wreaking havoc in my little paradise (in the event that I find some, I either exterminate them myself or get in touch with a Pest Control experts who can do the work quickly). However, this spring, we did not just restrict ourselves to gardening. We also incorporated a few (beautifully simple) nature activities that were a hit with everyone. Here's a list of some of the ones we tried, plus a few more we have on our spring activities bucket list:
This activity is so simple, and my kids love a good game of I Spy so it's perfect for us! There's also a ton of ways to expand my kids' nature vocabulary with this activity- hooray for vocabulary development with natural materials!
Ok, sun catchers are one of our new favorite art activities, but this contact paper one takes the cake. The frames this blogger uses makes it something special, too! (insert heart-eyed emoji here!)
We have a special place in our preschool activity hearts for cutting trays. Add natural materials to it and it's one of our top picks.
Break out the sidewalk chalk for this activity! (may I recommend this box which has sooo many vibrant colors to choose from?) I love that this is an activity we can do anytime and my kids are guaranteed to love it.
This is something my preschoolers would love to help make, and my one year old would love to explore!
These are so simple, creative, and really neat! I love the beautiful simplicity of them.
This is one that I could seriously get into! Make sure to click through to get the free printable for this one!
Another beautiful creative nature craft here!! These just beg to be made along with the nature crowns.
Oooohhhh, process painting with nature?!?! We love the idea!
This is a perfect quiet-time nature activity. Maybe include it as part of a nature table exploration or do it right outside under the shade of a tree.
This easy-peasy sorting activity gave my kids a chance to investigate plants up close. And sorting is a great early math activity!
This was the NUMBER ONE nature activity post we shared this spring. It's simple, beautiful, and perfect for budding artists. Check it out.
Introduce preschoolers to parts and wholes while studying nature close up!
Combine nature, art, and math in this really beautiful and simple spring activity!
This classic activity has a fun nature twist to it! We also love that it can be played over and over again and still be fun for everyone <3
There are some really fantastic Montessori ideas for preschoolers in this round up! One of my favorites in the flower dissection activity.
What's your favorite activity to do using nature? Share a oho with us on Instagram!