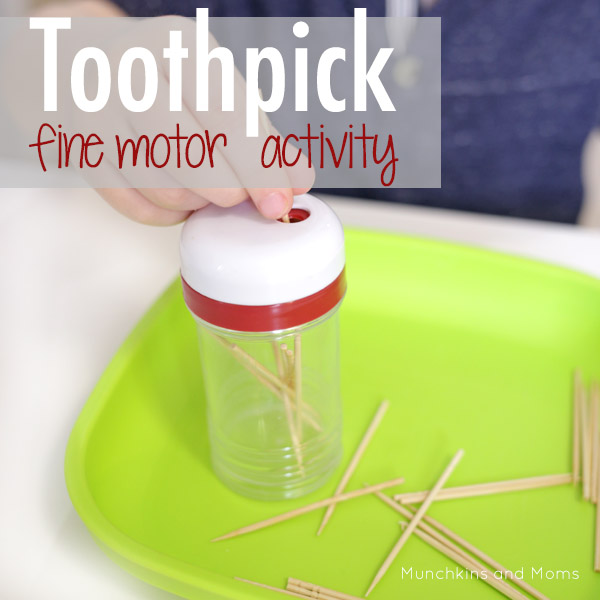 It's 7 a.m. and you really don't want to turn the TV on for the kids just yet…
but you need to make breakfast/coffee/get ready and they are already starting in on the "I'm borreeeddd" routine. What do you do?
There are so may SUPER SIMPLE kitchen activities you whip out and assign invite your kids to do while you get yourself together! Today I'm sharing one of our go-to activities this past week. I hope it buys you a few minutes in the morning while also getting the kids into a more "lets get our brains ready to learn!" frame of mind 🙂
Supplies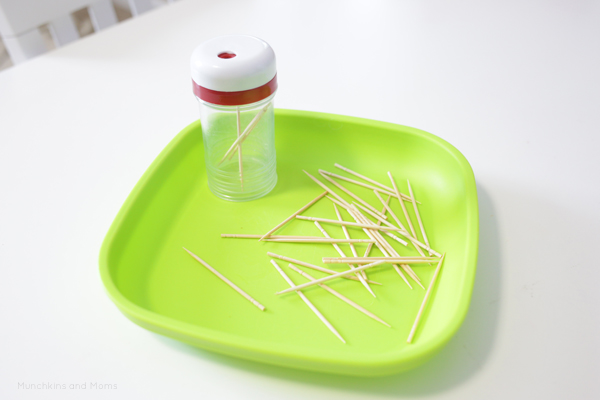 This post contains affiliate links 
Toothpicks
Toothpick Fine Motor Activity
While still in my jammies, I put the toothpicks and holder on a small plate so they don't roll all over the table during the activity. Nobody has time for frustration and messes early in the morning. I invited my three year old to help me replace all the toothpicks into the container using the small hole at the top. He is all about helping in the kitchen, so this was right up his alley!
Related post: Water Pouring Activity for Preschoolers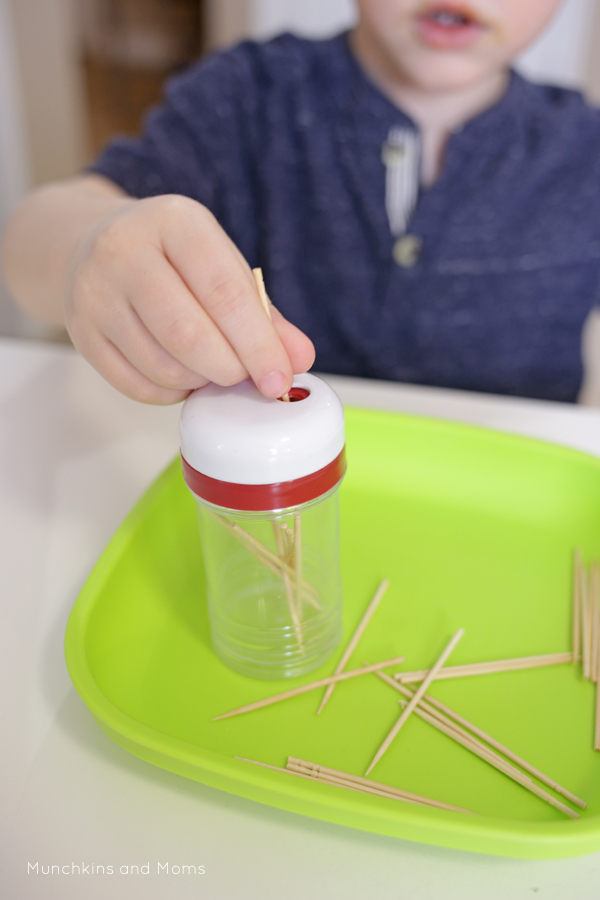 Really. This activity took approximately 2 seconds to prepare and it was just what I needed to get myself out of pj's and into yoga pants. Annndddd it really was a great way to prepare my kids for the next part of our day- preschool. Their minds were already in the mode of focusing and I would't have to battle them to turn off the tv.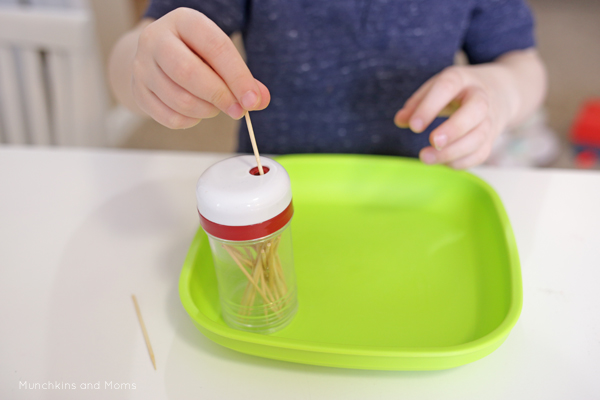 If you do this activity and find you need a few more minutes than it is taking them to finish it, consider some of these extension ideas:
Have your child count each toothpick as they fill the container.
Put two toothpicks in at a time and prattle skip counting.
Count in Spanish (or any other language they may know).
Challenge you child to only use their non-dominant hand to place the toothpicks in the container
With all the extension ideas above, you can easily do this activity every morning during the week! Kids benefit from doing activities multiple time anyways, so don't feel bad about reusing this idea when you need it 😉
Speaking of doing this in the future, you may want to pin this idea to come back to later: