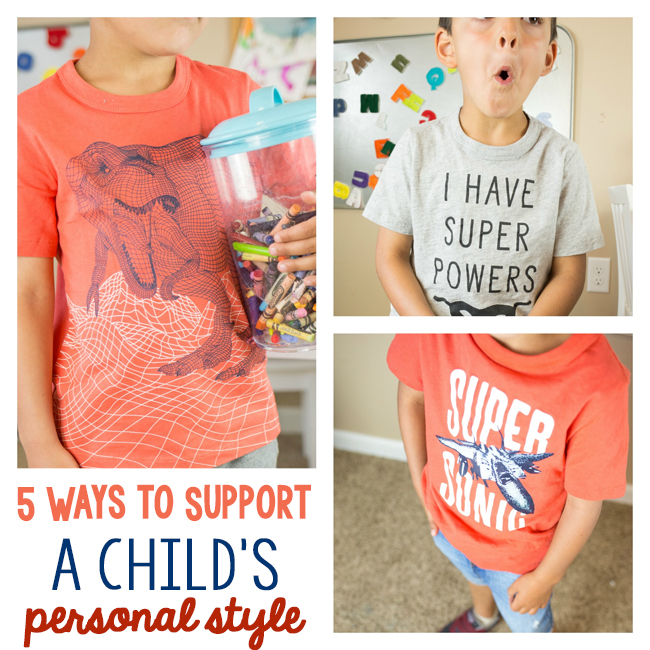 This post is sponsored by Everywhere Agency on behalf of OshKosh B'gosh; however, all thoughts and opinions expressed are my own.
Do your kids have their own sense of style?
My five-year-old is becoming much more particular about his clothes these days. He knows what he likes and wants to show who he is through his own personal style. His style is something I can't pick out for him, he craves the independence of defining it himself, so this year I had to learn how to step back while allowing him to navigate his own choices in clothing. My best friend's daughter is exactly the same so it is not just the boys that start to carve out their own sense of style either. Just the other day my friend told me that she caught her daughter carrying her fake Louis Vuitton wallet around the house! My friend has quite a few replica purses alongside a few genuine designer pieces, and it looks like her daughter has inherited her passion for fashion! Anyway, here are a few things I've learned about supporting my child's personal style:
1. Bring them Shopping
While it is so much easier to shop on my own, I realized I needed to respect my son's input on the clothes he would be wearing. Even if your kid doesn't like shopping, you could even do an online shop on a website like Ezibuy.com. It might thinks a little easier! To make things simple for me, though, I headed to one store instead of several. OshKosh B'gosh had everything we needed (including great back-to-school shoes!)
Tip: Use the OshKosh B'gosh website to choose clothes and pick them up in the store ahead of time. Kids can still be involved in choosing from the wide variety of styles online! Use the exclusive coupon code: OKBG3352 for extra savings!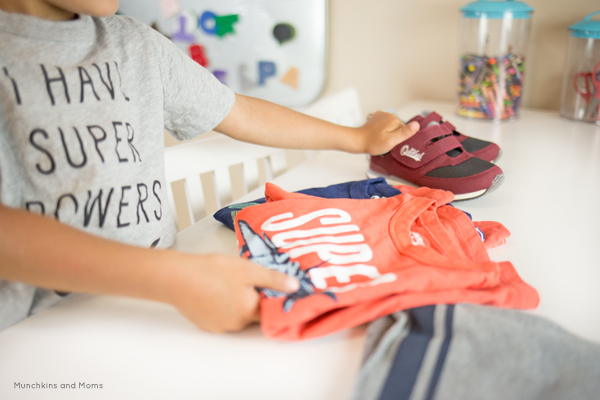 2. Provide Some Guidelines
Part of letting kids discover their own style is helping them understand what is practical versus what is fun. Go through the school dress code together and help them understand that some styles might be fun for home (like awesome shark tank tops), but there are guidelines that we must follow at school (i.e. covered shoulders). Encourage them to express themselves within those guidelines. Brainstorm new ways to express themselves within the guide of their school dress codes (like layering a button up shirt on top of a tank as a stylish alternative).
3. Teach them how to match (then step back)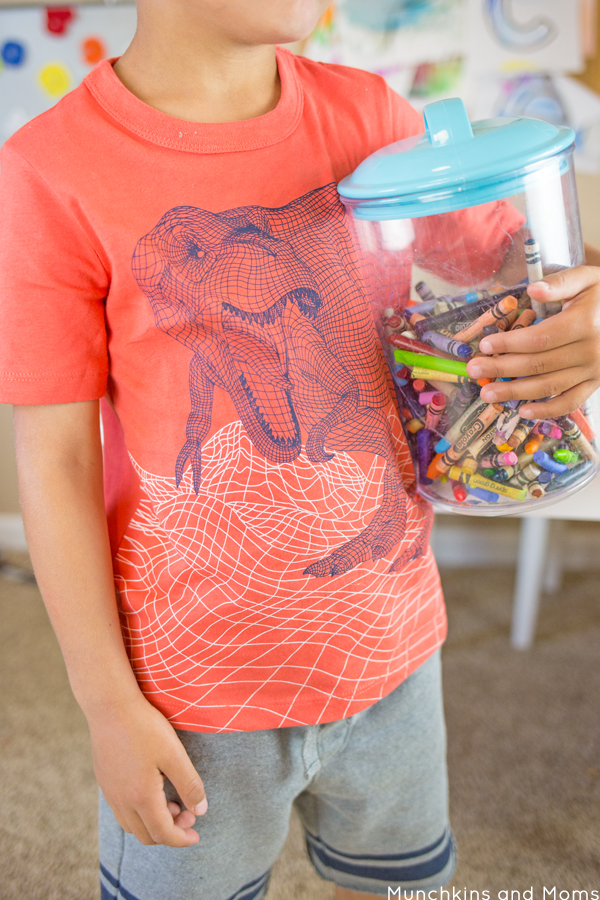 I've taken a few minutes to point out some matching basics (jeans match everything, look for similar colors to pair together, patterned shirts should go with solid bottoms, etc.), but after that, it's all up to my son to put it together. Somedays he is super proud to show me how he matched colors, and other days he wants to wear red shorts with a green shirt (hello, Christmas colors). I try to respect both as he navigates his own style.
Tip: If your kids are having trouble choosing outfits, they can always look at the outfit guide on the OshKosh B'gosh website. There are lots of outfits styled for every taste!
4. Support their interests and let it show in their clothes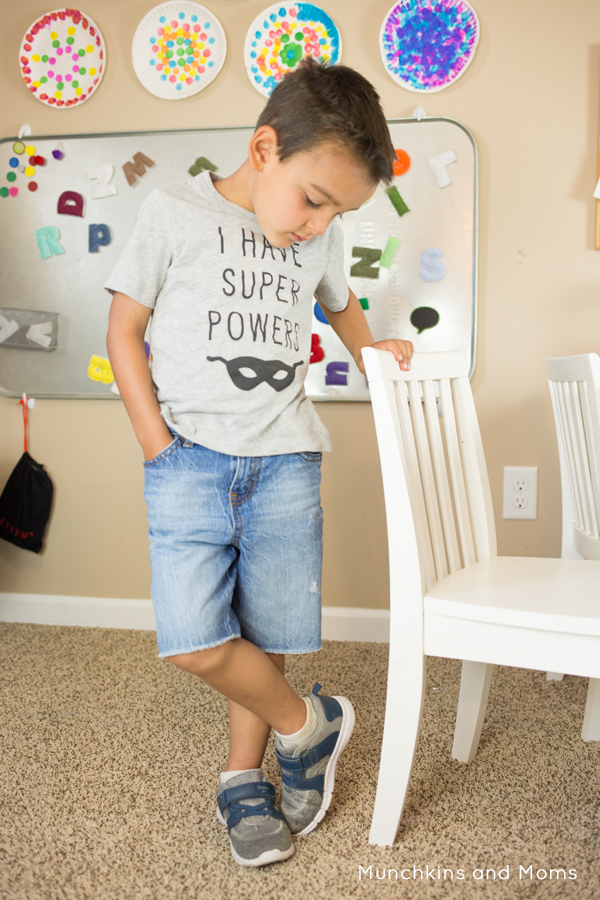 My son likes things loud and fast (just like him!) So when it comes to picking out clothes, he wants shirts that reflect him. Dinosaurs, jets, and super heroes naturally make his approved list of things to wear 🙂
5. Have fun with shoes, too!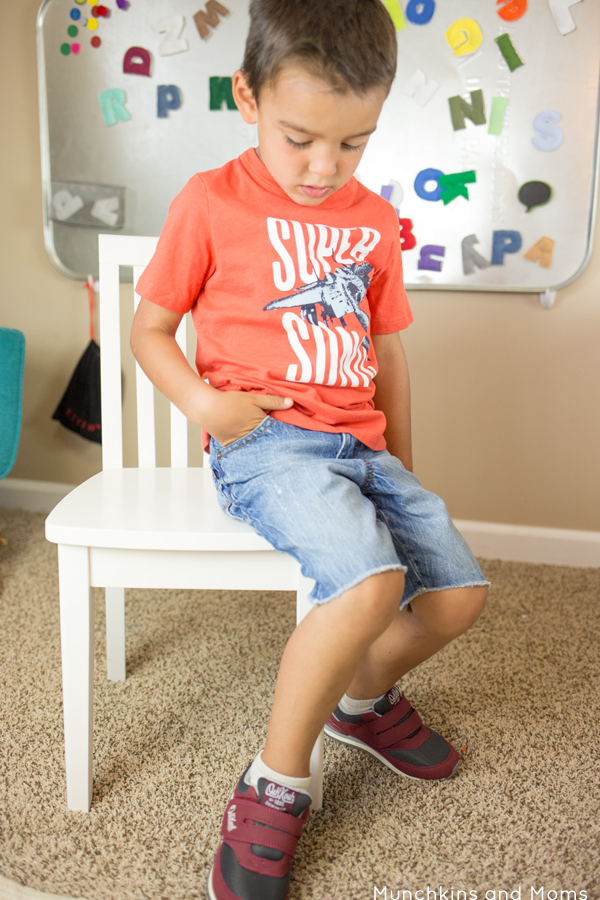 While I am in favor of gray colored shoes (they match everything), my son really wanted maroon ones. I absolutely LOVE his choice and he even ended up choosing a second gray pair as well. I'm glad I stepped back and let him lead because now he's actually excited about putting his shoes on in the morning!
Do you give your kids freedom to develop a personal style? It's fun to sit back and watch them show their personalities through their clothing choices!
Visit your nearest OshKosh B'gosh store to see all the new styles they have available this back-to-school season!
Enter to win a $50 gift card from OshKosh B'gosh to help style your kids for back-to-school season!