Last night we had pizza for dinner and I was in the mood to get a little bit crafty…so when my hubby picked up our order I asked him to bring me home an extra large (clean) pizza box. He lovingly obliged 🙂 I had a great plan for that little pizza box…
Fast forward to today. My boys were taking their naps and I already finished cleaning the house. That pizza box was just begging to be crafted so I turned some ideas around in my mind and finally decided I wanted to make a small art easel out of it.
I sat for a while trying to think of how I can manipulate the box before I just decided that I'm sure there are some creative people who have already perfected this idea…so I turned to Google. Lo and behold, there was already a great tutorial on making a pizza box easel. They included a few tools which I was without, so I did have to improvise a bit, but the finished product came out AWESOME!
Here's how I made my pizza box easel using common household items: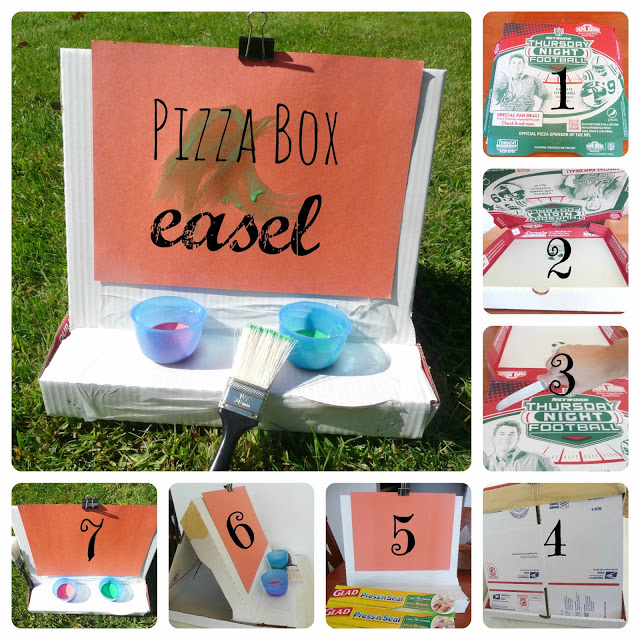 Step 1: Get a clean pizza box (bonus points for getting a Papa John's one- they have the BEST pizza and their boxes look good in this project).
Step 2: Turn the box inside out. This step is really optional. I just like the clean white look of inside of the pizza box versus the business of the outside of the box.
Step 3: In order to make a tray for holding your paints, you need to fold a portion of the box's lid flat, but folding the lid in a straight line is difficult so I would recommend scoring where you want the fold using a butter knife (be sure not to cut through the box!)
**Pictures added to clarify this step!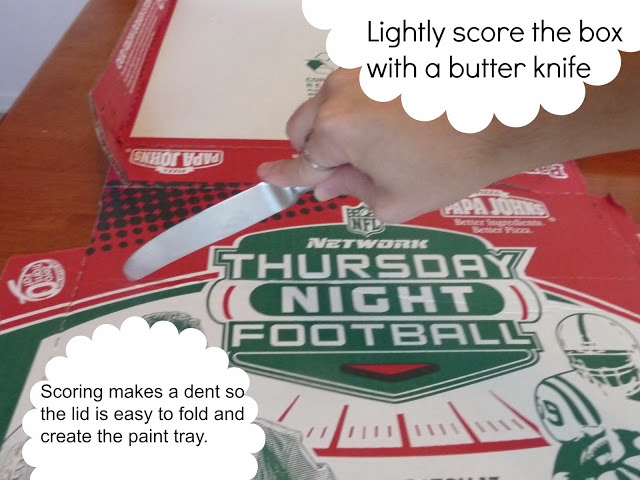 Note: I accidentally scored on the inside of the box instead of the outside. I had to do this again on the outside of the box but forgot to get a picture.
Step 4: Tape another piece of cardboard to the back of the easel (I used an old postal box). This is the support for the back of the drawing board of the easel. You can also see it in picture 6.
Step 5: Use a binder clip to hold your paper in place. I would also recommend you put a layer of Press and Seal saran wrap on the paint tray to protect it from drips 🙂
Step 6: Gather your paints. I will be posting a homemade paint recipe that we used later this week!
Step 7: Enjoy your new Pizza Box Easel! Perfect for painting outside during this beautiful fall weather!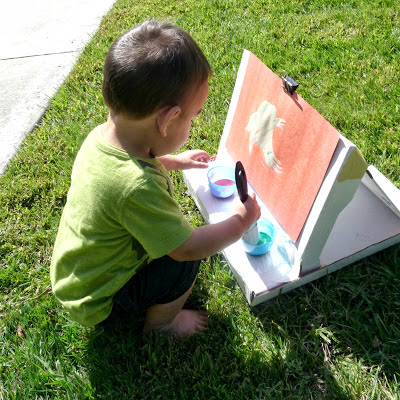 This was one of the easiest projects I've made in a long time, and it looks really impressive! It would be a great thing to put together for a child's painting party 🙂 I think I have a new idea for an upcoming play date…
Let me know if you make a Pizza Box Easel and any creative modifications you include! I love hearing your ideas 🙂