Since before my husband and I even had kids, I dreamed about creating family traditions that included camping trips in the summer, apple picking in the fall, snowman building in the winter, and family nights on Friday evenings. I wanted Friday nights to be a chance for us to make memories together as a family- silly memories of us playing games, heart-tugging memories of serious conversations at the dinner table, and happy memories of us cuddling during a good movie. However, sometimes family night needs a little bit of help so it doesn't become so mundane. Here are 7 simple ways to help make family nights more memorable:
Plan something a little different!
Movie nights are really popular, but if you're in need of a change here's a few ideas to try out at your next
family night!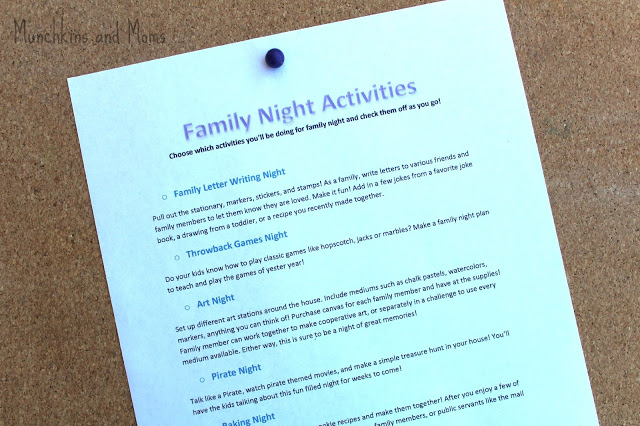 Include "little extras"
Consider little extra details that will make the night special. If you're having a movie night, that might include making simple concession boxes for the food, decorating with admission tickets, or just adding cute labels to popcorn bags! Movie nights can be super enjoyable if you do them properly. If you love watching movies, you might even want to consider Home Cinema installation in London and get a proper home cinema installed in your house.
Invite special guests
It can be grandparents, neighbors, or family friends- whomever you choose to invite will make the night more memorable for everyone! Having the kids make special invitations for these guests is another way to make the invitees feel like honored guests 🙂
Make it a "No Phone Zone"
This is a tough one. I know many people who work from their phones (including me!) While a phone seems less intrusive than carrying a laptop around, in all honesty it is just as intrusive! It keeps us from making eye contact or giving our full attention to the ones we love. The best way to make sure we are distraction free is to leave the phones in a different room completely.
Create a Fort
Whether you choose to pillows, blankets, or even a large box to build your fort, it's sure to make many fantastic memories as you construct it with your family! Depending on what you have planned for the night, you can even call it by different names: bear cave, reading nook, ticket booth, etc.
Play games together
We usually have simple table games out like tangrams and tic-tac-toe, but it's fun to have some special games out for family nights. One of my favorites is Minute to Win it Games to play with bigger kids and other adults! And since they only take about a minute per game, they're perfect to play while pizza is in the oven (because you know pizza is a family night essential!). Another idea is to work on a puzzle together as a family. We love this opportunity to talk and connect with one another!
Pizza Dinner
Part of the excitement of family night is looking forward to one tradition that stays the same: pizza dinner! DiGiorno Pizzeria™ Thin has been one of our new favorite cook at home pizzas for so many reasons including a delicious crust, toppings that please the whole family, it's fresh taste, and the high quality of ingredients. There are a great variety of pizzas to choose from: Supreme Speciale, Primo Pepperoni, Margherita, and Spinach and Mushroom. If you have forgotten to pick up frozen pizzas on your weekly shopping trip, don't panic. You always have the option to order pizza instantly and get it in little to no time at all! Every family night is better when pizza is involved.
I know a few people who prefer to take their family out to places like a pizza Greensboro restaurant, as they like to be out of the house just for a little bit. Regardless, pizza is involved and that just makes everything so much better. Which would be your go-to choice?
I'm picky about the quality of the dough and the crust of my pizzas. DiGiorno's Pizzeria!™ Thin dough is proofed for nearly 90 minutes before it's baked to perfection in a 700 degree oven. All I have to do to enjoy the pizza at home is place it directly on my oven rack and bake for 20 minutes.
The crust is perfection, as are all the delicious toppings! While the theme of each family night may change, the one thing that stays the same is DiGiorno's Pizza on the table!
DIGIORNO is so confident you'll agree that new pizzeria!™ thin is
delicious, that it is offering a "Love It Or It's Free Guaranteed"
refund.
Try DiGiornia Pizzeria for yourselves and then visit the DIGIORNO Facebook or Twitter page to share feedback and pictures using the hashtag
#YouBeTheJudge!
I was selected for this opportunity as a member of Clever Girls and the content and opinions expressed here are all my own.